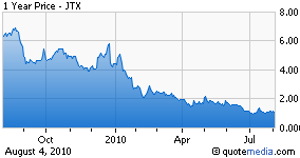 Despite being the second largest tax preparation company in America, Jackson Hewitt Tax Services (JTX) has recently been reduced to an almost anemic state, and complete control of the company could be bought for a mere 15 million dollars. This decline in value is for good reason, however, as a nightmare scenario of erosion has developed over the past year. The stock is down over 80% year to date, and with the stock bouncing around the one dollar level, many are wondering if this is the bottom or if total annihilation is in the near future. This makes for an extremely high risk, high reward investment no matter what your time horizon is.
Jackson Hewitt has faced some enormous challenges of late, many attributable to industry wide concerns, and a few specific to the company itself. Dealing primarily with low to middle income clientele, Refund Anticipation Loans (RAL'S) are this company's bread and butter. In fact, 65% of the returns filed through Jackson Hewitt last year showed Adjusted Gross Incomes of less than $30,000 versus 45% for the nation as a whole. In fiscal year 2010, the company lost 50% of their RAL market as they were unable to renew one of their banking contracts. Uncertainty remains as to the future of the RAL product and their ability to obtain it thanks to increased oversight of the program, primarily from local and state agencies.
Meanwhile, the Bricks and Mortar tax preparation business has been losing customers to much cheaper online do it yourself software solutions at an alarming rate. Intuit's (NASDAQ:INTU) TurboTax product, which encompasses 80% of the consumer tax software market, has been extremely successful. The most recent tax season has left the companies coffers absolutely overflowing with cash. A tough economy has exploited the cost difference between the two different models even further. Also, more non-chain tax offices have been springing up in Jackson Hewitt's demographic areas thanks to a high unemployment rate.
The companiy's most recent quarter, which included the heart of the most recent tax season, saw better than expected earnings of around a quarter per share on an adjusted basis. This was well below the previous years tax season earnings, but represents an effective P/E of around 4. The stock is also trading way below book value, and has about 40 cents per share in cash. Non-adjusted numbers for fiscal 2010 represent an enormous pay down of $100 million to the company's long term debt bringing assets and liabilities back in check. All of the ultra low valuations are meaningless, however should the company fizzle out completely.
Is a company that brought in over $200 million in revenue while facing perhaps the worst environment in their history really only worth 30 million dollars? A couple of technical factors have helped drive the stock lower as well. As of July 15, 2010, a monstrous 25% of the stocks tiny float was held short. Also, 75% of the shares are held by institutions. With a recent notice from the NYSE regarding its non-compliance with the exchanges listing standards from a market cap perspective, institutions simply do not want to touch this thing right now.
Although no merger or takeover plans have been announced or even rumored yet for this company, consolidation in the industry is a possibility. Private competitor Liberty Tax Service, which is the third largest chain but may have seen the best growth lately, has been tempting H&R Block (NYSE:HRB) with the opportunity to merge. Should Jackson Hewitt be taken over, a suitor would be unlikely to pay any kind of premium for an RAL issue and 250 million in debt.
There may be value in the company's 6,000 plus locations, however, especially if the RAL issue is resolved. The recent improvements to the company's balance sheet may help them secure back the lost half of their RAL's by 2011, and this is clearly their number one priority for the off season. The company has beefed up some of their other financial product revenues from debit cards, deducting tax preparation fees from refunds, and offering extended warranty products, all of which will only add to profits should the RAL come back online full steam.
H&R Block has had their problems as well, and with a higher cost for the customer, the economy has taken even more of a toll on the company. Thomas Bloch, the son of H&R Block's founder, recently left the board, citing differences primarily relating to lowering customer costs. This may offer the opportunity for more viable competition from Jackson Hewitt should H&R Block continue to bicker and not act.
Jackson Hewitt has had a contract with Wal-Mart (NYSE:WMT) for some time, and their customer base from these locations has been growing incrementally, further solidifying their low cost reputation. Another potential growth segment may come from the company's self preparation unit, JacksonHewittOnline. They only just started the program last year, and the company says that revenues from the segment were not meaningful, but did provide enough business to consider offering the product in the future.
The website gets very little traffic, according to Alexa.com, but the system seems very user friendly and offers a significant discount to other services like TurboTax. The online segment offers a huge untapped revenue stream, however they will have to be very careful growing the unit while not cannibalizing their core business. The company may have a leg up on H&R Block with respect to the digital environment from a philosophical standpoint. Jackson Hewitt's founder, who now runs Liberty Tax Service, recognized that electronic filing was where the industry was headed all the way back in the early '80s. He tried to sell his software to H&R Block to no avail, and then created his own company.
Disclosure: No positions