As a dividend growth investor, I like to buy companies with a decent dividend which raise it at a rate greater than inflation. More specifically, the dividend should be at least 1.5x that of the index like SPDR S&P 500 ETF Trust (NYSEARCA:SPY) and raising it annually at a rate of at least 3%.
How I came to Obtain my Microsoft Shares
After writing my first article on Microsoft (NASDAQ:MSFT) in November 2012, I recognized it as an investment opportunity. With the limited funds I had available, I bought in small increments. My first purchase occurred in January 2013 at $27, which started with a decent yield of 3.4%; compare that to SPY's 2.3% yield at the time looking back in hindsight.
My Microsoft Transactions
(referred to Inzkeeper's Enbridge example)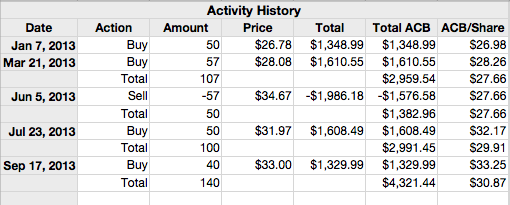 My first purchase of $27 to the current price of $40 is a 48% gain. In the end, it's the average cost and how many shares you own that matters. The lower the average cost, the better. And the more shares you own, the more dividends you are entitled to receive.
Notice that I sold some shares in June for a gain of 26%? Well, looking back it was pure luck that I managed to grab some shares again at a lower price from my sale price later on. Declaring Microsoft as one of my core holdings in my portfolio at the start of this year has prevented me from selling the shares for gains.
FAST Graphs' portfolio function shows me a neat graphical representation of my buys and sells. The buys are indicated by the green dots and the red dot indicates the only sell. The orange horizontal line illustrates the cost basis.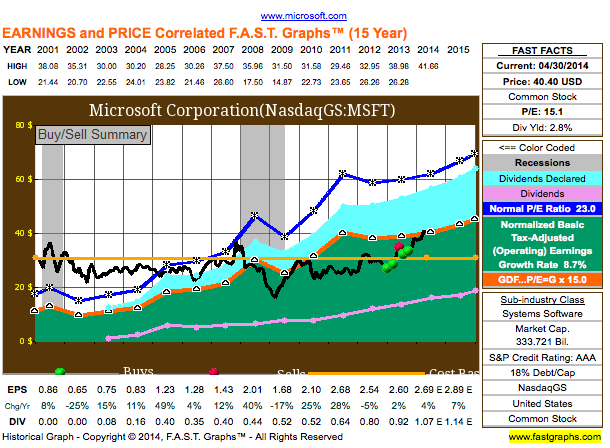 Looking back in history, on the graph, between 2001 and 2007, Microsoft's share price was above the orange earnings line, indicating that during that period, Microsoft was overvalued. In 2008, it became significantly undervalued. The stock remained undervalued throughout mid-2010 to late 2013.
What will I do with my Microsoft shares going forward?
It is hard to say whether Microsoft will trade at a premium P/E higher than 15 because of the overvaluation period between 2001 and 2007. Now that Microsoft is at P/E ~15, at fair value, I believe going forward, its price shall follow its business performance in the long term. Analysts estimate its earnings to grow at a rate of 8.5% for the next 5 years. With a yield of 2.8%, that is an estimated return of ~11%. That is not bad at all for a blue chip company with a S&P Credit Rating of AAA, the highest possible.
Microsoft Share Repurchases and Dividend Growth
On September 22, 2008, we announced that our Board of Directors approved a share repurchase program authorizing up to $40.0 billion in share repurchases with an expiration date of September 30, 2013. As of June 30, 2013, approximately $3.6 billion of the approved repurchase amount remained. - Microsoft 2013 annual report
During most of that period, Microsoft was undervalued, so that was a not bad usage of $36.4 billion.
Since 2010, Microsoft has raised its dividend from $0.13 to $0.28 per share per quarter. That is a compounded annual growth rate of ~29%, which more than made up for the dividend freeze which lasted for almost 2 years between 2009 and 2010. In the same period that Microsoft rose its dividend from $0.13 to $0.28, its payout ratio went from ~25% to ~38%, and 38% is at the higher end of its payout ratio for the last decade. If Microsoft wants its payout ratio to remain the same, and if the earnings estimate of 8.5% in the near term materializes, then, Microsoft shall continue to raise its dividends around 8% annually.
In Conclusion
I do not expect Microsoft to have significant capital appreciation in the near term because the multiple expansion has already occurred now that Microsoft's P/E is at ~15. Since I expect Microsoft to continue growing its dividend at a rate of ~8%, which is higher than inflation, I shall continue to hold my current shares, and watch the share price grow steadily with the business growth. It also helps that I'm sitting on 3.6% yield on cost with my Microsoft shares. Adding shares on meaningful dips, especially if caused by market turbulence, will help increase returns both at a dividend and capital gains standpoint.
My Reflection and Lesson Learned
One of the main reasons I wrote this article was not because I wanted to show that I made the right decision on my Microsoft purchase, but rather because I noticed I was trading too much. In trying to convince myself to trade less (and not to be greedy on short-term capital gains), I had to recognize the fact that the longer a stock stayed undervalued, the stronger the rise when it happens. Once the rise reaches fair value range, then the price performance of the stock follows the business performance in the long term. I traded in and out of the blue chip Johnson and Johnson (NYSE:JNJ) before when it was in the $60s, and finally left it for good (or not!). It is partly because of the lesson I learned from Johnson and Johnson that I'm able to hold on to Microsoft.
Anyhow, the lesson learned is that once you buy a high quality stock at an attractive valuation, hold on to it instead of selling it to buy something else. Pool together new funds for new purchases.
If you like what you've just read, consider clicking the bolded "Follow" link at the top of the page above the article title to receive an email notification when I publish a new article.
Note: Please use this article as initial research material. Do your own due diligence before buying or selling a stock.
Disclosure: I am long MSFT. I wrote this article myself, and it expresses my own opinions. I am not receiving compensation for it (other than from Seeking Alpha). I have no business relationship with any company whose stock is mentioned in this article.