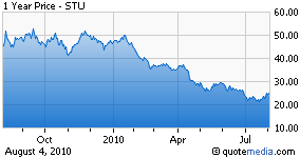 Student Loan Corp (STU) is so cheap that I'd call it "stupid cheap." It trades at 37% of tangible book value. It is profitable and trades 5.9x the annualized run rate of last quarter's earnings. It also sports close to a 6% dividend yield. Plus, on a sum-of-the-parts valuation, it is significantly cheaper than Sallie Mae (NYSE:SLM).
Student Loan Corp is a well established company. It is consistently the #2 student lender behind Sallie Mae. It is also the student lending subsidiary of Citibank (NYSE:C). Citibank owns 80% of the common shares and the remaining 20% of shares are publicly traded. Citibank IPO'd Student Loan during the 1990-91 recession when it had to raise capital during the previous cycle.
The student lending industry is undergoing significant change as the federal government has ended its FFEL Program for private lenders to make government guaranteed student loans. Sallie Mae and STU are left with large run-off portfolios of these FFEL Program loans and a smaller, riskier (but growing) private lending business.
Why Is STU So Cheap?
Coming into 2010, STU was generally (but not excessively) cheap. It traded at 75% of tangible book value but faced the obvious headwind of the end of the FFEL Program. Although the company also makes private loans, shareholders were faced with the uncertain prospects of how earnings would look as the existing portfolio of FFEL Program loans ran-off the balance sheet and were replaced with purely private student loans. At the time with a 75% of book value, I thought the stock was cheap for a profitable business with a solid book value.
Since the beginning of 2010, STU has been one of the worst performing stocks. It declined 45% through July. What caused this decline? There are two theories about the poor YTD performance: 1) Citibank tried to sell its 80% interest in STU during the Spring of 2010 and found no buyers, or 2) STU reported 2 events that were taken negatively: a) it signed a new warehouse credit agreement with Citibank with high rates and high fees and b) Q1 earnings were close to break-even. Maybe one or two of the larger minority shareholders didn't like these negative events and exited the stock. However, with the small float and no sell-side coverage, the seller(s) drove the stock price down to these levels.
I lean towards the latter theory of the reaction to the new credit agreement and disappointing Q1 earnings. Although the failed auction may have brought some sellers to the market, I believe it is unrealistic for Citibank to sell the STU franchise at values significantly below tangible book value. I think a couple of shareholders were worried about the new credit agreement as a signal of a change in the relationship between STU and Citibank. Plus, the poor Q1 earnings hurt visibility just as the Greek credit issues resurfaced.
Generally, short sellers do not traffic in this stock because of the small float. It is consistently on the list of stocks with the least short interest.
If Citibank Sold STU, How Would Minority Shareholders Fare?
Citibank has placed its holdings of STU shares within Citi Holdings, which is a collection of businesses and assets that the large bank wants to exit. Dick Bove mentioned that Citi couldn't find any buying interest for Student Loan Corp this spring. Sallie Mae's CFO mentioned at an investment conference that Sallie Mae would be interested in buying Student Loan's FFEL portfolio.
Considering the stock trades at 37% of book value, it is difficult to imagine a scenario where minority shareholders receive less than the current stock price in a sale. I think it is unlikely that Citibank is desperate enough to unload STU for less than the current market value. Plus, in such a scenario, the risk of shareholder lawsuits would be high. The worst case scenario for minority shareholders is Citi sells down its stake in STU through an offering to the public markets.
Should Citibank Sell Student Loan Corp?
I don't think it makes sense for Citibank to sell Student Loan Corp. The competitive advantage that Student Loan Corp has for originating new loans is its relationship with Citibank. The CitiAssist student loan has a brand quality to it with student loan community. Citibank would receive no value for this competitive advantage in a sale because no buyer would want to be beholden to Citi for new business. So if no buyer is going to pay for prospective new business, it is a question of what a buyer will pay for STU's existing portfolio. I don't believe now is the correct time to sell a large portfolio of both FFEL and private student loans because they would trade at par or at a discount to par.
A better solution for Citibank would be to run-off STU's portfolio and dividend the earnings and freed-up capital to shareholders. If the loan portfolio declined 10% per year and STU paid out earnings and excess capital as dividends, shareholder would receive $19 per share over 2 years and still own a stock with a book value of $53. No matter how distressed Citibank is for liquidity, the run-off solution has to be more attractive than an outright sale. In fact, we have evidence that Citibank is not acting desperate in structuring divestitures by looking at their actions with the IPO of Primerica (NYSE:PRI). In the Primerica IPO, Citi retained 80% of large portfolio of term life policies and will let them run-off over the next 10 years.
If Citi Doesn't Sell STU, How Will Citi Treat Minority Shareholders of STU?
As the majority and controlling shareholder of STU and its main source of financing, Citibank has considerable power in the relationship with the minority shareholders of STU. To own the shares, we have to get comfortable that Citibank won't treat us maliciously. I don't think here is any chance of such a scenario. Looking at the history of Citi's actions, minority shareholders have benefitted from consistent dividends and growth of book value. Since 1999, book value per share has risen from $26 to $65 and shareholders have received $39 in dividends.
STU and Citibank have changed the terms of their credit agreement. Essentially, they have repriced the agreement to market rates. The new rates are quite high with stiff fees even for the unused portion of the credit lines. STU management has been proactive in reducing the unneeded amount of the open credit lines to save on these fees. An open question I have is: can STU management renegotiate this agreement if the credit market improved or if they could get better funding from a 3rd-party bank?
Funding the Balance Sheet
In addition to end of the FFEL Program, the main issue for the student lenders is access to funding. Student Loan Corp is considered by analysts to be an asset generator because it creates more assets than deposits in its business. The situation with STU is very acute because it does not have any natural funding business such as a branch network to generate deposits. Instead, the company is using loan securitizations to provide permanent funding of its assets.
The stability of this funding source is in question given the credit crisis from which we are still trying to emerge. Once a loan securitization is complete, the fund for those loans is permanent. However, as the loans payoff, the securitization pays down as well. To fund new loans, the company must continually have access to the loan securitization market for new securitizations. This constant access is what is in question. The loan securitization market was closed between September 2008 and June 2009. When it reopened in 2009, the terms were stiff with much higher interest rate spreads and much high requirements for collateral.
Terms for student loan securitizations are much worse than before the credit crisis, but terms have improved recently. For example, the table below compares three private student loan securitizations completed by STU.
| | | | |
| --- | --- | --- | --- |
| Issue | 2006-A | 2009-A | 2010-B |
| Pool Balance | $3,055MM | $2,307MM | $254MM |
| Class A Note Balance | $2,711MM | $1,396MM | $207MM |
| Class A Overcollateralization | 112% | 165% | 123% |
| Class A Index | 3 mo. LIBOR | Prime | Prime |
| Class A Margin | +0.095% | +1.50% | 0.75% |
Securitization 2006-A was issued at the height of the credit bubble. 2009-A was STU's first private student loan securitization since the credit crisis started. We can see where the terms materially worsened: investors demanded much high overcollateralization (165% versus 112%), a worse interest rate index (Prime versus Libor), and a higher margin (1.5% versus 0.095%.) In the past year, terms have improved as shown with 2010-B. Hopefully for STU shareholders, we'll see continual improvement in securitization terms in the years ahead.
Note: The difference in the margin between 2006-A and the other two securitizations is overstated because the collateral in the 2006 was guaranteed by outside insurance companies. STU had to pay for this insurance which cut into its margin.
Valuation Comparison: Student Loan Corp vs. Sallie Mae vs. Nelnet
Student Loan and Sallie Mae are in the same boat. They both must transition to full private student lenders while managing a large the run-off of a large government guaranteed portfolio of student loans. Nelnet (NYSE:NNI) is slightly different because they don't focus on private loans, and they have a larger proportion of their business is fee-based.
| | | | |
| --- | --- | --- | --- |
| Stock | STU | SLM | NNI |
| 8/2/10 Stock Price | $24.64 | $12.28 | $20.44 |
| Annualized Q2 EPS | $4.16 | $1.12 | $3.80 |
| Price/Q2 EPS | 5.9x | 11.0x | 5.4x |
| Tangible Book | $65.74 | $6.37 | $12.91 |
| Price/TB | 37% | 193% | 158% |
| Dividend | $1.40 | none | $0.28 |
| Dividend Yield | 5.7% | NA | 1.4% |
On a sum-of-the-parts (SOTP) analysis, STU looks even more compelling. All numbers are per share.
| | | | |
| --- | --- | --- | --- |
| Stock | STU | SLM | NNI |
| Tangible Book | $65.74 | $6.37 | $12.91 |
| FFEL Portfolio (2% premium) | $28.57 | $5.61 | $10.01 |
| Private Loan portfolio (no value) | $0.00 | $0.00 | $0.00 |
| Other Businesses | $0.00 | $2.00 | $9.36 |
| Total SOTP | $94.31 | $13.98 | $32.28 |
| Price/SOTP | 27% | 87% | 64% |
My SOTP is conservative in that it assigns no value for the private student loan portfolios. I believe the market for private student whole loans is quite limited and both STU and Sallie Mae have issues with certain cohorts within their private student loan portfolios. In a run-off scenario, these companies may realize more value from their private loan portfolios than my SOTP analysis. If you were to assign positive values for the private student loan portfolios, both STU and Sallie Mae would look even cheaper on a SOTP valuation.
Negative: No Visible Catalyst for STU
Unlike Sallie Mae's recent hiring of Goldman to explore strategic alternatives, there is no visible catalyst at Student Loan Corp. The catalyst that makes the most sense would be for Citi to buy out minority shareholders at a premium to the current stock price but a discount to book value. Then, Citi can realize the value and eliminate some public company expenses. If Citi paid a 30% premium to STU's current stock price, the total purchase would only cost $128 million. Citi could extract this amount in 3 years of run-off.
Conclusion
Student Loan Corp is trading at such a compelling valuation that investors should consider it. Of course there are the headwinds of the end of the FFEL program and of a challenging funding environment. However, a lender at 37% of book value and consistent history of profitability is too cheap too ignore. Plus, if you own Sallie Mae on a sum-of-the-parts investment thesis, you should consider swapping some of your investment into STU for a more compelling trade.
Disclosure: Author long STU and PRI