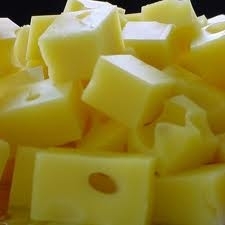 It may sound cheesy, but what is really cheesy is that cheese, being such a widely consumed commodity, was not traded on The Chicago Board until recently. In Europe cheese is a key dairy commodity, while in the US the cheese industry is largely focused on 3 or 4 states. Maybe it's got something to do with the fact that some European cheeses are so smelly that most common American and Asian consumers would run away never looking behind.
Cheese, a highly nutritious and palatable food, is of significant value in the diet because it contains almost all of the protein and essential minerals, vitamins, and other nutrients of milk. According to ancient records passed down through the centuries, the making of cheese dates back more than 4,000 years. No one really knows who made the first cheese. According to an ancient legend, it was made accidentally by an Arabian merchant who put his supply of milk into a pouch made from a sheep's stomach, as he set out on a day's journey across the desert. The rennet in the lining of the pouch, combined with the heat of the sun, caused the milk to separate into curd and whey. That night he found that the whey satisfied his thirst, and the cheese (curd) had a delightful flavor which satisfied his hunger. Travelers from Asia are believed to have brought the art of cheesemaking to Europe. In fact, cheese was made in many parts of the Roman Empire when it was at its height.
US Cheese Industry: As cheese demand continued to grow and spread rapidly, manufactured and processed cheese production increased dramatically. Total natural cheese production grew from 418 million pounds in 1920 to 2.2 billion pounds by 1970. Rising demand for cheese throughout the 1970s and 1980s brought total natural cheese production to more than 6 billion pounds by the beginning of the 1990s. Processed cheese also experienced a surge in consumer demand with annual production exceeding 2 billion pounds a year by the beginning of the 1990s. Currently, more than one-third of all milk produced each year in the US is used to manufacture cheese. Recent increases in the overall demand for farm milk have in large part been due to the continued growth of the cheese industry. As consumer appetites for all types of cheese continue to expand, so will the industry. From humble beginnings, the US has become the largest cheese-producing country in the world. As global appetites for cheese grow, the US is well prepared to supply the increased demand.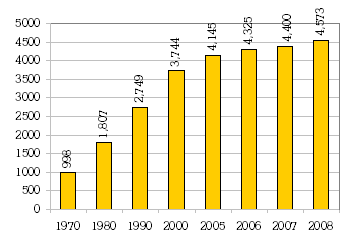 US Cheese Production (in MT)
The Inception of Cheese Futures
After successfully trading milk and dairy futures and options, the Chicago Mercantile Exchange, CME, the world's leading derivatives marketplace, launched cheese futures and options on futures on June 21. For the first time, cash-settled contracts are now available on CME Globex, the exchange's electronic trading platform. According to CME, the cheese contracts were requested by customers (manufacturers and processors of cheese) in an attempt to hedge their risk profiles. When this launch was announced, the CME noted that many of its customers were already involved in Class III milk and dry whey futures and options markets and hoped that this new contract would allow these customers, in theory, to lock in prices.
The Cheese contracts are listed monthly with each contract representing the equivalent of 20,000 pounds of cheese and the tick size of $0.001 per pound. Trading hours are Sunday through Thursday, 5:00 p.m. to 4:00 p.m. Central Daylight Time, and Friday until 1:55 p.m., with daily trading halts from 4:00 p.m. to 5:00 p.m.
Cheese is made from Class III milk. Dry whey is a byproduct of processing the milk into cheese. Manufacturers, processors, food companies and others have used the Class III contract to meet their hedging needs since 1996 and the Dry Whey futures contract launched in 2007.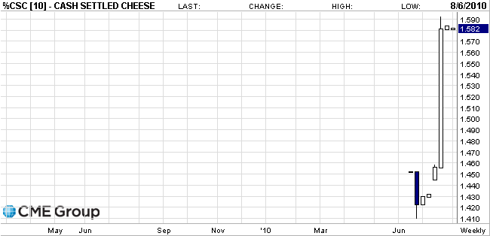 (Click to enlarge)
Advantages of Cheese Futures: The supporters of a cheese contract say that the existing exchange traded futures and options (ETFOs) that serve them, Class III, exclude significant swaths of the dairy industry because of the multiple components that are all included in the Class III index. The supporters say that a cheese contract would allow additional sections of the dairy industry to enter the world of dairy ETFOs, benefiting the formerly excluded by offering superior price risk management tools and benefiting the industry as a whole by providing a much needed additional liquidity into the CME Dairy Complex.
Trading cheese futures options offers the dairy industry an alternative to hedging in cheese futures contracts as a means to reduce market price risks.
The holder of options receives protection against adverse price movements without sacrificing benefits from favorable price movements.
Some concerns have however been raised about whether this new contract will reduce trading activity in the Class III market. The question is whether cheese manufacturers or buyers who have been using Class III contracts will switch to cheese futures, hence reducing volume and open interest in milk futures.
Cheese Stocks:
Cheese Oriented Companies Listed on NYSE
Dean Foods (NYSE:DF): carries over 63 product brands focused within the dairy industry. Seventy-one percent of Dean Foods' $11 billion revenues are obtained from milk, while ice cream only contributed 10% to the top line.
American Dairy, Inc. (NYSE:ADY): American Dairy, Inc., producer and distributor of milk powder, soybean milk powder, and related dairy products in the People's Republic of China (PRC). As of December 31, 2009, the Company had over 200 Company-owned milk collection stations, two Company-owned dairy farms, seven production facilities with an aggregate milk powder production capacity of approximately 1,234 MT per day and a distribution network that reaches over 95,000 retail outlets throughout China.
Kraft Foods (KFT): the world's second largest food company after Nestle (OTCPK:NSRGY), with $50 billion in revenues coming in from 160 countries. Kraft carries such popular brands as Trident, Oreo, Philadelphia, Oscar Meyer and Maxwell House, and recently acquired confectionary giant Cadbury. Its diverse food portfolio consists of 11 billion-dollar brands, and over 70 that are worth more than $100 million.
Lifeway Foods, Inc. (NASDAQ:LWAY): Lifeway Foods, Inc. ( is engaged in the manufacturing of probiotic, cultured, functional dairy and non-dairy health food products. Lifeway manufactures Lifeway Farmer Cheese, a line of various farmer cheeses, a line of gourmet cream cheeses, and Sweet Kiss, a fruit sugar-flavored spreadable cheese similar in consistency to cream cheese.
Mkt cap 169.35M
P/E 29.37
Cheese Pink Sheet Stocks:
1: Nestle SA (OTCPK:NSRGY): Nestle SA is a Swiss Company engaged in the nutrition, health and wellness sectors. It is the holding company of the Nestle Group, which comprises subsidiaries, associated companies and joint ventures throughout the world. It has such business units as Food and Beverage, Nestle Waters and Nestle Nutrition.
2: Groupe DANONE (OTCQX:DANOY): A French company founded in 1899 which was earlier trading as ADRs on the New York Stock Exchange but is now a Pink Sheet Stock. Danone SA is a France-based company engaged in food processing activities. The Company operates in four business lines, including Fresh Dairy Products, Waters, Baby Nutrition and Medical Nutrition. The Fresh Dairy Products business line's brands are Danone, Actimel, Activia, Danacol and Vitalinea.
Other World Companies
1: Warrnambool Cheese & Butter (ASX:WCB): Warrnambool Cheese and Butter Factory Company Holdings Limited, together with its subsidiaries, engages in the manufacture, processing, and sale of dairy products in Australia. It produces dairy commodities, such as cheese, milk powders, whey protein, butter, and cream, for both domestic and export markets. It also produces fresh milk under the Sungold brand and food supplements under the brands of Enprocal and Pro10Active. It offers its products to wholesale and retail customers in Australia, Japan, Korea, China, Indonesia, and the Middle East. The company was founded in 1888 and is headquartered in Allansford, Australia.
2: Dairy Crest Group plc (LON:DCG): Dairy Crest Group plc is a dairy company engaged in processing and selling fresh milk and dairy products in the United Kingdom and Europe. The Company operates in five segments: Cheese, Spreads, Dairies, Share of Joint Ventures and Other. The Cheese segment manufactures branded cheese in the United Kingdom and Ireland, and sells to retail customers.
Overview of US Cheese Consumption: The industry estimates that there are now more than 300 varieties of cheese available in the US marketplace. By far the two most popular single varieties of cheese in the United States are mozzarella (10.7 pound per capita) and cheddar (10 pounds per capita). Per capita consumption of all Italian-type cheeses declined slightly in 2008, but remained above 14 pounds. Mozzarella per capita consumption also declined slightly in 2008 to 10.65 pounds. In the American-style category, cheddar remained the same at 10 pounds per capita consumption in 2008, while consumption of other American varieties grew slightly (0.3%) to 3.1 pounds per capita.

Disclosure: No positions