By David Russell
Utilities had a brief period of outperformance, and now the bears apparently think that the lights are dimming on the rally.
In the largest trade of the day so far, optionMONSTER's Depth Charge tracking system detected the purchase of 12,200 September 30 puts on the Utilities Select Sector SPDR exchange-traded (NYSEARCA:XLU) fund for $0.54. At the same time, an equal number of September 28 puts was sold for $0.13. This bearish put spread cost a net $0.41 to implement.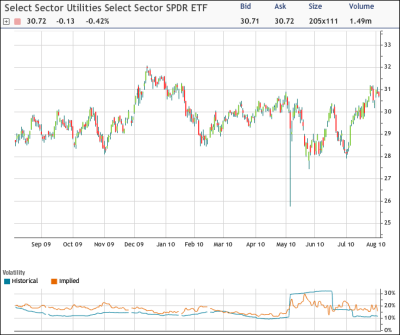 The XLU fell 0.42 percent to $30.72 in morning trading. The fund is up 7 percent since the beginning of June versus a 3 percent gain for the S&P 500 index. However, that relative strength faded in July, when the sector lagged the broader market.
The recent gains also brought the fund back near the same $31 level where it traded before collapsing in January. That could make traders think it will stuggle to make new highs from this point, causing them to position for a decline.
Today's put spread is designed to leverage such a move, and will return about 380 percent if the XLU closes at or below $28 on expiration. That was roughly where it traded at the beginning of July.
Overall option volume in the fund is more than triple the daily average already this morning, with puts outnumbering calls by 285 to 1.
The XLU's largest holdings include Exelon (NYSE:EXC), Southern (NYSE:SO), and Duke Energy (NYSE:DUK).

Disclosure: No positions