By Stuart McPhee
AUD/USD for Friday, May 2, 2014
Over the last week or so the Australian dollar has fallen back down below the 0.93 level and in doing so, reaching a four-week low before rallying a little in the last few days back up to the resistance at 0.93. This level has provided reasonable resistance over the last week or so denying any movement higher. The last few weeks has seen the Australian dollar drift lower from resistance just below 0.95 after reaching a six-month high in that area and down to the recent key level at 0.93 before falling lower. Over the last month or so the 0.93 level has become very significant as it first provided stiff resistance to movement higher and in the last couple of weeks, it has offered some support. The Australian dollar appeared to be well settled around 0.93 which has illustrated the strong resurgence it has experienced throughout this year.
For the best part of February and March the Australian dollar did very little other than continue to trade around the 0.90 level, although at the beginning of March it crept a little lower down to a three-week low below 0.89. Towards the end of March however, the Australian dollar surged higher strongly moving to the resistance level at 0.93 before consolidating for a week or so.
For several months either side of the New Year the Australian dollar established and traded within a narrow range roughly between 0.88 and the previous resistance level at 0.90. Back in January the Australian dollar was able to rally higher pushing through the resistance at 0.90 to a one-month high near 0.91, however it quickly returned to more familiar territory below the resistance levels at 0.90 and 0.88. After showing some resilience in early December moving to a one-week high above 0.9150, the AUD/USD spent the next two weeks turning around sharply and falling heavily down to a then three-month low close to 0.88.
Interest rates will likely stay on hold in May but whether they go up or down this year could depend on the severity of the federal government's May budget. The Reserve Bank of Australia is widely expected to keep the cash rate at a record low 2.5 per cent when it meets on Tuesday, according to an AAP survey of 15 economists. Seven economists say rates will remain on hold through 2014, three are forecasting another cut to a new low of 2.25 per cent and five are forecasting hikes later in the year. AMP chief economist Shane Oliver expects the cash rate to finish 2014 at three per cent but says that will depend on whether or not the federal government delivers a "slash and burn" budget. "In four or five months, I think there will be enough evidence that the economy has picked up and, therefore, the case will have built for the RBA to start normalising interest rates. But, that is contingent on the government not getting too aggressive with fiscal austerity," Dr. Oliver said.
(Daily chart / 4-hourly chart below)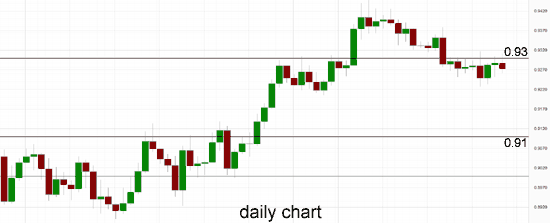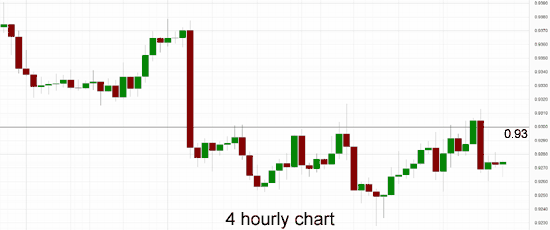 AUD/USD May 2 at 00:55 GMT 0.9274 H: 0.9312 L: 0.9260
AUD/USD Technical
| | | | | | |
| --- | --- | --- | --- | --- | --- |
| S3 | S2 | S1 | R1 | R2 | R3 |
| 0.9220 | 0.9100 | - | 0.9400 | - | - |
During the early hours of the Asian trading session on Friday, the AUD/USD is trying to edge higher after remaining steady for the last day or so just under 0.93. The Australian dollar was in a free-fall for a lot of last year falling close to 20 cents and it has done very well to recover slightly to well above 0.90 again. Current range: trading just below 0.9300 around 0.9270.
Further levels in both directions:
• Below: 0.9220 and 0.9100.
• Above: 0.9400.
OANDA's Open Position Ratios
(Shows the ratio of long vs. short positions held for the AUD/USD among all OANDA clients. The left percentage (blue) shows long positions; the right percentage (orange) shows short positions.)
The long position ratio for the AUD/USD has moved back to near 55% as the Australian dollar has fallen through the key 0.93 level. The trader sentiment remains in favour of long positions.
Economic Releases
23:30 (Thu) JP Unemployment (Mar)
01:30 AU Building approvals (Mar)
01:30 AU PPI (Q1)
08:00 EU Manufacturing PMI (Apr)
08:30 UK CIPS/Markit Construction PMI (Apr)
09:00 EU Unemployment (Mar)
12:30 US Non-farm Payrolls (Apr)
12:30 US Private Payrolls (Apr)
12:30 US Unemployment (Apr)
14:00 US Factory Orders (Mar)
*All release times are GMT