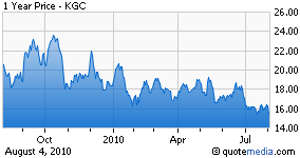 Click to enlargeIn a move that comes as another in a long line of strategic acquisitions, Kinross Gold Corporation (NYSE:KGC) announced yesterday that it will be purchasing all the outstanding shares of African gold producer Red Back Mining Inc (OTC:RBIFF), in a deal worth around $7.1 billion.
Kinross suggest the move will allow them to consolidate a strong position in West Africa, one of the fastest growing gold regions, and is set to shoot combined production to over 3.9 million ounces by 2015; making Kinross one of the worlds largest gold producers (by output). Kinross also note that the move will create "an exceptional growth profile," combining their current base of high quality mine projects, with Red Back's early stage operations and "outstanding exploration and expansion potential."
Kinross, who already held a 9% interest in Red Back, will be offering Red Back shareholders 1.778 Kinross common shares, plus 0.110 of a Kinross common share purchase warrant, for each Red Back common share held. This represents a value to Red Back shareholders of C$30.50 per Red Back share; a premium of around 21% to their July trading price. Following completion of the transaction, current Kinross shareholders will hold approximately 63% of the combined company, while current Red Back shareholders will hold approximately 37%.
The merged company will have 10 mines and 4 development projects, operating across 8 countries, and in combination with the longer term production increases, the transaction will give Kinross two well established mines that will add immediate incremental production and growth potential. Specifically, considering Kinross' production forecast of 2.2 million gold equivalent ounces for 2010, and Red Back's latest production forecast of 445 to 465 thousand gold ounces for 2010, 2010 production for the combined company is expected to be in the region of 2.6 to 2.7 million gold equivalent ounces. This would make the combined company the fourth largest gold producer in the world (based on 2009 figures), surpassing Freeport - McMoran Copper & Gold Inc (NYSE:FCX), and quickly approaching AngloGold Ashanti (NYSE:AU) in third place. If the company meets the proposed target of 3.9 million ounces by 2015, it has the potential to become the world's third largest gold producer.
In addition, the acquisition will increase Kinross' proven and probable mineral reserves to 53.2 million ounces, and increase measured and indicated mineral resources to 19.5 million ounces. This represents an increase to Kinross of 1.9 million ounces of inferred resources, 10.6 million ounces of measured and indicated resources and a 8.1 million ounce increase to proven and probably resources.
In simple terms, combined production costs are set to reduce going forward, thanks not only to economies of scale, but also due to a lower average production cost for Red Back compared to Kinross' current position. In 2009 for example, Kinross produced approximately 2.24 million ounces of gold, at an average cost of US437 per ounce (/oz). At the same time, Red Back produced around 183,000 ounces from its Chirano Gold Mine, at an average cost of $443/oz, and produced 159,000 of gold from their Tasiast Gold Mine, at an average cost of $336/oz. A simple weighted average of these 2009 figures shows a combined cost per ounce of around $431, only a marginal decreased to be sure, but a decrease nether the less.
As the price of gold has climbed ever higher of the past few years, so too has Kinross' margin on gold production, from around $161/oz in 2004, to $530/oz in 2009; a 229% increase (average gold price for the period increased approximately 139%). The negligible effect on the margin from the acquisition of Red Back, is set to keep Kinross' margins near or above current levels, while at the same time increasing their production levels significantly. Naturally this should translate to the bottom line, indicating at least some of the potential profit to be gained from the company's latest acquisition.
This steady increase in both production and profit margins has come about in a large way thanks to Kinross' active program to take on key, strategic acquisitions, over the past few years. In June this year for example, Kinross announced the completion of its acquisition of the Canadian junior explorer, Underworld Resources Inc; a deal worth around C$139.3 million. One of the main reasons behind the move for Kinross was the purchase of Underworld's key asset; the White Gold project, located in Yukon Territory, Canada. Talking of the deal, Kinross President and Chief Executive Officer (CEO) Tye Burt said:
We are pleased that Underworld's shareholders have accepted our offer. We welcome them as Kinross shareholders and as participants in our growth strategy, including our plans to advance development of the White Gold property.
Another example of a strategic purchase by Kinross would be their 2008 move to acquire Aurelian Resources, this time in a massive $1.2 billion deal. Again this move was a strategic one, predominantly with the interest in Aurelian's key asset, Fruta Del Norte deposit.
An analysis of this record does not just indicate Kinross' appetite for growth by acquisition, however, which one need only look at the company's mission statement to see, but may offer some insight to potential future moves and takeovers of other similar companies to those already acquired by Kinross.
Each major move to acquire a company by Kinross has been preceded, to one extent or another, by Kinross taking a minority interest in that company, months or even years prior to their main offer. It may be reasonable to assume, therefore, that those companies Kinross is actively taking a minority interest in at the moment, may at some future date be on the cards for a full takeover. It is worth noting at this stage, of course, that this is purely on a speculative basis, and by no way constitutes any firm moves by Kinross to take any more than the announced interest in these various companies.
One of the more recent and fuller moves to take a strategic interest in a company came in August last year, when Kinross increased their interest in the Canadian resource company BCGold Corp (TSX: BCG), to 16% via a non-brokered private placement. At the time, Kinross subscribed to 2 million units of BCGold, each unit consisting of one common share and one half of one common share purchase warrant. Each warrant has an exercise price of C$0.12 (current BCGold share price C$0.10), expiring 12 months after the initial placement. Expressing the company's reasoning behind the move, Kinross again note the acquisition was part of the company's strategy to maximise exposure to new prospects and experienced 'explorationists' at a relatively small capital investment. This is, almost word for word, the reason Kinross gave for their taking an 11.1% interest in Underworld just a few months before this BCGold interest.
Another similar move came in December 2008, when Kinross took a 34.4% interest in the Canadian based gold explorer, Victoria Gold (OTCPK:VITFF). Again Kinross subscribed to 12.5 million units of Victoria through a private placement, each unit consisting of one common share and one half of one common share purchase warrant. Each of these warrants has an exercise price of C$0.25 (current Victoria share price C$0.69), expiring 24 months form the initial placement, i.e. December this year. Needless to say, the reasoning behind this move was also "part of Kinross' strategy to increase its exposure to quality exploration opportunities by investing in high quality junior resource companies."
Again, suggesting these companies may be the future targets of a takeover by Kinross is, at this stage, purely speculative. Indeed, not all of Kinross' strategic investments evolve to become full takeovers.
Take for example, the diamond explorer Harry Winston, in whom Kinross took a $150 million "strategic investment" in March last year. Kinross announced just last month their intention to sell their 19.9% interest in the company to a group of financial institutions, on an underwritten block trade basis. It is, however, fair to say that this investment never really had the makings of a full takeover bid, compared with the examples of Kinross' other acquisitions. The move into Harry Winston was done, in large part, with an indirect investment and subscription agreement, for the company's Diavik Diamond Mine. Although the move was intended to gain Kinross exposure to the diamond market, which it considered to have a strong fundamental outlook, the makeup of the agreement and the various joint venture partners for the property, including Rio Tinto (RTP), never really made a full takeover likely, or even possible.
So then, what is to be made of Kinross' program of strategic acquisitions? The benefits to Kinross itself have been proven; increasing output, reducing costs and boosting margins. This latest takeover of Red Back Mining is set to propel Kinross into being one of the world's most significant gold producers. But the company's past moves to acquire these smaller, strategic companies, may offer us some insight into potential future acquisitions, and leaves shareholders and investors alike, with something interesting to consider.
Disclosure: No positions