On May 1, Nuveen announced a proposal to consolidate several of their closed end funds (all option-income funds) into a new array of funds.
Disappearing under this proposal would be Equity Premium Income Fund (JPZ), Equity Premium Opportunity Fund (JSN), Equity Premium Income & Growth Fund (JPG), Equity Premium Advantage Fund (JLA), Dow 30 Premium & Dividend Income Fund (DPD), and Dow 30 Enhanced Premium & Income Fund (DPO).
New funds to be started are S&P 500 Buy-Write Income Fund (NYSE:BXMX), S&P 500 Dynamic Overwrite Fund (NYSE:SPXX), and Dow 30 Dynamic Overwrite Fund (NYSE:DIAX).
The existing fund, Nasdaq 100 Dynamic Overwrite Fund (NASDAQ:QQQX), will continue and will absorb JLA.
What Changes?
The fate of the funds as proposed is shown in this chart from Nuveen: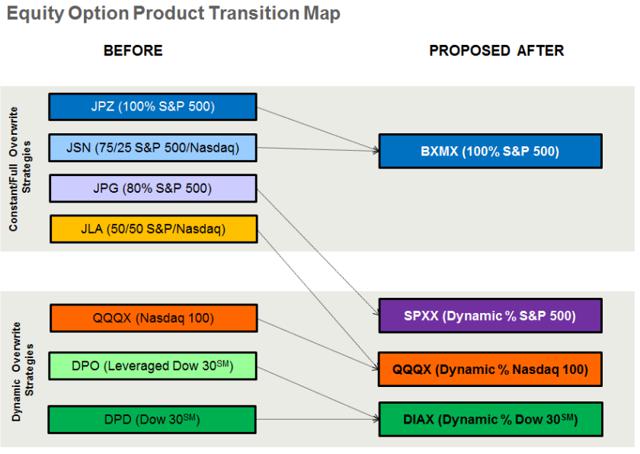 How Will The Conversion Happen?
The proposal is to convert a shareholder's assets to the new fund(s) based on the ratio of the NAVs. Only QQQX currently has a NAV as the other funds do not yet exist. So, the only data that can be projected based on current status of the funds is that for JLA.
Here's the current prices and NAVs for JLA and QQQX (NAVs current for 4/29/14; market prices at close of market 5/1/14).

At these values, JLA is priced at a -7.76% discount while QQQX is priced at a 3.18% premium. But the conversion is at NAV, so clearly the advantage is to the holder of the fund with the discount. If the conversion were to happen today, for each share of JLA the investor would receive 0.77 shares of QQQX. Consider that JLA was worth $12.96 at close of market May 1, 2014. A share of QQQX was worth $18.81. If converted, the 0.77 shares of QQQX would have a value of $14.50. This is a gain of $1.54/share, or 12%.
How Are The New Funds Different?
Each of the new funds will continue to invest using equity option income strategies, but the parameters of those strategies will change. None will be leveraged, which is a change for DPO which currently uses 24% leverage.
The new funds will be specific to the major US equity indexes. BXMX and SPXX will base their strategies on the S&P 500 index equities; DIAX will use the DOW 30, and QQQX's index will continue to be the NASDAQ 100.
The two S&P 500 funds will differ from one another. Nuveen is calling BXMX a full-constant overwrite fund and it will have as its target approximately 100% option overwrite. SPXX is billed as a dynamic overwrite fund and will target 55% (range 35% to 75%) option overwrite. The strategies of the Dow and NASDAQ funds are also dynamic with the same strategic targets for their indexes that BXMX has for the S&P 500.
The full-constant overwrite strategy is projected to offer less volatility with limited upside potential relative to the dynamic overwrite strategies. For holders of JLA this represents a change in direction as JLA, as presently configured, more closely resembles the full-constant option strategy. The prediction of less volatility but less upside is borne out by the past year's performance of JLA and QQQX as seen here. Keep in mind when looking at this chart that this was an exceptionally bullish year for the NASDAQ 100.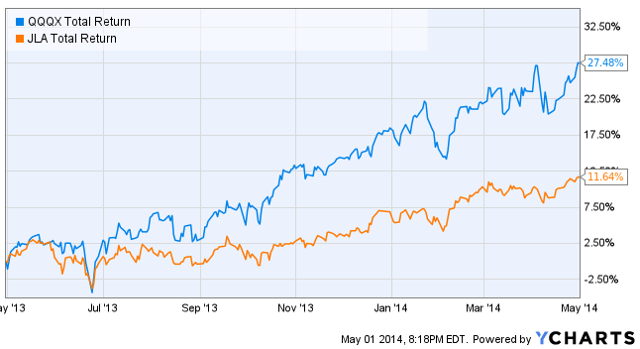 Many CEF investors consider the option income funds to be more defensive than other equity CEFs, so this may force a change how one makes strategic allocations among equity CEFs and how one evaluates past performances under different market conditions.
Timeline
Nuveen expects to be mailing information to shareholders "during summer 2014" after which shareholders will be asked to vote on the proposals. The restructuring should occur shortly after the vote. Fall 2014 seems likely.
A Look At Recent Valuation: JLA and QQQX
For holders of JLA, it does not appear to represent a bad swap on a valuation basis. On the face, the conversion of JLA to QQQX represents a 12% windfall if it were to happen tomorrow. But it's not happening tomorrow, is it?
I find it interesting that the only existing comparison is JLA and QQQX. QQQX has moved from a discount to a premium over the last 6 weeks which has the effect of making the conversion appear much more attractive than it might have, say, in early March. But where will it be this fall when it happens? The chart below from cefconnect.com shows the 1-year record for QQQX's discount/premium status.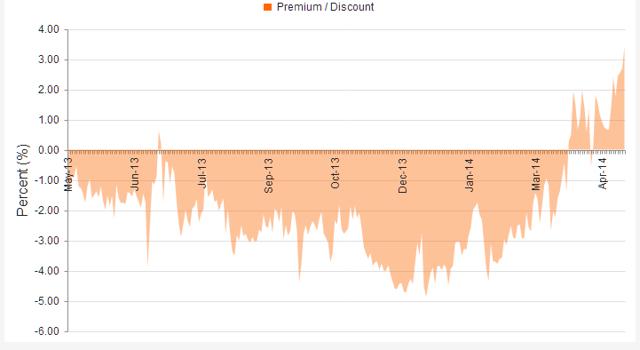 QQQX is a reasonably well established fund with a 7-year history (inception 30 Jan 2007) and a fair performance record in its category. It's hard to see a good reason for this recent price upswing, however. The fund has generally tracked (NASDAQ:QQQ). Suddenly it diverged sharply and has outperformed QQQ handily since mid-March, an outperformance that is not reflected in NAV, but is a result of discount compression.
Compare the recent to the long-term charts for QQQ and QQQX. First the past 4 months: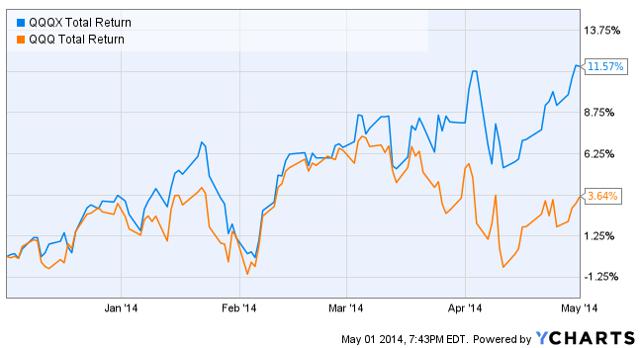 And the past 5 years: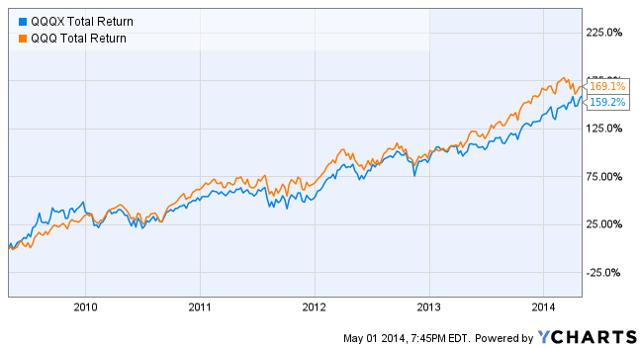 One wonders: Why the sudden upsurge? One might make the case that the fund has lagged QQQ for the past year and is now catching up. Perhaps. I'd be interested to hear from readers what they think may be going on here.
I'll note, too, that JLA has also seen its market price move up relative to QQQ during the last six weeks. And, again it is largely due to discount compression.
Summary
As an investor in JLA, I'd love to give you a solid, conclusive take on this proposal, but there are simply too many questions right now. It does not look as if holders of JLA will suffer in the conversion. Indeed, just the opposite seems likely, unless there is a marked downturn in QQQX's NAV relative to JLA's.
If we accept that there is likely to be no major valuation cost, the issue becomes one of strategies. If one holds JLA for the defensive nature of its option income investment strategy, there are numerous other options that can replace the fund.
For now, I'm not going to do anything. JLA could easily see strong compression of its discount if the relationship between its NAV and that of QQQX maintain something close to that 0.77 ratio. If that happens, I might well be ready to move on from it and put the profit in my pocket.
Disclosure: I am long JLA. I wrote this article myself, and it expresses my own opinions. I am not receiving compensation for it (other than from Seeking Alpha). I have no business relationship with any company whose stock is mentioned in this article.