While William Shatner gets all the press (and why not?), perhaps many people do not realize that Priceline.com (NASDAQ:PCLN) gets a huge portion of its revenue from overseas, especially in Europe.
It seems (wait for it) that foreign strength combined with cost cutting ("expense control") buoyed yet another domestic company. The stock surged 17% in after hours and scraped against yearly highs in the $270 range. We've cut our position size ahead of earnings so this is the flip side of missing out on big sell-offs post earnings. (Click to enlarge)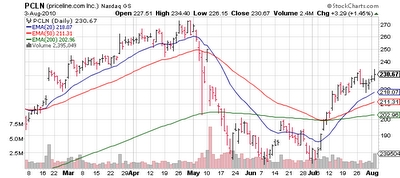 Full report here.
Per Briefing.com:
Priceline.com beats by $0.44, beats on revs;guides Q3 EPS above consensus, revs above consensus.
Reports Q2 (Jun) earnings of $3.09 per share, excluding non-recurring items, $0.44 better than the Thomson Reuters consensus of $2.65; revenues rose 27.1% year/year to $767.4 mln vs the $733 mln consensus. Gross booking were $3.4 bln, up 43% y/y.
Co issues upside guidance for Q3, sees EPS of $4.78-4.98 vs. $4.18. Thomson Reuters consensus; sees Q3 revs growth of 29-34% y/y (~$941-978 mln) vs. $863.28 mln Thomson Reuters consensus. For Q3 sees y/y increase in total gross travel bookings of ~33% - 38% (approx $3.6-3.75 bln); y/y increase in international gross travel bookings of ~46% - 51% compared to 59.5% in Q2; y/y increase in domestic gross travel bookings of approximately 13% compared to 19% in Q2.
Via Reuters:
Online travel agency Priceline on Tuesday posted quarterly profit above analyst forecasts as

bookings jumped 43%, led by international bookings and hotel reservations

as the industry recovers from a downturn.

"The stronger international growth, combined with better expense management, led to the strong upside," said Aaron Kessler, an analyst at Thinkequity. "The guidance looks pretty strong as well," he said.
International bookings rose 63.6% to $321.8 million. The company said global hotel reservations increased by 48%.
Disclosure: Long Priceline.com in fund; no personal position