ConocoPhillips (NYSE:COP) presented first-quarter 2014 results yesterday and handsomely beat analyst earnings estimates. For the first-quarter 2014 ConocoPhillips reported adjusted earnings of $2,253 million which compares against $1,738 million in the previous quarter (up 30%) and against $1,752 million in the year ago quarter (up 29%). ConocoPhillips' Q1 2014 adjusted EPS came in $1.81 compared against $1.40 in Q4 2013 (up 29%) and against $1.42 in Q1 2013 (up 27%). Analyst were expecting a first-quarter EPS of $1.57.
ConocoPhillips' first-quarter results were largely driven by notable improvements in its cash margin. ConocoPhillips' cash margin increased 10% sequentially from $29.07/BOE in Q4 2013 to $32.07/BOE in Q1 2014. The company also reported an increase in its average realized price of 9% to $71.21 in Q1 2014 compared to $65.41 in Q4 2013 and compared to $68.57 in Q1 2013 (see chart below):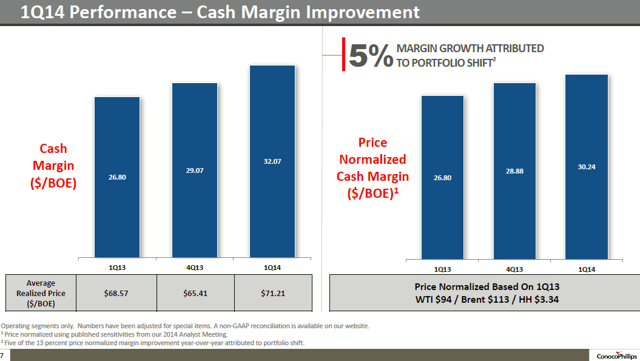 (Source: ConocoPhillips 1Q14 Conference Call Presentation May 1, 2014)
ConocoPhillips' focus on shale oil and gas exploration also paid off: The company reported new peak daily production rates of 163 MBOED in the vast Eagle Ford and 54 MBOED in Bakken -- two highly promising shale regions in the United States. In addition to these two high-impact drilling locations that are good for above-average production growth in 2014, ConocoPhillips' operations in the Permian Basin could also present decent surprises this year -- and be a vital catalyst for ConocoPhillips' share price.
Ryan Lance, Chairman and Chief Executive Officer commented ConocoPhillips' first-quarter results:
We are off to a great start in 2014. Our operational performance was strong and our margins continued to grow. Production increased due to strong performance in our North American unconventional plays, ongoing growth in our Canadian liquids and major project ramp ups in the Europe segment. During the quarter, production started at SNP with four additional major projects progressing toward startup by year-end. In exploration, we are also testing multiple prospects across our diversified portfolio. This quarter's performance gives us confidence that we are on track to achieve 3 to 5 percent growth in both volumes and margins, and to deliver double-digit returns to shareholders annually.
Share performance
ConocoPhillips has been on fire since the beginning of February: The stock gained 18% since February 5, 2014. Over the last twelve months ConocoPhillips returned 23%.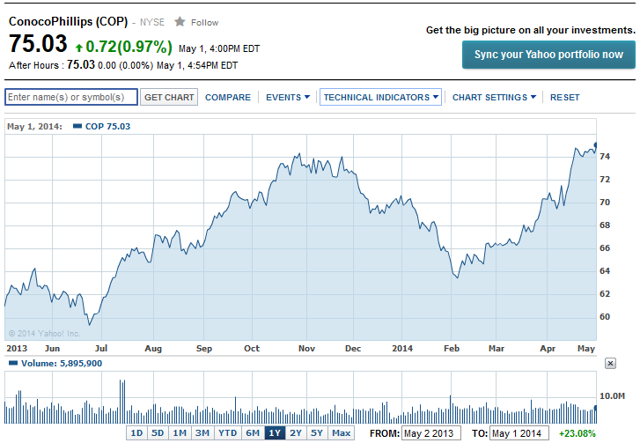 (Source: Yahoo Finance)
ConocoPhillips has handsomely outperformed its U.S. peers Exxon Mobil (NYSE:XOM) and Chevron (NYSE:CVX) over the last two years. While I see not as much upside potential for Exxon Mobil due its already massive market capitalization, ConocoPhillips and Chevron are both promising investments for long-term investors seeking energy exposure.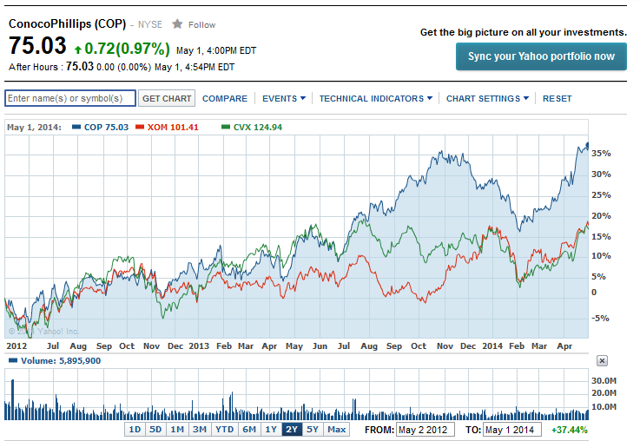 (Source: Yahoo Finance)
Market valuation
Despite the increase in ConocoPhillips' share price since February, the oil major is not necessarily expensive. ConocoPhillips presently trades at only 12.35 forward earnings which translates into an earnings yield of approximately 8%. Exxon Mobil, the largest oil and gas company by revenues and market capitalization, fetches an earnings multiple of 13.32 while Chevron currently trades at 11.10 times forward earnings. Large-cap U.S. oil and gas companies remain cheap overall: The peer group average P/E ratio stands at just 12.26 -- not too expensive given the extraordinary growth prospects in North American liquids.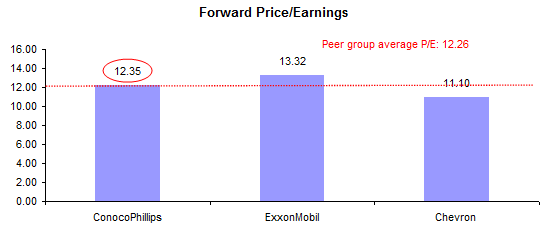 (Source: Achilles Research, Finviz.com)
ConocoPhillips still presents the leading dividend yield in the U.S. oil and gas peer group. The oil major pays investors a quarterly dividend of $0.69 which translates into annual payments to shareholders of $2.76 (equivalent to a forward dividend yield of 3.68%). I think there is a good chance that ConocoPhillips will increase its dividend this year -- especially if the company is able to sustain its cash margin growth: Investors are looking at a dividend yield approaching 4% this year.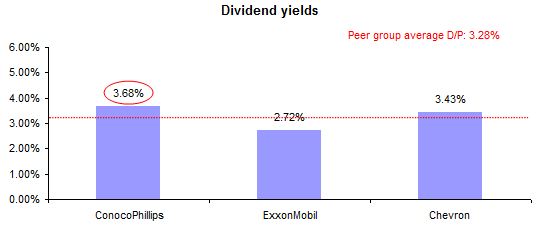 (Source: Achilles Research, Finviz.com)
A summary table containing key valuation metrics and premiums/discounts to the respective peer group averages is presented below:

(Source: Achilles Research, Finviz.com)
Conclusion
ConocoPhillips had a great first quarter and I stand by my earlier valuation model with an indicative fair value of $83 per ConocoPhillips' share. Strong y-o-y growth in earnings and cash flow suggest that the sell-off in oil majors at the end of January was exaggerated. Investors seeking exposure to a well-run, large-cap oil and gas company with interesting production growth perspectives in the Lower 48, could consider ConocoPhillips. Strong BUY.
Disclosure: I have no positions in any stocks mentioned, and no plans to initiate any positions within the next 72 hours. I wrote this article myself, and it expresses my own opinions. I am not receiving compensation for it (other than from Seeking Alpha). I have no business relationship with any company whose stock is mentioned in this article.