Barron's latest polling of "Big Money" institutional investors revealed one interesting, investable idea…
These guys freaking hate Sears Holdings (NASDAQ:SHLD)!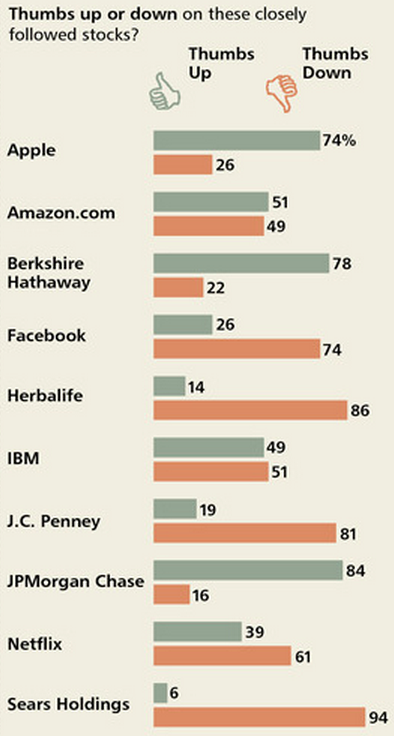 Tripled up by edgy retailer J.C. Penney - ouch.
SIX percent bulls?!
Analysts don't care for it, either. Only four of them… count 'em, 1, 2, 3, 4… bother covering the stock. And none of them have it as a "Buy."
Then again, none of them had Sears as a "Buy" three months ago, either… when it was about to rally by 50%!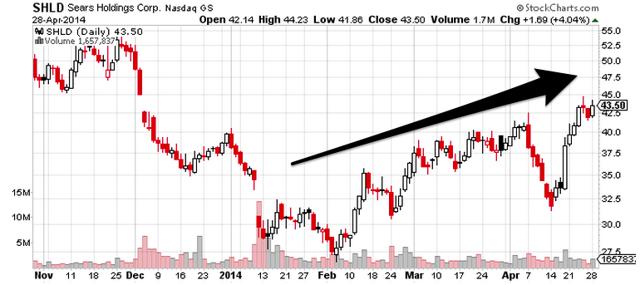 Sears didn't quite underperform over the last three months as the empty suits predicted!
Now I realize that this is a dead retailer. A dying business, at best. As currently constituted, at least.
The "Big Money" managers and their brethren "Empty Suit" analysts may be missing the bigger story here…
The Next Berkshire Hathaway?
Eddie Lampert is a pretty smart guy, and a pretty savvy investor.
Of course he is - the guy is worth over $3.1 billion dollars, after all. And he was the first guy on Wall Street to earn over $1 billion in a single year!
One year ago, Eddie took over the reins of Sears as CEO. For years, financial pundits had speculated that he was going to turn the dying retailer into his own personal "Berkshire Hathaway."
Within a decade, nobody would recognize the company… just as someone who bought textiles from the pre-Warren Buffett Berkshire Hathaway wouldn't know what to make of Geico!
Of course, the turnaround hasn't really happened yet - and as you can see from the Barron's survey, money managers have already grown bored with crappy earnings reports from a has-been retailer.
Which may present a nice opportunity for us contrary-minded investors…
A Countermove to Amazon Prime (That Bezos Can't Answer)
Lampert is trying to turn Sears into what he calls a "member-centric business." You can think of this as his version of Amazon Prime.
He's beefing up Sears' online and mobile shopping experiences… and connecting this with their brick and mortar retail locations. He calls the program "Shop Your Way."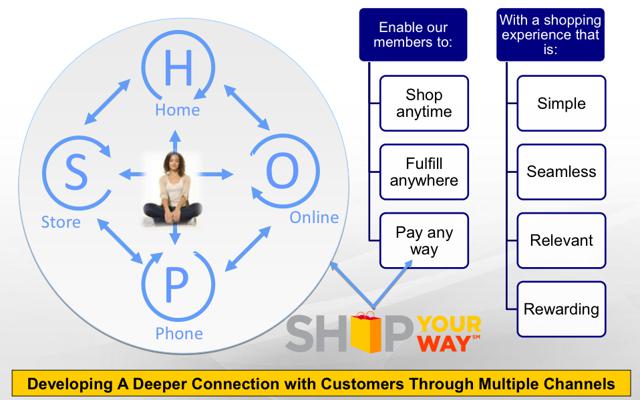 Even Amazon cannot yet provide an end-to-end retail experience like this for shoppers.
Lampert wants customers to be able to order something online, and pick it up from the store in 15 minutes. Or get it shipped to them within 24 hours. Or find something in the store and have it delivered to their home.
These "cross-channel" sales are the future of retail, and Sears is recognizing this. What they're doing on this front is actually working quite well…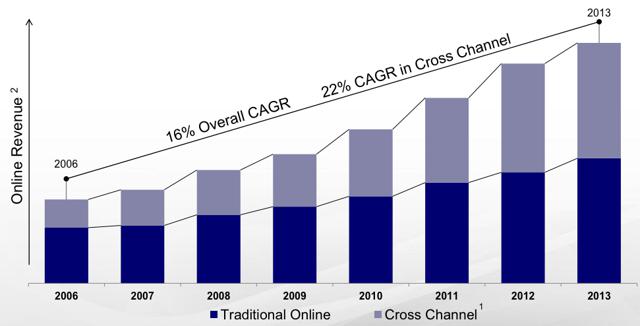 Sears' online and cross channel sales provide a ray of hope.
However, it's their traditional retail business that continues to hammer near-term results. And this is what the "Big Money" is fixated on.
Now I don't know for sure whether or not Lampert will be able to pull off this huge transition. They appear to be doing all the right things… but they are also in a race with their own dying core business. Not to mention the likes of Amazon, Target, and Wal-Mart too.
But, Shop Your Way is working… and if it continues to show signs of life, the "Big Money" is going to start paying attention. And bid up Sears in the process.
Right now they have no faith in Lampert… but it's very possible that he pulls this turnaround off, just like Warren Buffett did with his own Berkshire Hathaway "back in the day."
And with only 6% of money managers as "true believers" today, this retailer is very worthy of our contrarian attention.
Disclosure: I have no positions in any stocks mentioned, and no plans to initiate any positions within the next 72 hours.
Business relationship disclosure: I am a freelance writer for Contrarian Profits.