Israel probably gets the most press coverage per capita of any country in the world. The Jewish state's almost constant facing of hostility fascinates the world.
But in the midst of all this turmoil, Israel has created a tech industry sporting the ingenuity and innovation to rival the fabled Silicon Valley here in the U.S.
Centered around the port city of Haifa, Israel has 3,000 start-up companies specializing in tech. These start-ups aren't producing low-value goods either. Forget about tee-shirts and plastic Frisbees. These companies operate in sectors like medical devices, wireless communication, security software - the list goes on.
Most of the 62 public Israeli companies trade on the Nasdaq exchange. For a list of all of these companies, click here. Over 40 venture capital funds fuel this tremendous group of start-ups, meaning there is a robust flow of capital to spur innovation.
Tech clusters like Silicon Valley, Cambridge & Boston Massachusetts and Israel breed unparalleled innovation - largely because of the networks that develop between angel groups, venture firms, start-up companies, and those that have already hit the big time. In his 2008 book, The Logic of Life, Financial Times economist Tim Harford wrote:
The more knowledge intensive an industry is, the more that industry is concentrated in a small area... Looking at the locations of over four thousand commercial innovations developed all over the United States, economists have found that more than half came from just three areas: clusters of innovation in California, New York, New Jersey and Massachusetts.
The point Mr. Harford is making is that when you have a lot of smart people working together in a tightly knit network, that region is a virtual hotbed of knowledge sharing. Knowledge breeds more knowledge, and when businesses pop up they tend to have competitive advantages over those in less innovative regions.
Small cap investors take note - Israel is one of these innovation regions.
How did this young country, with its history of war and instability, manage this accomplishment? Well, the army seems to have played a pretty big role in Israel's tech development.
Israel's tenuous geopolitical situation has made compulsory military service a necessity. Every Israeli spends at least a few years in some part of the service, developing leadership skills, and building a huge network rivaling the biggest American universities. Young men and women with good technical skills join the Taalpiyot Unit, which deals with highly advanced electronics technology. When these people leave the army, they have the technical skills, leadership ability, and connections to build new and innovative companies.
Unfortunately, Israel's innovation cradle is no stranger to rocket fire. But the violence has done very little to derail the tech sector's growth.
Israelis have learned to adapt to the various levels of hostility. Like a constant noise you can eventually tune out, Israeli firms and investors have largely tuned out the violence.
Let's take the Gaza War of 2008 as a case study. The three-week armed conflict took place in the Gaza Strip during the winter of 2008-2009. I'll avoid the political motivations and such for the war. On November 4, 2008, the Israeli Defense Force made their first major incursion into Gaza. From that day until mid-December of the same year, more than 200 Qassam rockets and mortar shells were fired into Israel.
Despite this surge in violence, the Tel Aviv Stock Exchange traded more on news of Lehman Brother's collapse than battles next door. Below is a chart of the TA-25, Tel Aviv's benchmark blue chip index. The first arrow points to Lehman's collapse, the second points to the outbreak of the War in Gaza.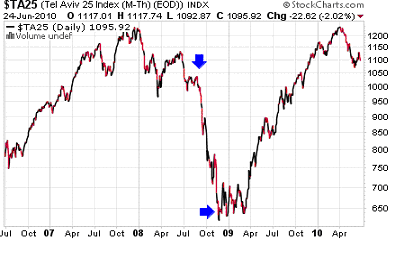 This is a pretty consistent trend. In 2006, the Israel army engaged in a very costly war in Lebanon. Less than three months after the war, the Tel Aviv stock market hit all time highs. The war put only a slight damper on growth, and after it ended, almost every sector in the economy came out stronger than before.
Maybe that stability in the face of violence is why Israel has finally moved up to the big leagues. The tiny Middle-Eastern state is now a member of the Organization for Economic Cooperation and Development (OECD). The country is no longer considered an emerging market. That's bad news for emerging market ETFs, most of which give Israel a heavy weighting.
But it is great news for Israeli companies, and particularly small cap stocks in the country. Being able to join the OECD is like getting a good credit rating. As Nobel Prize-winning economist Paul Krugman says, the Israeli economy is one of the world's "happy stories."
The Jewish state didn't need financial stimulus to break out of the global recession. They're on track to see an annualized growth rate near 4% this year, and average unemployment has dropped almost a whole percentage point.
In a world where developed countries are struggling with huge debt loads and weak recoveries, Israel truly is a success story. And boy do I like investing in success stories.
The availability of Israeli stocks on U.S. indexes, Israel's stable economic position, and Israeli companies' constant innovation make the country an unparalleled investment opportunity.