Ampio Pharmaceutical (NASDAQ:AMPE) is a late trial-stage biopharmaceutical company that develops therapies for the treatment of inflammatory conditions in the United States. It has a number of treatments in its pipeline, but among the most advanced is Ampion, a non-steroidal anti-inflammatory drug [NSAID] designed to treat osteoarthritis. The focus of this piece will be on this candidate.
Osteoarthritis is the most common form of arthritis, affecting over 20M people in the United States. The disease usually develops in people over 50 years of age and is more common in women than in men. There is currently no cure, and symptoms of osteoarthritis vary greatly from person to person, and between different affected joints. For this reason, a range of therapeutics are required to treat the varying stages of the disease. Current treatments include physiotherapy and weight management, traditional painkilling medication such as Vicodin, other NSAIDS, and in the most extreme cases, surgery to replace joints.
The active molecule in Ampion, aspartyl-alanyl diketopiperazine (DA-DKP), comes from albumin, which is one of the most common proteins in human blood, and is created by the enzymes in white blood cells. It instructs the human body to "turn off" pain and swelling by inhibiting the inflammatory response so the body can heal the joint. As mentioned, DA-DKP is created as a byproduct of an already approved biologic used across the healthcare field, 5% human serum albumin. This means that Ampio can take albumin, extract its active ingredient and turn it into an intravenous delivery treatment.
Studies To Date
So far, the company has taken Ampion through one completed study. The double blind, parallel study, which the company refers to as the SPRING study, compared the effects of Ampion therapy and saline therapy in 329 patients in nine study centers across the US. SPRING was completed quickly, with enrollment undertaken in four weeks and a five month start to finish timeline.
The study had two major limitations imposed upon it by the FDA; the first, the aforementioned saline control and the second, the required use of an established pain and stiffness measuring scale such as the Western Ontario and McMaster Universities Arthritis Index (WOMAC). These two limitations had minor effects on the trial results, which I will cover below.
The company reported top line results from the SPRING study in August last year. The primary study objective was to evaluate the relative efficacy of Ampion 4 mL versus Ampion 10 mL. The primary endpoint was mean change in pain from baseline for Ampion compared to the same volume of saline. Secondary endpoints included evaluating safety and quality of life, as well as, stiffness and function. Taken from the announcement, below is a summary of the topline results:
Patients receiving Ampion achieved significantly greater reduction in pain (WOMAC A) from baseline to 12 weeks compared to saline vehicle control (p = 0.0038).
Patients receiving Ampion experienced, on average, a greater than 40% reduction in pain from baseline.
Patients receiving Ampion also achieved significantly greater improvement in function (WOMAC C) from baseline to 12 weeks compared to saline vehicle control (p = 0.044).
Patients receiving Ampion also demonstrated significantly greater improvement in overall quality of life measures (Patient Global Assessment) from baseline to 12 weeks compared to saline vehicle control (p = 0.012).
Clinical efficacy defined as pain reduction was evident as early as four weeks after the injection (p = 0.025) and continued to show improvement through 12 weeks (p = 0.0038).
A couple of months later in November 2013, the company updated the results with reference to a number of secondary endpoints. The update basically outlined the meeting of the trials secondary endpoints with regards to pain, swelling and stiffness reduction. In short, the trial was a runaway success; well, nearly.
Going back to the two limitations and their minor effects - first, saline. In the early stage patients, the SPRING study demonstrated no statistically significant difference between the efficacy of Ampion and that of saline. On the face of it, this looks like a failed test. However, delving a little deeper, saline in itself is a well-known therapeutic for mild osteoarthritis. It makes sense therefore, that the effects of both treatments should be similar for the early stage sufferers, but in the late stage sufferers, Ampion should prove much more effective. Was this the case? As illustrated by the results outlined above - yes.
Second, the WOMAC grading system. The system is pretty complicated, but to simplify, it involves a physician asking patients a set of questions at predetermined stages of their treatment. The physician then interprets the score as a graded improvement, or not. If a drug works, patients start to become more active than they were pre-treatment. This leads to an underreporting of the actual improvement the patients experienced because the increased stress on the joints offset the benefits of the treatment.
Why am I mentioning these limitations? As a result of their effect on the results of the trial, the FDA requested that Ampio send every piece of data to the FDA. The FDA reviewed the data over a four-week period, and returned it to Ampio with a number of comments. According to the company's management, these comments stated that the trial data was "robust", and "sufficient" to meet the first stage requirements of a two-phase process. In short, Ampio only has to take Ampion through one more trial to reach approval.
The FDA also offered Ampio an acute therapy license based on the fact that late stage osteoarthritis sufferers have no alternative therapy. This basically means that Ampio need only undertake the chronic investigation element of the approval process (normally part of a phase III trial) post-marketing.
So how far down the line is the second phase (though technically listed as a phase 3)? The company has completed enrollment and issued treatment. It is now a matter of waiting, and grading, the efficacy of the treatment as time passes. Management expects to report top line results sometime in July, meaning Ampion could become commercially available during 2015. If approved, the acute license will give Ampio 12 years exclusivity for Ampion.
Operational Information
The company is currently developing a $10M production facility, from which it intends to mass produce Ampion. Traditionally, such a facility would cost hundreds of millions of dollars and take years to build, but because Ampion is simply created from a byproduct of a current biologic, Ampio expects to complete production of the facility before the end of July, conveniently falling in line with the top line phase 3 trial data.
In terms of production process and pricing, the business model behind the therapy looks good. A supply agreement guarantees the company 500 cc bags of albumen for $170, from which the company can manufacture 100 4ml vials of Ampion, retailing for between $500-700 each.
Financials
As of May 1, Ampio is at $6.20, giving the company a market cap of a little more than $260M. The company has zero long-term debt, and cash of about $90M taking into account recent financings. Its annual burn rate is moderate, but climbing. 2013 saw a doubling of cash burn to a level currently just above $24M. This probably means Ampio has at least 2 to 3 years or so of cash left before it has to refinance or start making money. This is plenty of time, unless cash burn rate significantly increases.
Considerable Risks
The obvious positive is that the FDA seems to be giving Ampio a sort of special treatment. Previous comments on the company's data point towards approval, and the fact that what would normally be reserved for a phase 3 can be done after marketing Ampion seems a very nice gift by the regulators to Ampio. Nevertheless, the risks are considerable here and should not be ignored by any means.
For one, the positives are obvious enough that some of them may have already been priced in. Additionally, we have already seen how Ampion follows the rest of biotech, which in turn follows the Nasdaq.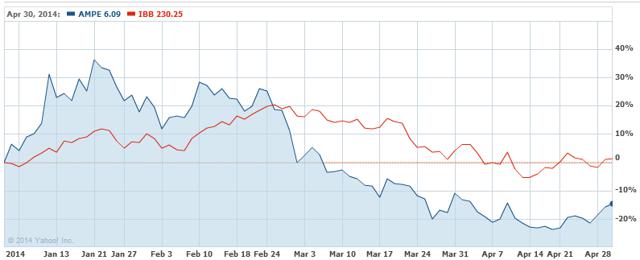 Click to enlarge
If you are of the mind that the Q's are overbought in general, then consider that Ampio's market cap is already quite large for a company with almost no revenue and zero approved drugs. Even if Ampion is approved, sales of Ampio may get off to a slow start. Consider the case of Horizon (NASDAQ:HZNP) whose Osteoarthritis treatment Duexis was approved in April 2011. Sales of Duexis one year out in 2012 were only net $10.3M (page 88). Now they are $59M, but that was a result of a repricing rather than a substantial increase in unit sales of Duexis.
Basically, July data if positive and leading to approval will give the stock a pop no doubt, but that pop could be short lived as reality sets in and the company actually has to start selling Ampion in the market. Then again it could be more sustained. Ampio's business model for Ampion may overcome a slow sales start, but it is impossible to tell at this point.
In one comma-spliced sentence, the positives are clear, the risks are clear, consider both carefully before taking a position.
Disclosure: I have no positions in any stocks mentioned, and no plans to initiate any positions within the next 72 hours. I wrote this article myself, and it expresses my own opinions. I am not receiving compensation for it (other than from Seeking Alpha). I have no business relationship with any company whose stock is mentioned in this article.