The focus on LinkedIn (NYSE:LNKD) going into earnings was going to be whether or not they were going to be able to buck the trend of "momo" stocks like Amazon (NASDAQ:AMZN), Facebook (NASDAQ:FB) and Twitter (NYSE:TWTR) that all didn't seem to please the market too much so far during earnings season.
LinkedIn seemed to continue to streak of apathy that we've had during earnings season thus far - with the exception of a couple companies like Apple (NASDAQ:AAPL) that the market liked.
As the company had warned previously, they have ramped up spending to move into the Chinese market and continue to innovate. It's been spending on investments in the business, including servers and infrastructure. The numbers for the first quarter bore the brunt of these expenditures, as the company posted a net loss of $13.4 million.
It has already been a rough year for LinkedIn - share have gotten clipped over 20% since the beginning of the year. The technical picture for the company looks anything but promising.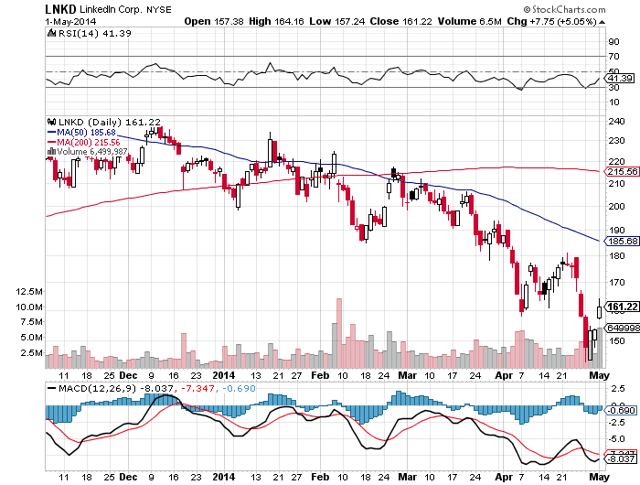 The company posted EPS of $0.38 on $473 million in revenues.
Heading into earnings, analysts were expecting $0.34/share, compared to year ago numbers of $0.45/share. Consensus estimates, according to Yahoo Finance, were calling for $466.7 million in revenues, compared to $324.7 million the same quarter last year. The growth that LinkedIn investors were looking for was top-line growth. They got their beat on both lines, but the guidance failed to impress.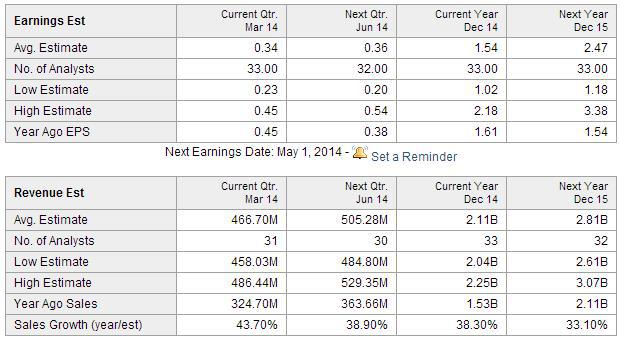 The good news was that the company did report progress across its three revenue sources. Talent and hiring, as well as marketing products, all saw substantial revenue increases.
However, the guidance is what was in question. The company's guidance fell short of what analysts were expecting, causing the stock to be mired in staggered trade after hours yesterday.
As I stated in my last article on LinkedIn:
First and foremost, I think the guidance is going to be critical. The outlook given by management is likely to either contribute to, or end the downfall in LinkedIn's stock. High multiple stocks are valued as such because the street expects them to aggressively grow. Thus, the microscope is often on the guidance, which can tell the tale for quarters to come. If you're not growing hyper-aggressively, the market is going to rope you back in. See Pandora (NYSE:P) for more details on this.

The street is going to be looking for revenue guidance of $505.19 million for the coming quarter, and $2.11 billion for the year. These numbers represent increases of 38.9% and 38.2%, respectively. They're aggressive numbers, but LinkedIn is valued at a large multiple.
And, the guidance didn't come through. The company issued a revenue forecast of $500 to $505 million for the current quarter. Consensus estimates were for $505.1 million.
Despite raising full year guidance once already, the company's forecast of $2.06 billion to $2.08 billion fell short of analysts' estimates of $2.11 billion.
And, again, as I've stated with these high P/E momentum stocks, guidance is going to be everything.
I'm expecting LinkedIn to find direction in early trading today, before making a bit more of a sharper move than it made after hours yesterday. LinkedIn closed out after hours trading on Thursday up $7.75 to $161.22.
Disclosure: I am long FB, AAPL. I wrote this article myself, and it expresses my own opinions. I am not receiving compensation for it (other than from Seeking Alpha). I have no business relationship with any company whose stock is mentioned in this article. Have a long strangle in TWTR