Yelp (NYSE:YELP) is definitely an interesting stock. There is no doubt in my mind its run-up to nearly $100 was institutionally-driven, and the company has caused me to guess and re-guess what's going on under the surface when it violently whips upwards without news or fundamentals to drive it.
It certainly is a curious case, Yelp.
It's not one that I can seem to get behind either, even with the earnings that the company posted this week. Some of the chatter on the TV yesterday was with regards to Yelp's recent earnings, and how the stock price was reacting accordingly. Cramer went so far as to say that Yelp was the sole momentum stock to buck the trend - I'd agree, if I didn't remember how Yelp has traded since the beginning of March.
Meanwhile, back at the ranch, Yelp continues to post losses and even offered full-year guidance that results in a loss. Like Pandora's (NYSE:P) audience metrics, Yelp has mastered the art of YOY comps to hide what metrics have been doing in the quarterly-to-quarter perspective.
Q1 revenue growth was 66% Y/Y vs. 72% in Q4. Cumulative reviews +46% (to 57M) vs. +47%. Average monthly unique visitors +30% (to 132M), down from Q4's +39%, with mobile uniques growing 52% to 61M. Active local business accounts +65% (to 74K) vs. +69%.
Costs/expenses rose 60% Y/Y to $81M, with sales/marketing spend rising 60% to $45.1M.
Yelp posted Q1 EPS of ($0.04), a beat by 2 cents, and revenues of $76.4 million, a beat of $1.34 million. The company guided for Q2 revenues of $85 million to $86 million, in line with estimates.
After earnings, Seeking Alpha reported on a slew of upgrades that the company received:
The stock, after pulling back post-earnings, jolted on the news of the upgrades. Heading into earnings, investors were expecting volatility. The Wall Street Journal reported:
Internet stocks are seeing big post-earnings price swings and the options market expects more of the same from Yelp Inc. YELP +9.77% after this afternoon's quarterly report.

Options are pricing in expectations for Yelp's stock to swing 14.2% before the end of the week, based on options prices that expire Friday, according to Trade Alert.

Recently hard-hit Internet stocks continued to take it on the chin Wednesday after disappointing results from Twitter Inc. TWTR +0.31% sent shares of the micro-blog service down 11% to all-time lows Yelp slid 4.5% in recent trading to a more than seven-month low.

Yelp's implied stock move actually looks restrained compared with the amplitude of some recent post-earnings swings. In February, Yelp's stock soared nearly 19% in the session after it reported a narrower loss and forecast 2014 revenue growth that topped Wall Street's expectations. Shares fell 2.6% after its October report, but rose more than 23% in August.
The funny thing is that while analysts and TV personalities continue to say that Yelp has bucked the trend of the momentum stocks, they seem to be forgetting about Yelp's performance over the last two months.
Simply look at how the company has fared from early March to recent: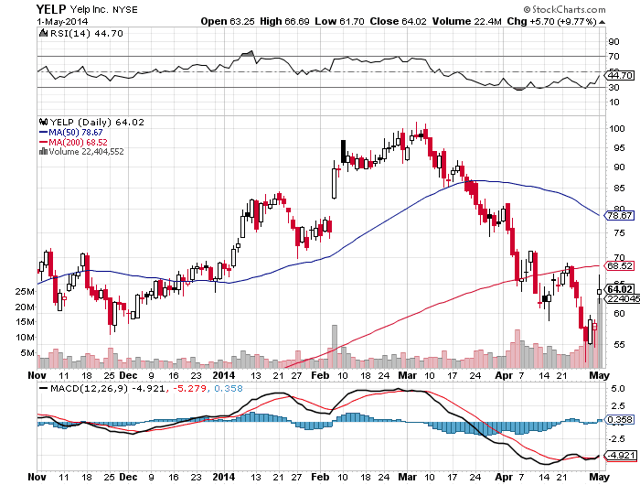 Click to enlarge
Yuck! That's nearly a 50% haircut.
From a long-term perspective, and as I've argued before, I continue to think that Google (GOOG, GOOGL) reviews is going to give Yelp its walking papers. At the least, it's going to curb the enthusiasm behind Yelp, which trades at a forward P/E of 194.
I just don't think Google will let Yelp grow as aggressively as it needs to support its multiple.
Yet, part of the long case continues to be that a company like Google could eventually make a bid for Yelp - but the question would be, why? With Google Reviews already in place and already the first thing that a potential user sees when Googling places like restaurants, why wouldn't Google just capitalize on the infrastructure it already has in place?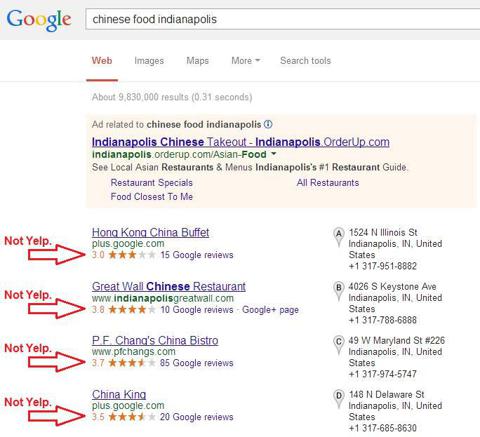 Click to enlarge
While Google continues to gain traction with reviews, Yelp continues to post losses and, if you look, Yelp's issued and outstanding shares continue to grow.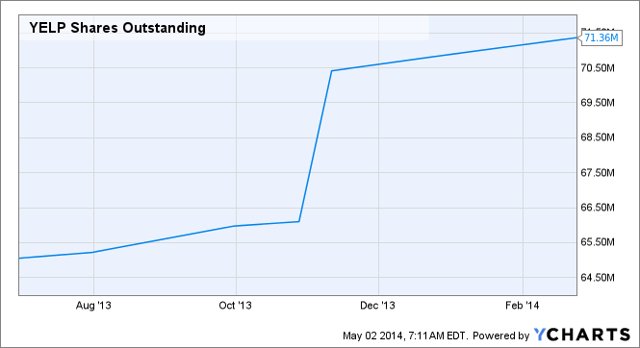 Click to enlarge
YELP Shares Outstanding data by YCharts
This isn't a position where I feel like it's a good opportunity to jump into Yelp for a long investment. Conversely, I'm not ready to short it either. Post-earnings, I'm neutral on Yelp due to:
the fact that social media stocks can move without rhyme or reason
recent movement out of momentum stocks and into value stocks concerns me
Yelp trades at simply much too high of a multiple for me
While the euphoria of the stock price movement upwards is likely being cast over investors in the company (unless they bought from $60 up to $100), I contend that it isn't time to Yelp for joy just yet.
Disclosure: I have no positions in any stocks mentioned, and no plans to initiate any positions within the next 72 hours. I wrote this article myself, and it expresses my own opinions. I am not receiving compensation for it (other than from Seeking Alpha). I have no business relationship with any company whose stock is mentioned in this article.