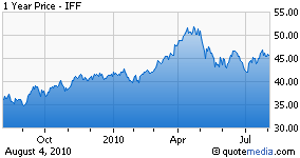 Click to enlargeInternational Flavors & Fragrances Inc. (NYSE:IFF) is slated to release its second-quarter 2010 results on August 5, 2010. The current Zacks Consensus Estimate for the second quarter earnings per share (EPS) is 82 cents, representing an annualized growth of 25.49%.
With respect to earnings surprises over the trailing four quarters, International Flavors outperformed the Zacks Consensus Estimate in three quarters, and lagged behind in one quarter. The average earnings surprise was a positive 2.46%, implying that the company has outdone the Zacks Consensus Estimate by the same magnitude over the last four quarters.
First Quarter Performance
International Flavors reported its fiscal first quarter EPS of 85 cents, up from the Zacks Consensus Estimate of 83 cents. Reported EPS was also above 65 cents in the year-ago quarter.
Net earnings were $68.2 million, up 44.5% from $47.2 million in the corresponding period of the previous year based on improvements in economic conditions.
During the quarter, net sales moved up 16.9% year over year to reach $653.9 million from $559.3 million. Revenue in the Flavor business unit grew 12.8% year over year to reach $300.2 million. In the Fragrances business unit, revenue advanced 20.5% year over year to reach $353.7 million.
The increase in revenue was driven by new product launches and higher sales volumes in Europe, Africa, and the Middle East (EAME) and Greater Asia.
Geographically, revenues from North America grew 5% and that from EAME increased 22%. Revenues from emerging economies such as Latin America and Greater Asia rose 16% and 23%, respectively.
During the quarter, the company maintained strict cost control. Gross margin moved up by 160 basis points based on higher revenue and lower costs. In the reported quarter, research, selling and administrative expense as a percentage of revenues dropped 50 basis points. Operating profit soared 27.9% to reach $104.6 million.
As of March 31, 2010, net debt decreased to $925.1 million from $931.4 million at the end of the previous quarter. This was due to an increase of $9.7 million in cash and cash equivalents during the quarter. In the reported quarter, the company generated $32.4 million as cash from operations compared with negative $14.4 million during the same period last year.
Agreement of Estimate Revisions
In the last 30 days, out of the 9 analysts covering the stock, only one brought down the estimate for 2010 and 2011. None of the analysts over the period hiked their estimates. For the second quarter too, out of the 7 analysts, one revised his estimate downwards. As can be observed from the table below, it seems that the analysts do not see any meaningful catalyst for the time being.

(Click to enlarge)
Magnitude of Estimate Revisions
Estimates over the last 30 days remained unchanged at 82 cents for the second quarter. EPS estimate dipped one cent (from $3.18 to $3.17) for 2010 and by 2 cents (from $3.49 to $3.47) for 2011.
The current Zacks Consensus Estimate is $3.17 for 2010 and $3.47 for 2011, reflecting a year-over-year growth of 17.45% and 9.29%, respectively.

(Click to enlarge)
Our Take
International Flavors & Fragrances, together with its subsidiaries, engages in the creation and manufacture of fragrance and flavor products in the United States and internationally. It operates in two segments − Flavors and Fragrances.
We believe that International Flavors' success will be driven by its huge geographical presence and product mix. Besides, the company's accomplishments in research and consumer insight will augment its growth momentum. Enhanced margin levels are expected on the back of the company's strategy of reducing operating costs.
International Flavors also follows a consistent policy of returning cash to shareholders via dividend payments and share repurchases, with more than $1.2 billion returned via these sources over the last five years. Recently, the company increased its quarterly dividend from 25 cents to 27 cents, representing a hike of 8.0%, the fifth dividend increase in six years.
However, the cyclical nature of the flavors and fragrances industry acts as a hindrance to the company's growth. Moreover, the intense competition within the industry reduces both top- and bottom-line results. Prime competitors of the company include Danisco A/S, Firmenich SA, and Givaudan SA.
We believe that lack of any directional move in estimates supports a Neutral recommendation on the stock, which is supported by Zacks #3 (Hold) Rank.
Disclosure: No positions