Kodiak Oil & Gas (NYSE:KOG) Reports a good sized weather related Q1 '14 Miss; Dips 2014 Guidance to reflect it, expected ramp just around the corner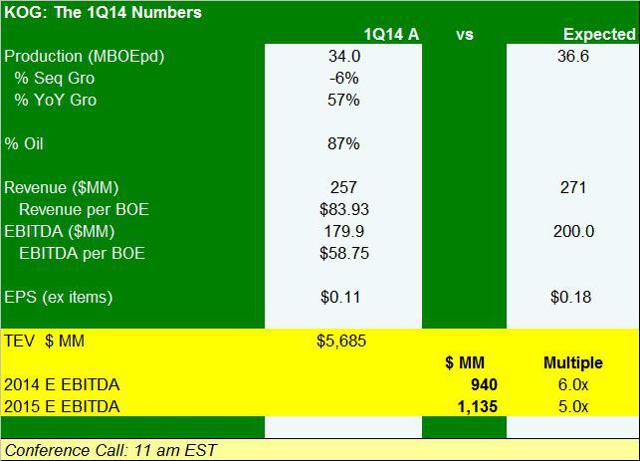 Click to enlarge
The 1Q14 Numbers: Miss on: a) winter weather which impacted both production and LOE (note they didn't get two 4 well pads on production at Polar 2.0 as previously expected); b) activity during the quarter had a large contingent of wells in smaller target northern Williams County, ND to HBP acreage at Wild Rose - so less big, impactful well contributions during the quarter and weather delaying those completions; c) lower than expect non-operated activity (weather); and d) asset sales of about 300 BOEpd. Look for questions attempting to pin down all of these pieces on the call. Notably, while total volumes were down 6% sequentially they continue to make progress in gathering more gas (flaring less) as gas volumes actually rose to a new high in the quarter, up 10% from Q4 '13 levels. G&A per BOE fell despite a higher head count on the growth in YoY volumes but per unit LOE rose due to winter operations (something we will see with all of the Bakken and many of the Permians this quarter). In general we think of weather based misses as quickly forgiven but this one may take a little longer to rebound given the reduction in annual guidance (see below) and due to comments on the Q4 '13 call which reflected a more confident attitude towards where the Street had numbers for this quarter vs. where they came in.
Guidance: Dropping largely due to winter of 2013/14
2014 volume guidance falls from a range of 42 to 44 MBOEpd to a range of 39 to 42 MBOE, equating to a new growth range 35 to 45% YoY. The reduction is due to the Q1weather miss and delays in getting pads on line in Q1. The Street was at 41.5 MBOEpd prior to the downgrade so they were already taking a cautious tack on volumes and our expectation would be that the current EBITDA estimate of $940 mm as noted in the table above likely falls about 10%.
2014 capex unchanged vs. prior of $940 mm (and 1,020 MM in 2013). Note the reduction in guidance and subsequent reduction in forecast EBITDA means a little more debt added this year, taking them a little further away from the nearly free cash flow year we expected at the beginning of the year (unless they announce further non-operated type asset sales to fill the gap). Not a huge deal in our view as 2015 will still get us into a mode of showing off the stock on further production gains as net debt shrinks.
Highlights:
Polar 1 downspacing pilot.
They added a 7th month of data to what's been released before. Note that 7 months in, the 12 wells in the first Polar pilot (6 middle Bakken and 6 Three Forks bench 1 wells) have averaged 100,000 BOE of production (~109,000 for the Bakkens and ~91,000 for the TFS). That's strong stuff. News likely lost on the market until later today or next week but pretty stellar none-the-less.
The shallowness of the declines just months in is quite compelling.
​​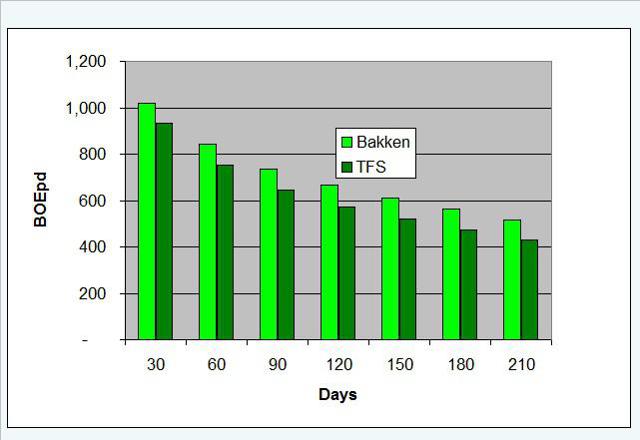 Click to enlarge
Polar 2.0 downspacing pilot.
Not much new, no results from pads 2 and 3 of this four pad downspacing test and that's part of the issue with the quarter as we had expected production from those to come on late in the quarter and those are still listed as conducting drilling operations.
They do have 60 day data out now and the tighter spacing is showing roughly in-line results for 30 and 60 days for the middle Bakken and a 15% and 19% reduction in the Three Forks for the 30 and 60 day periods respectively vs. the wider spacing of the original Polar downspacing pilot.
Look for color on the call regarding whether or not they plan to continue on with 8 wells in the TFS at Polar 2.0 or not but for now that is how the press release reads which is positive.
Other Stuff:
Later this year we expect them to drill a 5 pad, super section with 18 wells on it so will be looking for color on call as to timing there. The extra two wells will be testing tight vertical offsets between the Bakken and TFS.
Balance Sheet: Fine at 2.6x this year's new expected EBITDA level. Not at all troubling.
Current Rate: not given but we'd like to see one.
Nutshell: Miss on weather. Growing pains. Maybe a bit of overzealous guidance as they really were at 36 to 38 MBOEpd as recently as the end of February for the quarter. We're actually used to seeing weather related misses being forgiven pretty quickly (with growth driving the name higher over the longer term here) but this one is a pretty large gap and may take a little longer for the Street to digest (but not very long in my view, not months or weeks but days or maybe hours if the call goes well ... that Polar 1.0 data is strong). So 34 MBOEpd is a surprise but not really worth as big of an opening hit as it's likely to take this morning since this is the result of weather delays and pads slipping out of 1Q and into 2Q and the story of 2014 has always been downspacing results and a big ramp in 3Q and 4Q and there's nothing here to suggest this is anything but a push out in the calendar. Notably, what's normal for KOG is that the company takes its time in reducing full year guidance following a miss so the fact that they are going ahead and reducing guidance this early likely means they want to get that albatross behind them so that it doesn't loom over the 2014 operational highlights (as we've seen the need for a guidance reduction do in years past). Much more important to us are the Polar 1 comments and the fact that the rock in McKenzie and southern Williams supports strong economics and long term growth. It's still early days with them on downspacing but the longer term rates are quite encouraging at this spacing. We continue to own the name as a Core position in the ZLT with Trading positions as well as holding it in the ZLT G and via May and June options in the ZMT and we're likely to do a little dip buying during the Q&A of the call, maybe before if the pricing gets nutty as this is really just weather and the long term story is quite intact.
Disclosure: I am long KOG. I wrote this article myself, and it expresses my own opinions. I am not receiving compensation for it (other than from Seeking Alpha). I have no business relationship with any company whose stock is mentioned in this article.