April proved a very strong month for the job market. The headline U-3 measure of unemployment fell .4% to 6.3% as we added 288,000 net, new non-farm payrolls. The April report was strong in nearly all headline aspects. The labor force saw a large decline, minus 806,000, in April. This comes on the heels of a large increase in March 2014. The large decline in labor force and the decline in long-term unemployed suggest that as jobless benefits periods shorten a larger portion of the long-term unemployed are leaving the labor force, jobless. This is a shadow cast across a very strong and generally positive jobs report. The broad unemployment measure that includes involuntary part timers and folks marginally attached to the labor force, U-6, fell from 12.7% to 12.3%. February and March numbers were revised up by 36,000 net new jobs. Employment gains were seen across categories with even public sector employment rising in April.
The April job report was unalloyed in strength and this is clearly a positive. However, as we have long been highlighting, wage growth is absent. To us, this is the buried lead of the last 2-3 years of the "recovery." The widespread discontent regarding the economy will last and seems to be driven by people exiting the labor force and the stubborn lack of wage growth. We see both of these elements of the economy as driving the noise in macro economic data. Simultaneously strong asset prices and low rates with declining labor force participation and stagnant wages and salaries.
In April, average hourly earnings for all employees on private nonfarm payrolls were unchanged at $24.31. Over the past 12 months, average hourly earnings have risen by 1.9 percent. BLS April 2014 Non Farm Payrolls
We continue down a rough path of macro data. When it rains it pours and when the sun comes out, not often seen in the winter of 2013-2014, it is very bright. We see rising stress in the bottom 80% of US consumers as employment, wages, access to opportunity remain less than expectations. Share prices have had a spectacular run over the last few years and fortunes in the economy's commanding heights have remained strong. The US has roughly 80 million families and 9.6% of American families had at least 1 member unemployed in 2013.1 This amounts to 7.7 million families with at least one member unemployed. For African American families this percentage rises to 16% of families with at least one member unemployed in 2013.
Patience has worn thin with large blocks of the public. Macro performance was dismal in early 2014 but looks set to improve, particularly if April payrolls offer a glimpse into 2Q performance. We clearly need and are still missing consistent broad economic growth and rising wages. April jobs are a bright spot and good news. Now, let's see if we can't see some broad and meaningfully participation in economic growth. Absent this we will run out of steam before too long.
Ultimately fundamentals bind, in equities and in economies. Our fundamentals are stretched in equity markets and in national economic performance. We will reiterate our belief that there is room for real sustained growth. However, we need much more economic dynamism and much broader inclusion - wage and savings growth- to be on sustainable ground.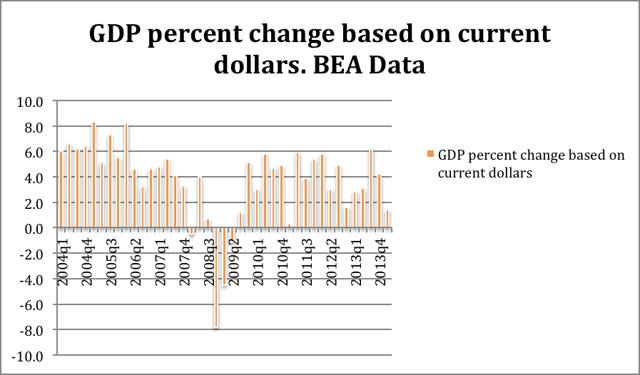 Click to enlarge
1 http://www.bls.gov/news.release/famee.t01.htm
Disclosure: I have no positions in any stocks mentioned, and no plans to initiate any positions within the next 72 hours. I wrote this article myself, and it expresses my own opinions. I am not receiving compensation for it. I have no business relationship with any company whose stock is mentioned in this article.