By Jared Cummans
This year has seen major innovations in the technology field, with products like the iPad and 3-D Television revolutionizing their respective industries. On Tuesday, Research In Motion (RIMM) followed the tech trend of the year when it announced its newest smartphone, the BlackBerry Torch, formerly known as the BlackBerry 9800. The long awaited product has been dubbed the "iPhone killer" and will hit the shelves on August 12th, for a price of $200. BlackBerry, which has been most associated with Verizon Wireless in the past, will be releasing this phone on the AT&T (NYSE:T) network, allowing it to share service providers with the iPhone 4. The Torch could not have picked a better time to release their competitor to Apple's (NASDAQ:AAPL) iPhone, which has been on the receiving end of negative press recently due to antenna problems in the phone and a chronic shortage which is testing the patience of many potential buyers.
All in all, the Torch will be very similar to the iPhone 4, as RIM attempts to compete in a market they are steadily losing their grip on. The Torch will feature GPS, Wi-Fi, 3G, 8GB memory, and a 5 megapixel camera, all similar to the iPhone's features. The iPhone features more memory, 16GB, for the same price of $200 and a battery that slightly outperforms that of the Torch. But, the Torch will include features like a slide-out QWERTY keyboard, yielding to customers who are frustrated with touch screen typing, the popular BlackBerry messaging system (BBM), multi-tab Internet capabilities, and a unique universal search bar that scans through everything in the phone's database. Thus far, the buzz has been that the Torch's hardware is excellent, but its software does not stack up to the iPhone or Android's software capabilities which could hurt sales of the crucial product for the company this holiday season.

The Canadian company has been steadily losing its once dominant market share to the iPhone and Android market. While Nokia is the worldwide leader, Android currently stepped up to first place in the U.S. with a market share of 34% in Q2 of 2010; RIM is at 32% and Apple 21.7%. The Android grew an astonishing 886% year-over-year in Q2 (keep in mind that the Droid was not released until November 2009) while Apple saw growth of 61% and RIM grew 41%. Overall, the smartphone market is clearly here to stay, steadily growing both domestically and globally, but with the rate of new products being released, it is anyone's guess who will dominate this market in the coming years.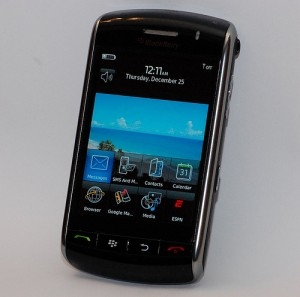 In a further effort to stay competitive, RIM has been harboring plans for a tablet computer tentatively called the 'Blackpad'. The product is not expected until November and may be more of a companion to the Blackberry than anything else. With the tablet market being relatively new, RIM will attempt to slice into Apple's monopoly, giving consumers another choice in this up and coming market. Below, we profile two ETFs for investors seeking to make a play on the smartphone market and Research In Motion in particular.
iShares Goldman Sachs Network Index Fund (NYSEARCA:IGN)
This ETF tracks the S&P North American Technology-Multimedia Networking Index, which measures the performance of U.S.-traded multimedia networking stocks. Research in Motion comes in as the second highest holding, with a 7.7% allocation. Other names in the top ten holdings include Cisco Systems (NASDAQ:CSCO), Qualcomm Inc (NASDAQ:QCOM), and Motorola (MOT). The fund is primarily U.S. based, with its only foreign investment going towards the Canadian Research In Motion. IGN focuses on the telecom (58%) and hardware (40%) sectors, giving it heavy exposure to both smartphone producers, as well as the providers that they depend on. The ETF allocates to a wide range of market cap sizes, with a sizable tilt towards medium sized firms (36.7%). The fund has posted gains of 3.4% on the year and charges an expense ratio of 0.48%.
HOLDRS Merrill Lynch Wireless (NYSEARCA:WMH)
This HOLDR fund from Merrill Lynch features a whos who of cell phone service providers as well as smartphone producers. RIM comes in as the third highest holding, making up 10.6% of the fund, with Verizon Wireless (NYSE:VZ), Motorola, Nokia (NYSE:NOK), and Sprint Nextel Corporation (NYSE:S) all making appearances in the top ten holdings. WMH holds just 15 securities, but offers 30% international exposure for investors seeking to make play on markets besides the United States. Unlike IGN, this ETF has a heavy focus on the telecom sector (84%) with a marginal allocation to hardware firms which account for just 16% of the fund. WMH will likely continue to benefit with the production of smartphones, as it holds many of the major service providers that will pick up these high-tech phones. The fund has lost 13% on the year while maintaining a dividend yield of 2.2%.
Disclosure: No positions at time of writing.
Disclaimer: ETF Database is not an investment advisor, and any content published by ETF Database does not constitute individual investment advice. The opinions offered herein are not personalized recommendations to buy, sell or hold securities. From time to time, issuers of exchange-traded products mentioned herein may place paid advertisements with ETF Database. All content on ETF Database is produced independently of any advertising relationships. Read the full disclaimer here.