By Craig Bowles
Overview
Whole Foods Market, Inc. (NASDAQ:WFM) is slated to report 2Q 2014 earnings after the bell on Tuesday, May 6th. The earnings release is expected at approximately 4:00 p.m. EST with a 5:00 to 5:30 p.m. webcast available through Whole Foods Investor Relations. The company represents grocery and health food industries on the S&P 500 Index.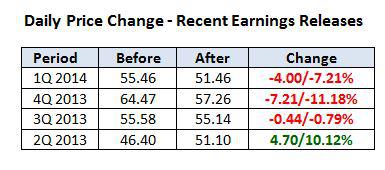 Outliers & Strategy
Key measures:
Adjusted Earnings Per Share: The current Street estimate is $0.41 with a range of $0.39-$0.43. (Source: Yahoo! Finance). Whole Foods has beaten estimates an average of 1c over the last four quarters with the 2Q 2013 report beating by 2c.
Revenues: Analysts expect an increase of 10.3% y/y to $3.34 bln (range $3.28 bln to $3.43 bln).
Earnings Per Share, Revenues, and Comparable Store Sales Guidance (FY2014):
Earnings Per Share Guidance (FY2014): Current guidance of $1.58-$1.65 compares to a street estimate of $1.62 (range $1.58-$1.64).
Revenue Guidance (FY2014): Guidance is 11% to 12%, so the high end was reduced by 1% in each of the last two earnings reports. Analysts expect an increase of 11.2% y/y to $14.37 bln (range $14.16 bln to $14.46 bln).
Comparable Store Sales (FY2014): Guidance is 5.50% to 6.20%. Analysts expect 5.8% but are slightly more pessimistic with a high estimate of 6.0% following the guidance reductions from 8% a few quarters ago.
Insiders have sold 616,751 shares over the last six months. Institutions own 85% of the shares.
Whole Foods shares have a 1-day average price change on earnings of 8.79%. Options are pricing in an implied move of 7.01% on earnings.
Recent News
04/28: Whole Foods' competition from Wal-Mart (NYSE:WMT) and Target (NYSE:TGT) isn't as big a worry as many think due to the growing organic market and customer loyalty, according to a post on Motley Fool.
04/14: BB&T Capital downgraded Whole Foods to Hold from Buy after a 16% price cut in the Boston area which could result in lower profits, according to a post on TheEconomicDaily.com.
04/09: UBS raised its price target for shares of Whole Foods to $70 from $62, according to a post by The Mideast Times.
03/03: Barron's article, "Healthy Sales by Whole Foods Insiders" pointed out that insider selling is being led by Co-CEO and co-founder John Mackey who sold $2.1 million in shares, according their Inside Scoop.
Technical Review
Whole Foods has backed off since the $65.49 all-time high reached in October but has seasonally put in an April/June low. Last year's April low was $40 when the stock previously tested below the 200-day moving average, so anything above that keeps the trend intact. More immediate support is $47.50 with resistance at $55. (Chart courtesy of StockCharts.com)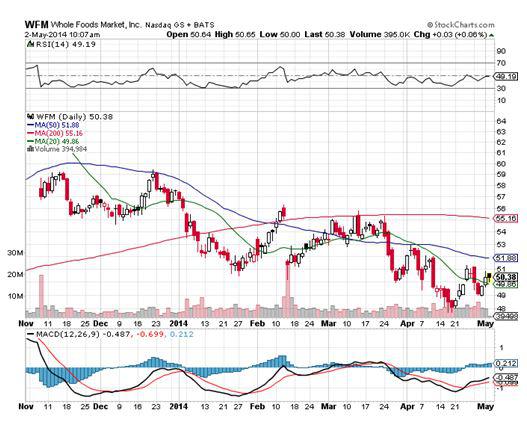 Summary
Whole Foods' stock has come under pressure amid increased competition and insider selling. The company beat estimates by 1-2c three of the last four quarters but missed by 2c on the last release. Estimates have come down 2c from three months ago but traders are in agreement with analysts, so anything above estimates would be a surprise. Comp store sales were running ahead of analyst expectations early in the quarter but analysts appear jaded by the previous guidance reductions.
DISCLAIMER: By using this report, you acknowledge that Selerity, Inc. is in no way liable for losses or gains arising out of commentary, analysis, and or data in this report. Your investment decisions and recommendations are made entirely at your discretion. Selerity does not own securities in companies that they write about, is not an investment adviser, and the content contained herein is not an endorsement to buy or sell any securities. No content published as part of this report constitutes a recommendation that any particular investment, security, portfolio of securities, transaction or investment strategy is suitable for any specific person.
Disclosure: I have no positions in any stocks mentioned, and no plans to initiate any positions within the next 72 hours. I wrote this article myself, and it expresses my own opinions. I am not receiving compensation for it (other than from Seeking Alpha). I have no business relationship with any company whose stock is mentioned in this article.