Recent events have once again proven quite damaging to gold prices. In the wake of an announcement from the Federal Reserve, gold (NYSEARCA:IAU) is continuing its slow and excruciating decline. During the past 12 months, the iShares Gold Trust is down 13%.
2013 Problems Continuing Into This Year
The fundamental problems of investing in gold were greatly accentuated in 2013. That year, the price of gold fell 28 percent, a plunge of the type not seen since 1981.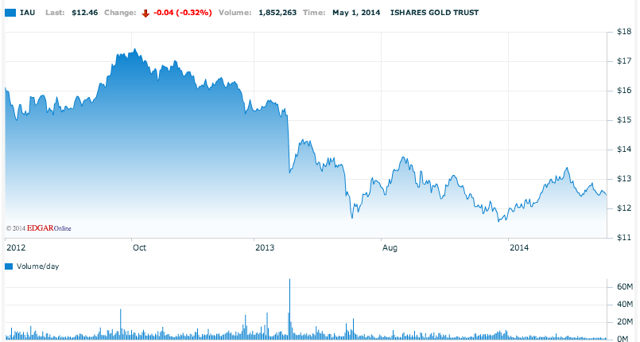 Click to enlarge
(Nasdaq.com)
Though not totally unexpected, the Fed's announcement solidified a trend that is now in real focus. The central bank announced it would cut its monthly asset purchasing by $10 billion. This represents the fourth such cut in a row, a fact that has apparently stoked the rising uncertainty surrounding gold.
Over the course of three trading days in late April, the price of gold fell 1.1 percent. On April 30 alone, gold lost 0.5 percent.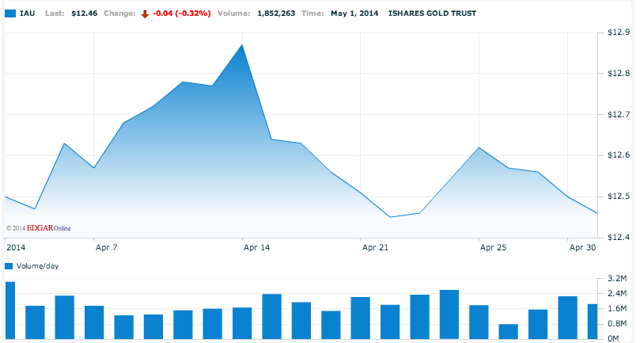 Click to enlarge
(Nasdaq.com)
Though this isn't a catastrophic drop in and of itself, it is one more piece of a very troubling outlook for gold. The inherent contradictions and idiosyncrasies of the gold market are coming fully into play.
2008 Crisis Converts
Gold earned a lot of converts in the wake of 2008's comprehensive financial crisis. This is a type of crisis that is generally profitable for gold enthusiasts. During times of uncertainty, the price of gold can benefit heavily from the services of multiplying demagogues and prophets of doom. As the Fed started purchasing debt and expanding the money supply, the price of gold skyrocketed. From late 2008 to 2011, the price of bullion rose as much as 70 percent.
Gold's Unique Characteristics
There is no question that gold is a unique asset unlike any other. This is part of the reason why gold is a solid medium of exchange. It is hard to think of another financial instrument that is so universally respected. At the same time, gold's limited utility makes it difficult to really thrive as an investment medium.
Warren Buffett (NYSE:BRK.B) has famously noted that for what all of the gold in the world is worth, at current prices, one could buy all of America's farmland, along with 10 Exxons (NYSE:XOM), and have $1 trillion left over. He certainly believes the latter investments will produce more value for an investor than "a big cube of metal."
Additionally, perverse market incentives dictate that gold prices only appreciate during times of economic uncertainty--times that may grow fewer and fewer.
Tendency To Repeat Historical Mistakes
Throughout human history, uncertainty about the future has resurged continually. Caught in the currents of partisan politics and often stalemated, the U.S government has little choice but to allow the Federal Reserve almost complete authority to transform the U.S economy. This can only lead to unsure waters for all gold investors.
Throughout the developed world, people have learned the value of centralized, redundant financial systems. With the security of a centralized bank, a nation is free to explore any number of options for handling economic crises. Gold speaks to a different kind of investor, the type who doesn't follow the mainline stream of accepted wisdom. Though there's nothing wrong with independent thinking, people who are too quick to reject advice can end up repeating common mistakes.
Despite its many limitations, fiat paper money is the most versatile form of currency the world has yet seen. With this flexible currency system, governments can fully capitalize on the faith and belief of their citizens.
For Investors Captivated By Gold's Glimmer - More Tangible Options Available
In light of this dynamic, it is highly unlikely that gold will ever achieve more than momentary success in the global investment market.
In 2014, we are keen on more vital investments, such as Buffett's own Berkshire Hathaway (NYSE:BRK.A), along with financials Morgan Stanley (NYSE:MS) and PNC Bank (NYSE:PNC).
All three of these companies have shown consideration for shareholders, both historically and in the year-to-date-a perk, against which gold, unfortunately, cannot deliver.
We invite readers wishing to read and join the discussion about Gold to click the +FOLLOW button above the title of this article.
Disclosure: I have no positions in any stocks mentioned, and no plans to initiate any positions within the next 72 hours. I wrote this article myself, and it expresses my own opinions. I am not receiving compensation for it (other than from Seeking Alpha). I have no business relationship with any company whose stock is mentioned in this article.