Vringo (VRNG) has been on a winning streak of late, settling two patent infringement lawsuits with security giants ADT (NYSE:ADT) and TYCO (NYSE:TYC). Settlement talk with other defendants is pervasive as the company announced a mutual agreement to hold further litigation in Germany, against cell phone giant ZTE (OTCPK:ZTCOF). Larger still is the upcoming May 6th hearing before the US Court of Appeals, Vringo (I/P engine vs. Google et al). Many are expecting a potential reversal of the contested "laches ruling", thereby re-opening the possibility of Google being exposed to several billion dollars of additional damages. This comes on the heels of Google (NASDAQ:GOOG) (NASDAQ:GOOGL) losing a string of post verdict decisions, that now has the mega search giant owing more than $1 billion in past and future royalties to Vringo. Vringo a Patent Assertion Entity (PAE), has missed no opportunity to aggressively monetize its Telecom patent portfolio, which adds intrigue to where new upcoming litigation will focus. My research indicates Google is in for a new wave of litigation, and here's why.
Microsoft quietly transfers a semantic search patent to Vringo
Last year Microsoft (NASDAQ:MSFT) settled its litigation with Vringo by transferring certain patents and agreeing to a one time contingent license fee equal to 5% of the Vringo vs. Google Award, subject to limitations and terms. Crafty Microsoft came out looking like the victim, sharing in the success or failure of Google's final award. However the diminutive value of the final cash payment sends a much different message. By assigning US Patent #6556983 Microsoft empowered Vringo for one purpose, litigate Google.
US Patent #6556983

METHODS AND APPARATUS FOR FINDING SEMANTIC INFORMATION, SUCH AS USAGE LOGS, SIMILAR TO A QUERY USING A PATTERN LATTICE DATA SPACE

SUMMARY OF THE INVENTION

The present invention defines a pattern lattice data space as a framework for analyzing data in which both schema-based and statistical analysis are accommodated. In this way, the limitations of schema-based and statistical analysis, when used alone, are overcome.

Since the computational complexity of representing all possible permutations of related entities on a pattern lattice data space becomes enormous, the present invention may function to manage the size of the lattice structures in the pattern lattice data space. That is, in most instances, only sections or fragments of the pattern lattice data space are generated.

The present invention may also function to classify or cluster, search (find similar data), or relate data using lattice fragments in the pattern lattice data space.

The present invention also defines a super pattern cone or lattice generation function which may be used by the classification and clustering functions. In addition, the present invention defines a sub pattern cone or lattice generation process which may be used by the search (find similar data) and data relating functions.

The present invention may also function to label, in readily understandable "pidgin", categories which classify information.

Finally, the present invention may function to provide a user interface to cluster, classify, search and link usage information." USPTO Filed January 12, 2000
Google embraces semantic search for the future.
Until recently, Google has relied entirely on the link graph and keyword mentions in understanding topical relevance and hierarchy. Contrary to this semantic searches focus on "things" as its primary focus. This is a vast change in the way searches have been performed in the past. Vringo now holds an integral part of this change dynamic in its acquired '683 patent. Google for its part has embraced semantic search for the future advancement of "Google Search", evidenced by the September 26, 2013 release of Hummingbird.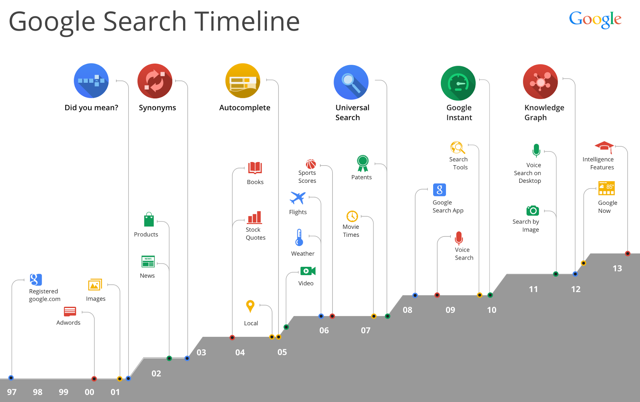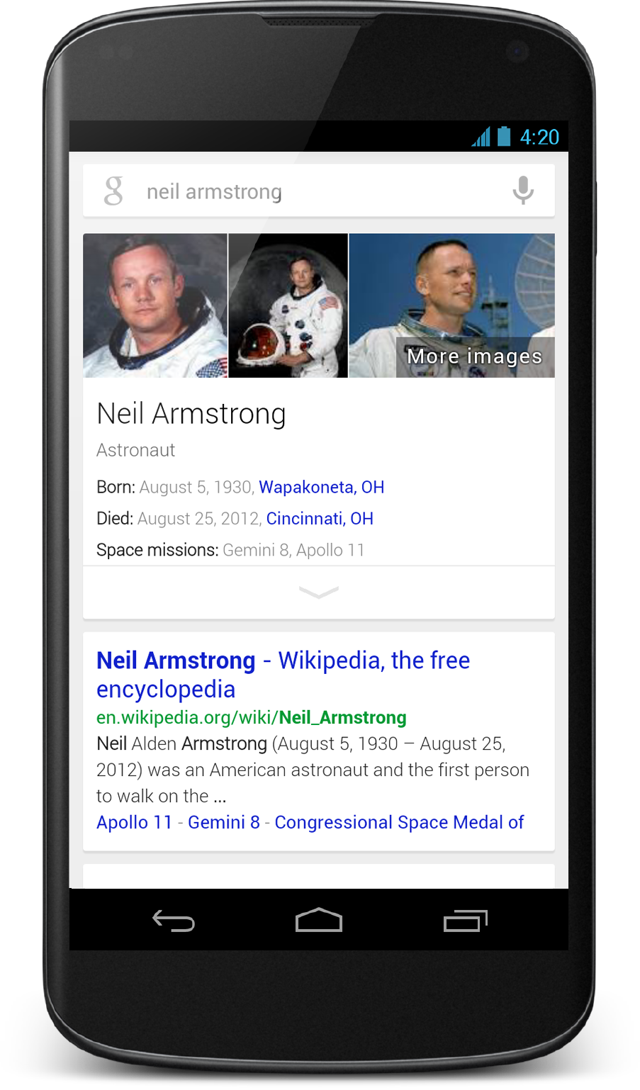 - Google Semantic Search on a Nexxus4
This strategy is complemented by Google's recent purchase of Wavii, a natural language processing business and of course Waze, a business built on local traffic, freebase and Wikipedia ,and other information channels. Google advances on this model with computing resources that cover some 20 billion facts covering relationships between different mapped objects. This is what makes a semantic map function and Vringo will not miss the opportunity to monetize this patent.
Vringo's possible strategy with US Patent #6556983
One of the advantages of legal discovery, and a reason settlements make sense, is the Plaintiff often reviews items or hears things detrimental to the defendant. Vringo completed the Microsoft '983 patent acquisition on May 30, 2013, almost 4 months before Google rolled out Hummingbird. Excellent timing or shrewd maneuvering?
Google shows no sign of backing down from its Appeal challenge. However that strategy may change, should Vringo file a new round of litigation centered around the '983 patent. From various web sources semantic searches are already offering up to 15% better click thru rates for advertisers. Vringo could position this anticipated case to stand alone, or be used as a potential inducement for a higher overall settlement in its current litigation. With the '983 patent being valid thru the year 2020, it makes sense that Google would see the value in a settlement that involved licensing this patent. However no challenge can be answered without a filed infringement action, and Vringo has yet to launch this attack.
Conclusion: Vringo will monetize its semantic search patent and Google is the logical defendant.
Vringo may be the paid henchmen of Microsoft, in its monetization of the '983 search patent, but there is no clear target other than Google. Regardless of who knew what and when, Vringo will profit. The old saying "the enemy of my enemy is my friend" holds true even today. Some have suggested that Patent Assertion is turning into a "Game of Thrones" storyline, with Fortune 100 companies condemning PAE's, concurrently as they file infringement actions of their own. Vringo for its part has accomplished more than any upstart patent entity in recent history. However Wall Street has failed to recognize this success and ultimately cannot stay blind to these recent victories. Given the outstanding 20 million share short position and recent settlements, it seems clear that Vringo may find new highs in the coming weeks.
As a reminder the best due diligence is your own. Please consult with a financial professional before making any investment.
Disclosure: I have no positions in any stocks mentioned, but may initiate a long position in MSFT, VRNG over the next 72 hours. I wrote this article myself, and it expresses my own opinions. I am not receiving compensation for it (other than from Seeking Alpha). I have no business relationship with any company whose stock is mentioned in this article.
Editor's Note: This article discusses one or more securities that do not trade on a major U.S. exchange. Please be aware of the risks associated with these stocks.