The last few weeks have seen a lot of deals announced as well as a number of rumored M&A deals in the works. Most of the activity has been within the pharmaceutical sector and there seems to be no end in sight. There have been many different kinds of transactions, from friendly to hostile, and this shows us that there is a real appetite for deals in the sector. With the demand for deals on the rise, look for more sellers to look to extract multiples on the higher end or seek second or third offers when weighing hostile bids.
Looking at the economic data today, we have to admit that it is a mixed bag. Payrolls came in higher than expected, but many of the other data points were disappointing. The one that was not, the Unemployment Rate, only fell because of a technicality in the way the data is assembled, so there is no reason to cheer the new 6.3% rate in our opinion.
Chart of the Day:
Ordinarily we would think that this chart was great, and on the surface it is. Sadly though the data behind the chart does not tell the full story and instead of it showing people once again finding employment it simply shows those losing long-term unemployment benefits.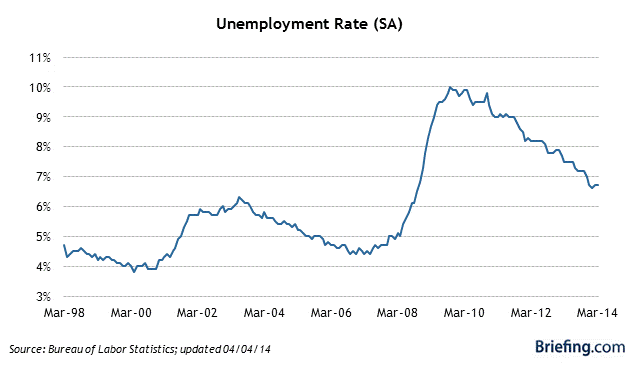 Source: Briefing
We have economic news today, and it is as follows:
Nonfarm Payrolls (8:30 a.m. EST): Est: 210k Actual: 288k
Nonfarm Private Payrolls (8:30 a.m. EST): Est: 205k Actual: 273k
Unemployment Rate (8:30 a.m. EST): Est: 6.6% Actual: 6.3%
Hourly Earnings (8:30 a.m. EST): Est: 0.2% Actual: 0.0%
Average Workweek (8:30 a.m. EST): Est: 34.5 Actual: 34.5
Factory Orders (10:00 a.m. EST): Est: 1.6% Actual: 1.1%
Asian markets are mixed today:
All Ordinaries -- up 0.17%
Shanghai Composite -- CLOSED
Nikkei 225 -- down 0.19%
NZSE 50 -- up 0.46%
Seoul Composite -- down 0.12%
In Europe, markets are mostly down this morning:
CAC 40 -- down 0.10%
DAX -- down 0.06%
FTSE 100 -- up 0.37%
OSE -- down 0.04%
Merck Close To Deal
We have seen a lot of deals in the "Big Pharma" space in recent weeks, and today it seems that we are closer to yet another large transaction involving large pharmaceutical companies. Merck (NYSE:MRK) has been looking to offload their consumer unit and the sale had been attracting some large names, such as Proctor & Gamble (NYSE:PG), Novartis (NYSE:NVS) and some other European names.
Reports are now surfacing that Merck has whittled the field down to Germany's Bayer (OTCPK:BAYRY) and is working on a deal that will involve cash and some asset swaps. It sounds like this deal will mirror some of the recent transactions that Novartis closed with their European counterparts, and should provide Merck with cash to go out and do some new deals, buy back stock or raise their dividend while also getting some assets that will allow the company to beef up in areas that it wants to focus on moving forward.
Merck has had a nice run this year, and lately it has risen on rumors of a deal for its consumer business. The company is hoping to shed slow growth assets in order to focus on high growth segments of the business.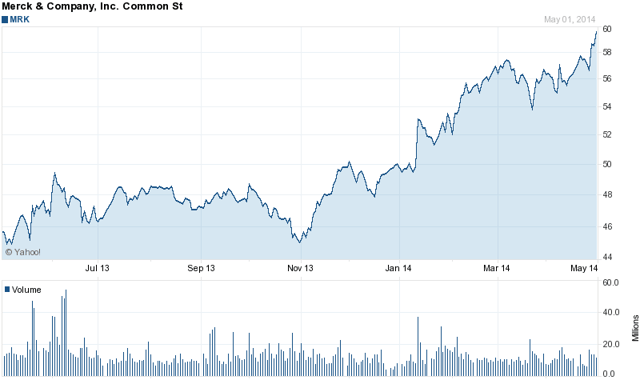 Click to enlarge
Source: Yahoo Finance
As both companies look to add scale in areas of interest, it looks like Bayer will have to give up its veterinary business. Merck has been a rumored buyer of these assets whenever talk arises of these types of units being available, so the probability is quite high that this unit would be included in any deal as the asset swap portion.
Pfizer Ups Bid
In other "Big Pharma" news, Pfizer (NYSE:PFE) is back and hitting the bid button for AstraZeneca (NYSE:AZN). They are bidding against themselves at this point, but really want to close a deal that would allow them to use overseas cash and lower their tax rate, which is either the highest or near the highest in the industry each year. Their latest $106 billion bid has been rejected by AstraZeneca so it will be interesting to see if Pfizer again sweetens its bid, gives a final offer or whether it will decide to go hostile and appeal directly to AstraZeneca's shareholders.
AstraZeneca solves some of Pfizer's problems, but certainly not all of them and appears to us to be a quick fix and just another financial engineering move. Yes, that move will be necessary moving forward for the company, but we would not at all be surprised if Pfizer is back out looking for acquisition targets 1-3 years after this deal is done - assuming of course that they are successful in getting AstraZeneca management onboard.
Disclosure: I have no positions in any stocks mentioned, and no plans to initiate any positions within the next 72 hours. I wrote this article myself, and it expresses my own opinions. I am not receiving compensation for it (other than from Seeking Alpha). I have no business relationship with any company whose stock is mentioned in this article.