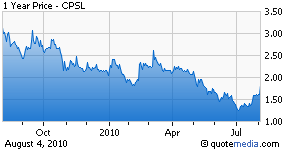 The market activity on Wednesday was uneventful, again. The ADP report was great this morning, and ISM was equally impressive. The ADP data for July, which tracks the amount of jobs added in the month, showed that 42,000 jobs were added. The analysts expected 25,000 would be added last month. Yet the market could not could not move out of the consolidation phase its been stuck in for the past three days. Volume was very low in the morning, but did pick up after the ISM data in into the afternoon.
Although volume was low, the Nasdaq stepped up and led the rally higher today. Energy, which led yesterday, was mixed today. Tomorrow I favor downside for the market, but our portfolio continues to overweight longs. We sold one long position today in case the market turns hard after Friday morning's jobs data.
Shares of Metropolitan (MDF) were sold this morning for about 10%. The stock had a great open, but quickly reversed. Volume was puny. Since the market was acting equally as strange, we exited. Good riddance, the stock quickly moved another 10% lower to finish down on the day. I almost sold FCH for 9%, but held onto it.
The Chart of the Day
China Precision Steel (CPSL) finished the day 11% higher.
I was looking for a move to $1.85 this week, and CPSL shares almost did that in one day. The stock should begin to find support at $1.70 before moving higher. The next target is $2, but this stock could hit it this week.
Our watch list was higher today, similar to the market. Leading the way higher were our small cap biotech and Chinese tickers.
Disclosure: None