Solar technology is on the verge of revolutionizing the energy industry and becoming a major energy driver in the U.S. and rest of the world. While the industry outlook is rosy, the same cannot be said of most of the solar stocks. Many of the companies in the industry come with a high level of risk and that makes them unacceptable as long-term investments.
If history is any guide, the key risk in this stage of an industry is that only a handful of the early players will thrive, and the rest will flounder or perish. The other big risk is that some of the companies, even if they are to become the future stars, may be overvalued significantly in the early stages and may not have attractive long-term results. So, investing in a single company or even a small select group of companies may not suit the risk/return profile of many investors.
Given the current industry dynamics, investors need to evaluate if ETFs are the lower-risk and diversified way to invest in the solar industry. Currently, there are two ETFs focused on the solar industry: Guggenheim Solar ETF (NYSEARCA:TAN) and Market Vectors Solar Energy Index ETF (NYSEARCA:KWT). These ETFs are not new. As you can see from the charts below, they have been around since 2008 and have been massive wealth destroyers during the last 6 years.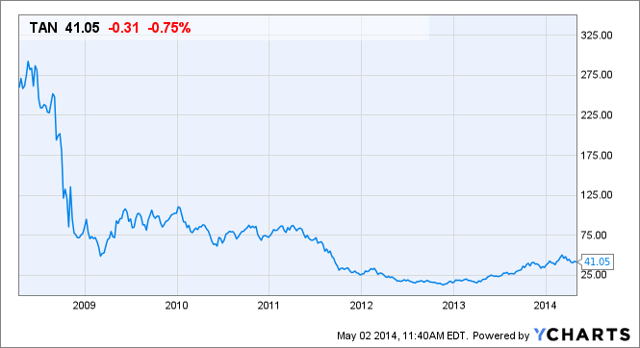 Click to enlarge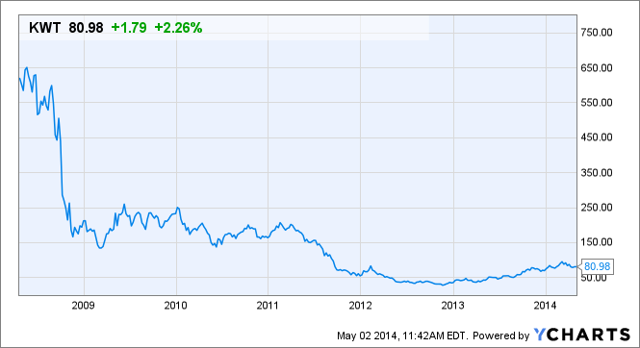 Click to enlarge
KWT data by YCharts
For investors, it is important to understand the reasons for the past performance of these ETFs. We believe there are two key industry-specific reasons for the abysmal past performance of these ETFs:
1. The unsustainability of earlier solar technologies and companies: In 2008, solar panels were selling for about $4 per watt, and solar systems produced energy at a rate that was 3 to 5 times more expensive than traditional energy sources, such as coal, natural gas and nuclear. The early solar deployments made very little economic sense in all but a few applications. Government subsidies and green customers were just about the only factors driving solar installations in these earlier times. However, smitten by the green energy paradigm and sensing vast future profits, investors pumped enormous amount of money into solar companies. The solar companies from these times, by and large, had unsustainable business models, depended on sustained government subsidies, and were destined to fail. The result was that "solar" and "failure" were the words that went together in mainstream press - and justifiably so.
2. The arrival of Chinese competition: While initial investments into solar were mainly in the U.S., Germany and Japan, it did not take long for Chinese companies to enter the solar space. With massive government support and high-volume business models, the Chinese companies arrived in force into the U.S. and the world markets. While the U.S. and European solar cell companies gravitated mostly towards the unproven thin-film technologies, their Chinese competitors picked the proven silicon panel technology, with aggressive cost reduction goals as the differentiation. However, with ample financing and without any significant barriers to entry, the competition became intense. Within a period of 3 years, the industry was awash in excess capacity and prices collapsed. The solar panel business became quickly uneconomical for all but a few players, and many companies with uncompetitive cost structure went out of business. This major solar shakeout wiped out a vast majority of the solar start-ups and undifferentiated companies, and decimated the market capitalization of the entire industry.
These two factors, along with the global recession largely explain the dismal performance of TAN and KWT from 2008 to 2012. Solar was not an investable industry in this time frame. The past performance of TAN and KWT is only a reflection of that reality.
However, the industry has changed substantially since 2012. The cost of the solar panel technology today is around $0.60 per watt, and solar energy is now cost-competitive with traditional sources in many countries at the retail or the wholesale level. In some applications, solar energy has now reached a cost point where government subsidies are no longer necessary.
In several remote and rural geographies, solar energy is not only cheaper than energy from traditional sources, but is the only commercially feasible energy source. Solar energy industry is now a sustainable industry, and solar technology will become even more competitive as the costs of technology continue to drop. In other words, we believe that solar is now an investable industry.
However, "being investible" does not mean the industry is stable or low-risk. Solar is likely to be a volatile industry with many high-risk companies in these early stages. While the biggest shake-up of the industry is probably behind us, many of the current players do not have compelling financial structures or differentiation. Many companies are likely to underperform, and may not survive in the long term.
We believe there are some notable industry leaders such as First Solar (NASDAQ:FSLR) (see our thesis) that are low-risk bets. At the same time, there are some other industry leaders like SolarCity (NASDAQ:SCTY) that are high-risk (see our thesis here and here). Stocks with high valuations like SCTY are likely to see several corrections and a have a significant amount of volatility along the way. High-volume Chinese companies like JinkoSolar (NYSE:JKS), Yingli Green Energy (NYSE:YGE), and Canadian Solar (NASDAQ:CSIQ) may appear to have low valuations, but pose considerable country and business model-specific risks, and may be unsuitable for portfolios of most investors.
In this volatile early-stage industry, caution is in order for a conservative investor. Here is where ETFs like TAN and KWT become attractive. ETFs provide risk mitigation and a way to capture the industry growth. Out of the 10 stocks an ETF may have in this early-stage solar industry, we believe that there may be 1 that is a ten-bagger, 2 or 3 stocks that will be three or four-baggers, and the rest will be dogs. In spite of the high failure rate, the overall blended return on the portfolio will likely be excellent. Given the early stage of this industry, one can essentially treat these ETFs like solar venture capital funds. That is the power of diversification!
The ETFs are particularly good bets if you are considering an investment in the high-risk, high-volatility Chinese solar companies, which we avoid. As the solar industry matures, the leaders will deliver in spades and followers will struggle or shut their doors. As with any new growth industry, new leaders are likely to arise over time, and an ETF might be able to track them for the investor without additional effort on the investor's part.
In summary, the risk with the solar ETFs is substantially lower than what their past performance indicates. Assuming the investor believes in the future of solar energy, ETF can become an investment vehicle of choice for conservative investors, instead of higher-risk bets on one or two companies.
Sentiment: Buy
Disclosure: I am long FSLR. I wrote this article myself, and it expresses my own opinions. I am not receiving compensation for it (other than from Seeking Alpha). I have no business relationship with any company whose stock is mentioned in this article.