We saw a nice rise in the sale of Arena Pharmaceuticals (NASDAQ:ARNA) Belviq this week as television ads begin to make an impact on awareness of the anti-obesity drug. This weeks script numbers represents the second week where the television ad campaign could have carried an influence on sales. Investors should be aware that ad campaigns are a process and that consumers can not simply run down to Wal Mart to pick up this product. A prescription anti-obesity product is not an impulse buy.
Before getting into the rise in scripts, let's review the current ad campaign information. Television ads started on ASpril 14th. According to iSpot.tv there have been 715 national commercial airings of the Belviq commercial on 44 networks and 338 different shows. iSpot.tv estimates that Eisai has spent about $771,000 on the campaign thus far. The peak of television ads was 78 airings on April 23rd. On average there have been about 38 commercials per day. In the recent week the frequency of advertising has slowed slightly. iSpot.tv collects and markets data on television commercials and is a great source (with reasonable pricing). The company provides substantially more data to subscribers than I have presented here.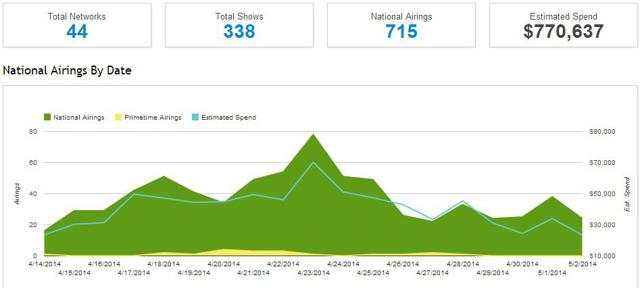 Click to enlarge
Chart Source - iSpot.tv
We, as investors, know that the ads are bringing awareness up about Belviq because we can see it more actively searched on Google. Google provides a service called Google Trends. It is important to bear in mind that web searches do not translate to sales directly. Google trends simply tracks what people are searching for on the web. What we see in looking at Google Trends is that web activity when the television ad campaign started gave Belviq its biggest spike since the launch of the product about 11 months ago.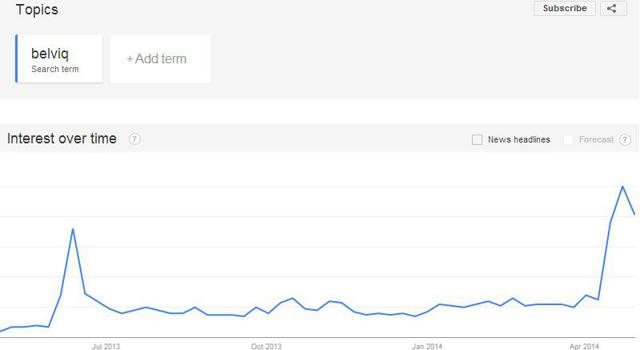 Click to enlarge
Chart Source - Google Trends
If we focus in on the past 90 days, we can see detail about the spike and the subsequent drop in more recent days. Investors should understand that a drop is going to happen. The first commercial airings will have the largest "virgin" audience that have never before been exposed to Belviq.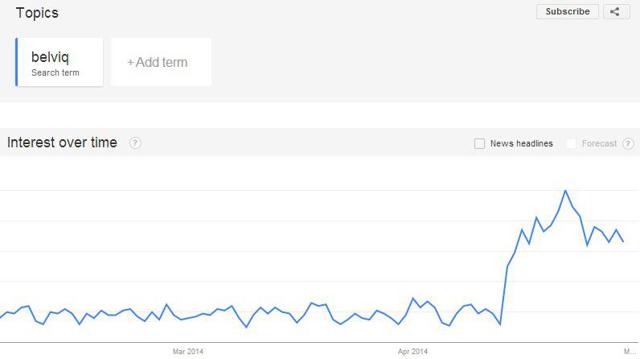 Click to enlarge
Chart Source - Google Trends
Now, what is interesting is looking at Belviq vs. competitors Qsymia from Vivus (NASDAQ:VVUS), and phentermine. You can see clearly that television ads have helped to vault Belviq over Qsymia, but as yet phentermine is still on top.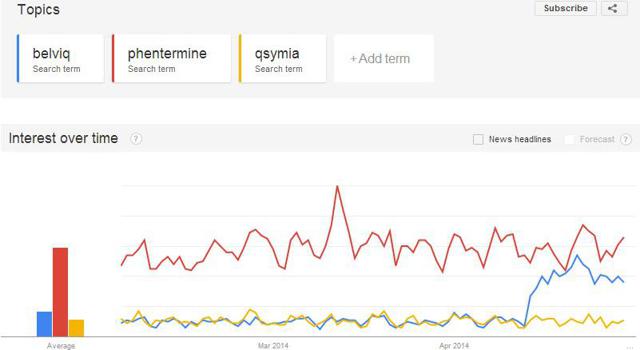 Click to enlarge
Chart Source - Google Trends
The move in search interest we see is impressive. It demonstrates that in the prescription weight loss sector that Belviq is getting attention now that ads are running. Phentermine sells about 130,000 to 150,000 scripts per week vs. just under 10,000 for Belviq and a bit over 10,000 for Qsymia. Just getting to phentermine status would make a drug like Belviq a blockbuster. That being said, getting to that level is not a simple walk in the park. As investors though, we want to see more about where Belviq sits in the overall sector as well as well. The chart below shows the Google Trends data with Weight Watchers added in.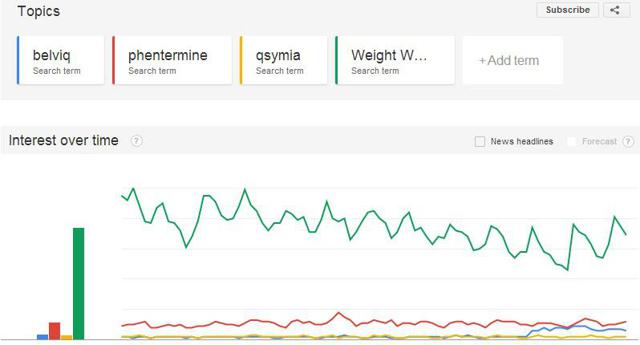 Click to enlarge
Chart Source - Google Trends
With the background in hand, we can now look to script sales of Belviq. This week Belviq saw a nice week over week gain of over 15% according to industry tracker Symphony Health. IMS Health showed a week over week gain of about 14%. Symphony scripts came in at just above 9,300 for the week, and more impressively, the new scripts were up 19% while my adjusted IMS total is just under 8,500. This represents an influx of new patients at a rate greater than overall growth. The indication here is that front end additions are higher as a result of awareness increasing. This week's sales results have essentially demonstrated that the expired discount card issue is now becoming less of a drag, and that the advertising is bringing in new patients. Readers of my site are already aware that the advertising impact will improve the script sales in the next few weeks in particular and saw the expectations for these recent moves outlined.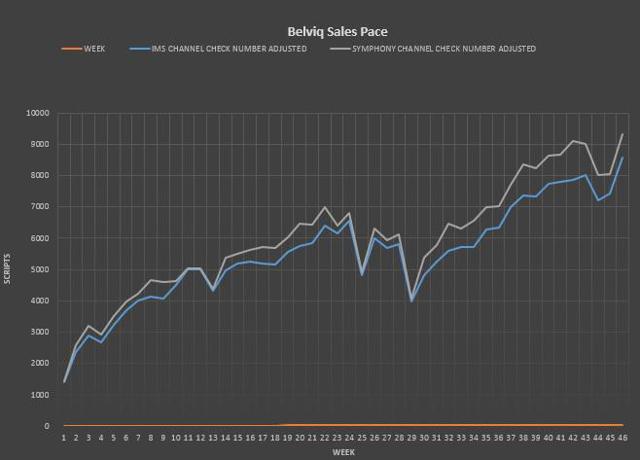 Click to enlarge
Chart Source - Spencer Osborne
Looking in the more near term, and at 2014 specifically, we can see that the 2014 sales pace is tracking for between $100 million and $150 million. While it is still early, indications are that Symphony numbers are in line with what it would take to get to $150 million and IMS numbers are in line with $100 million. We will get a better idea as to where we are likely to wind up in the next 8 weeks. While I am anticipating sales of $150 million in 2014, I would say that the current pace is point toward $125 million. The coming weeks should give us an idea as to exactly what type of impact television advertising will have.
Click to enlarge Chart Source - Spencer Osborne
What we want to see next week is the IMS number at 8,800 for a $100 million pace and the Symphony number at 11,327 for a $150 million pace. As you can see, we are reaching the stage where the script numbers need to demonstrate more aggressive incremental growth to sustain the trajectories. That being said, as long as the numbers for one of these services stays above the $100 million "guidance" from Arena, then the company will be pacing as needed. This is where things may begin to get tricky for investors. Remember, equity appreciation is about valuation vs. expectations. Certainly there are catalysts such as approval in other countries that can add value in the coming 12 to 18 months. There is also longer term pipeline potential and studies for other indications to consider. That being said, it remains important for Belviq sales to perform to expectations. If you recall, the expectations set by Eisai CEO in May of 2013 were to be at $200 million in sales by March 31st of 2014 (or $150 million if you believe that the former U.S. CEO was downgrading the guidance outlined by the bosses in Japan). Either way, sales (in my estimation) were at $45 million by March 31st, and just this week passed the $50 million mark since launch. The initial high expectations vs. the actual performance is the key element in why Arena stock has been languishing since launch. Consider that a lesson learned, and apply it to this year to be a more effective investor.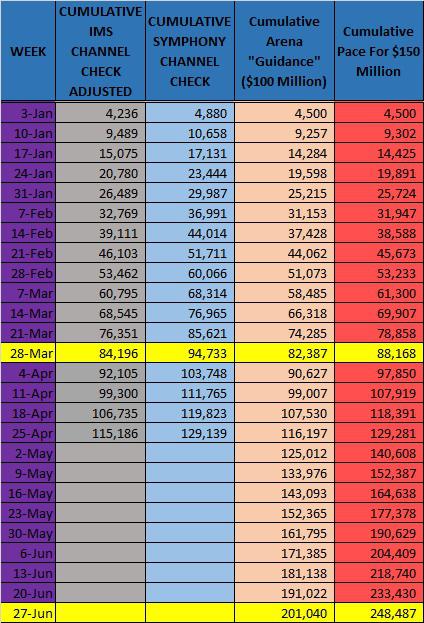 Chart Source - Spencer Osborne
From a revenue perspective in 2014, Belviq sales are getting back to what we want to see. By my estimation the company has now surpassed $50 million since launch with $23 million of that happening in 2014. Belviq is on the cusp of $1.75 million is gross sales for the first time. Next week, for the first time, we should see net sales of over $1 million and the Arena share of those sales eclipse $300,000.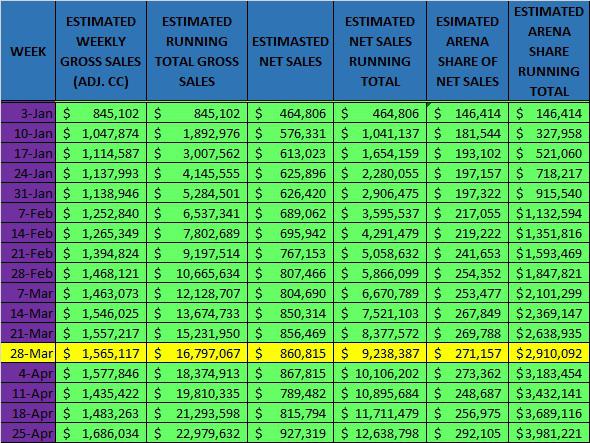 Chart Source - Spencer Osborne
On a quarter over quarter basis, we are now seeing the types of growth that we want to see. The chart below outlines the current quarter as well as Q1 of 2014 and Q4 of 2013. The chart demonstrates that while Q1 may be somewhat tempered, Q2 is shaping up much more nicely. Earlier this year I told my readers that the Belviq story would be a second half of the year story and that is what we are seeing. It is somewhat unfortunate that the Q1 report will show more modest growth than what we are experiencing in Q2, but that does present opportunity for savvy investors.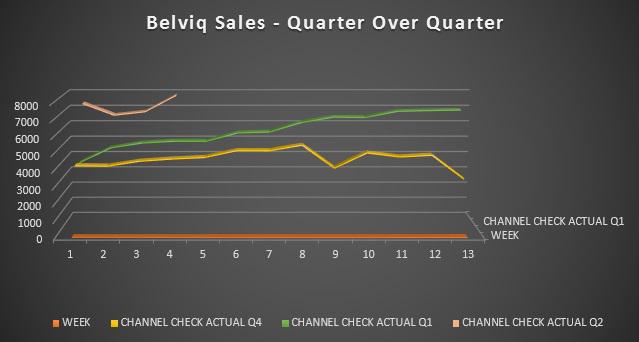 Chart Source - Spencer Osborne
By my estimation this week saw a 50% rise in scripts vs. the same week in Q1. That same 50% rise applies to the first 4 weeks of Q2 vs. the first 4 weeks of Q1. So far in Q2 Belviq has sold in four weeks what it took to sell in 6 weeks last quarter. This represents great growth and is substantially more impressive that the quarter over quarter growth we will be presented in the Q1 vs. Q4. Take note, because the Q2 report is shaping up nicely in terms of script sales.
One caution. As nice as it is to see sales traction, we need to bear in mind that the television ad is promoting the free trials. As we know, free is not really bottom line friendly in the near term. The concept is that some of those free trials will convert to paid scripts in future months. This essentially means that revenue in the near term on my charts may be slightly overstated. This should work itself out over time. The free trial is not a bad thing, it simply takes time to develop into bottom line friendly paid prescriptions.
Next week I anticipate another impressive gain in the script numbers. This should allow the equity to establish a solid base in price and appreciate as we move forward. Stay Tuned!
Disclosure: I am long ARNA. I wrote this article myself, and it expresses my own opinions. I am not receiving compensation for it (other than from Seeking Alpha). I have no business relationship with any company whose stock is mentioned in this article.
Additional disclosure: I have no position in Eisai, Vivus, or Weight Watchers