Although political relations between Moscow and Washington continue to exacerbate, Exxon Mobil Corp (NYSE:XOM) is undeterred in its quest to discover what may be the biggest treasure hunt to date, a trove of oil and gas reserves that might yield as much as 9 million barrels of oil. This would be a third more than Exxon currently has in its proven reserves.
Political Risk, Detailed
The place is the Kara Sea, which is near the Arctic. The prize in sight is the area called the University Prospect, which is part of Russia. And the risk is not economic, but political; the tension between the two superpowers involved is over Ukraine.
Here is the crux of the story: The US has placed a sanction against Igor Sechin, a close associate of Russian President Vladamir Putin. He is the head of a company called OAO Rosneft. He is also Exxon's Arctic partner. While it looks this could be the end of Exxon's hope for tapping into the rich reserves of the University Prospect, there is a possibility that Exxon can still proceed with its goal--because while there has been a sanction on Igor Sechin, it does not include OAO Rosneft.
Exxon needs to go for this big break in Russia, because the company has faced some challenges over the past decade, and in their first-quarter, production dropped 5.6% below their levels a year ago. This decline in production is not an anomaly, but a trend the company has been struggling with over the past 10 years. Its current dilemma is that it has to replace all the fuel that it pumps up each year-a staggering amount that equals the complete reserves of Hess Corp (NYSE:HES), its rival in the oil production industry.
The Russian Advantage
According to calculations made by OAO Rosneft, Russia now has an unfair advantage when it comes to untapped reserves of oil and gas. In fact, it may have as much as a quarter of global oil reserves. Russia has become hard to ignore when it comes to finding new energy resources. What's more, in other oil-rich countries, the state controlled oil companies get first pick.
In short, the Irving-based company in Texas, along with competitors British Petroleum (NYSE:BP) and Royal Dutch Shell (RDS.A, RDS.B), can no longer access the truly rich places on earth where oil and gas can still be found.
From Exxon's perspective, they have an ally in Russia, who will allow them to tap into a treasure trove of black gold. Consequently, company executives are talking about weathering the current political storms to gain access to a profitable future.
Risks and Opportunities for XOM Investors in 2014
Headed by Rex Tillerson, Exxon is determined to improve its margin of profit.
However, the company has been forced to focus on pruning. It has not done well drilling for gas in North America. In fact, it has been forced to scale down its operations on this continent. What's more, it also had to sell some of its stake in Iraq a year ago as the venture did not prove worthwhile. Finally, the concession in Abu Dhabi cost more than it paid out, and Exxon decided to let it to lapse.
Still, Canada's oil sands are beginning to be profitable and now with the immense promise of University Prospect in Russia, Exxon may very well be a good buy for shareholders.
We find Exxon's announcement of its disclosure of carbon and fracking risks another positive for current and/or potential investors, as it strongly suggests a level of transparency and stewardship to secure its assets and operations in the coming years, as well as consideration for shareholders.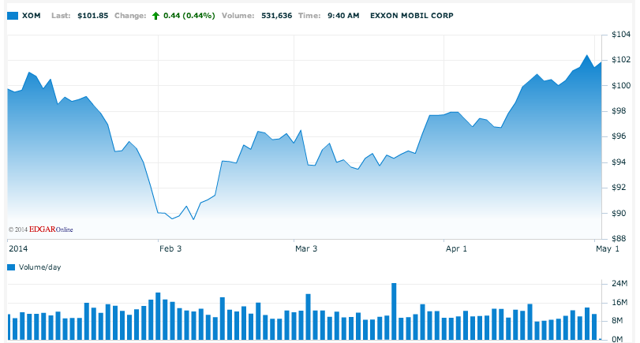 (Nasdaq.com)
We invite readers wishing to read and join the discussion about Exxon Mobil to click the +FOLLOW button above the title of this article.
Disclosure: I have no positions in any stocks mentioned, and no plans to initiate any positions within the next 72 hours. I wrote this article myself, and it expresses my own opinions. I am not receiving compensation for it (other than from Seeking Alpha). I have no business relationship with any company whose stock is mentioned in this article.