Introduction
Advanced Micro Devices' (NYSE:AMD) consumer graphics segment has gained some serious momentum over the last few quarters, and now with the revival of Never Settle Forever (NSF), gamers who choose AMD will now be eligible for free games. The chip maker's first quarter results proved that its graphics were in extreme demand. This demand was actually so high that its failed to meet demand over the last two quarters, which was primarily due to LiteCoin miners. However, with that scene now calmed, the addition of NSF will play a key role in bridging the gap between any demand reductions that occur. With NSF, Mantle and prices restored to normal, AMD is set to appeal to more gamers while growing its market share.
Despite a slower season, consumer graphics remained flat
Mantle, the R9 295X2, and a strong launch of its Hawaii Series architecture show that AMD's consumer graphics segment is on a roll. During the first quarter's conference call, CFO Devinder mentioned that the sequential pullback in GVS (graphics and visual solutions) revenue was mostly due to a decrease in consoles sales due to the slower season. This meant that consumer graphics revenue likely held similar results to 2013's stronger fourth quarter. Going forward, AMD is hoping to keep this momentum strong.
Using Never Settle Forever to Improve Demand
The reality is that graphics could have actually prospered if AMD was able to meet demand. During the last two quarters, prices of these graphics cards were sometimes double the MSRP, and even Dr. Lisa Su of AMD was clear on the miss on the supply side. In some ways, this hurt AMD's reputation in offering well-known great value to gamers and may have compelled some of them to buy Nvidia's (NASDAQ:NVDA) graphics cards instead. However, with the calming of the LiteCoin scene and with AMD now able to meet supply, prices are turning back to normal. With that, gamers can now enjoy AMD's high-value products and in addition obtain free popular titles as a bonus.
Supply and demand is a lovely thing and now with supply no longer an issue, AMD's Never Settle Forever program has been revived to keep demand high. NSF is a limited time program that provides gamers with a coupon that can allow them to select from a list of games for free. Each R7 and R8 series Radeon graphics card falls under a category as seen below allowing them from one to three free titles. Fortunately, these titles consist of some rather popular games like Tomb Raider and Thief. In addition, gamers have until the end of the year to redeem their free games should they decide to wait for new releases that will be added to the program in the future. What's more is that even the entry level R7 250 is entitled to a free game, which is a $40 value when buying a GPU that cost a mere $65. NSF is a great incentive for gamers and will offer AMD a good push in consumer graphics.

Click to enlarge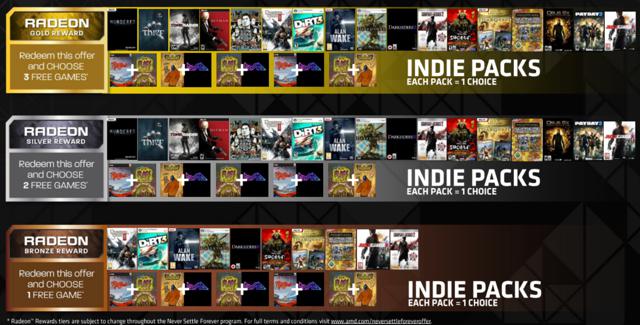 Click to enlarge
Source: AMD
Now, gamers can enjoy Mantle, too
AMD's Radeon graphics card exclusive API, Mantle, gives gamers an edge in some games. With Mantle, gamers enjoy boosts in performances when supported by developers. Fortunately Mantle is actually desirable for developers and lately many big names have joined the game such as Crytek, Electronic Arts (NASDAQ:EA), Square Enix and Oxide, just to name a few. This is a great advantage for AMD and is something gamers have been interested in as it further improves their bang per buck. So with prices back to normal, gamers can now enjoy great value, great performance and free games.
The "Green" Rival, Nvidia
AMD's primary competitor does propose a threat however. Not only is Nvidia's logo green, but its products are becoming even greener by introducing power efficiency levels that are beyond anything that AMD has to offer. Nvidia has generally had an edge in efficiency and its latest Maxwell architecture allows the company to leap even further ahead. Fortunately, performance isn't a problem for AMD and in the desktop market this is currently not a major concern. However, in mobile, where battery life sells, this can hurt AMD until it learns to improve efficiency levels. With the latest launches of their more power efficient Beema and Mullins APUs, it is clear that efficiency is on the company's mind and hopefully we will see improvements sooner than later.
Conclusion
With Intel's (NASDAQ:INTC) graphics coming in with no comparison, Nvidia is AMD's only real competitor and the strong rivalry between the two has generally fluctuated back and forth. AMD has been behind for years and it's now the company's time to shine. In terms of both CPU and GPU processing, AMD is the only company that's great at being the best at both, and that could lead the company to become a giant one day. Right now that's a long-term goal that's out of focus as AMD wants to add even more diversity, but for now and for graphics, AMD is on route to secure market share and NSF will jump start this goal.
Disclosure: I am long AMD. I wrote this article myself, and it expresses my own opinions. I am not receiving compensation for it (other than from Seeking Alpha). I have no business relationship with any company whose stock is mentioned in this article.