John Wiley & Sons (NYSE:JW.A) has exceeded my estimate of its current intrinsic value. Since my first article on JW, the stock crushed the market. I like the business but there are better investments when it's this pricey. Right now you pay almost 2x Sales, 3x Book Value and over 10x Cash Flow for the publisher.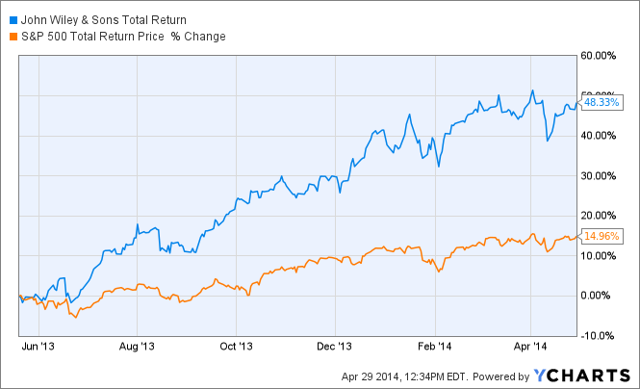 JW.A Total Return Price data by YCharts
The core business includes publishing scientific, technical, medical and scholarly journals, reference works, books, database services, subscription products, certification and training services and online teaching and learning resources.
The use of technology enables the company to make its content efficiently accessible to customers around the world. This is an exciting industry full of opportunity.
The changes that are underway in this industry also introduce many unknowns. How will the competitive landscape change? How will protection of IP-rights and piracy evolve?
John Wiley & Sons is consistently one of the highest rated publishers in the Thomson ISI Journal Citation Report, an important evaluator of journal impact. Its brand is well known and highly regarded in the markets it operates in.
Because it also publishes some landmark financial series most of you will be well aware of the strength of the Wiley brand.
This means the publisher requires lower marketing spending compared to competitors without its reputation to sell its products, because it has established trust with its audience already.
It's also Wiley's reputation that helps the company attract top authors in their fields. Potential authors love the prestige of publishing with Wiley and love how the brand enhances their product.
Finally, its brand helps Wiley maintain healthy relationships with important distributors. One example is Amazon (NASDAQ:AMZN). Its high quality content library enhances the Amazon library. It loves to be able to offer Wiley's library to its customers. In turn this gives the company some bargaining power to protect its margins against Amazon relentless pushing for better prices.
Usually a brand costs a lot of money to keep up and I'm not necessarily a fan of branded products. In case of Wiley, some of that cost is incurred in the shape of opportunity cost. The publisher has to forego some volume by continuing to publish quality works only, and protect its reputation.
Wiley is also in a position to charge high fees to professionals who rely on its products. There are just not that many alternatives in the niches it covers. As long as competitors remain rational this protects profit margins. Its products tend to have a small number of subscribers but fetch high prices. To some, Wiley's products are simply a must have.
The company overhauled its website, launching Wiley Online Library, where it makes content available. Online it is possible to generate advertising revenue, which is an interesting way to generate revenue in nifty new ways, when pricing is under pressure.
WileyPlus is the company's online learning environment that supplements textbooks with integrated materials and custom content by writers/professionals. WileyPlus already contributes meaningfully to sales; this positions Wiley well for the time when digital learning becomes standard practice. Steve Smith, CEO, on the latest earnings call:
We have invested heavily in digitalizing that content in the education business. In particular, we put a lot of effort behind developing really high value integrated learning solutions around WileyPLUS and that's something which I think is now beginning to pay dividends as those products and that format really resonates with the marketplace. There is still I think some confusion in the market for print books around blurring of channels, particularly with the development of rental, but I do feel that we have seen much of the disruption that we are going to get from rental. It's still a challenging marketplace in 2014. We certainly know from looking at market data that Wiley continues to win market share in the U.S.
One interesting aspect of Wiley's online offers compared to its classic textbooks is that the price point is much lower. This makes investors uneasy. Why are prices for digital textbooks so much lower? Is the price point a strategy to introduce this new product quickly? Are customers unwilling to pay more for digital goods? Maybe a little bit of both, but the main reason is that at this time is that there isn't the same resale market. Pricing of textbooks takes into account that users flip them two or three times on the secondary market. This would suggest a move to digital content would, in a very significant way, boost revenue but depress margins.
Wiley is financially healthy. Interest expenses are a fraction of the firm's EBITDA and the historically has relatively stable revenue streams; consistent with what you would expect of a high quality publisher with many clients who are publicly funded.
In addition to the uncertainty associated with the future of the publishing industry and the position of publishers in models to monetize IP-rights, there are other developments you should be aware of.
For example the company just announced its cost-savings program is coming to an end. It dangles a nice carrot in front of investors, promising another $40 million ending up on the bottom line; representing a 30% increase of its TTM net income of $133 million. On the earnings call:
Our broad based cost restructuring is nearing its completion. As a reminder, we expect to achieve $80 million of run-rate savings starting in fiscal year 2015. More than 50% of the $80 million will fall to the bottom line. The rest will be invested back into the business to fund high growth opportunities.
At the same time, the company has increased its payout ratio significantly TTM. This may indicate management doesn't see the same opportunity to achieve ROIC as it used to.
What appears to be good news at first sight may also have an effect on future growth rates. If the market realizes the company may be hard pressed to find opportunities to achieve further earnings growth, the stock may take a step back to valuations in line with more modest prospects.
DCF Valuation
Last time I valued the company by DCF analysis. At this time I still think that's one the best way to value a company like Wiley. The company has a strong position in its industry; I certainly think Wiley is better positioned than most publishers. Yet, at the same time this industry is in transition. Any publisher may fall victim to the process of creative destruction. Because of this uncertainty I limit cash flow projections to 5 years ahead.
Occasionally I try something new to arrive at a more accurate valuation. This time I've calculated Wiley's DCF value under a limited number of broad scenarios. I've also assigned probabilities to the different scenarios.
| | | |
| --- | --- | --- |
| JW.A Future | Discounted Cash Flow Value | Probability |
| $40 Million bottom line saving realized, growth continued | $82 | 5% |
| Continues to grow at 10yr average | $72 | 10% |
| $40 Million bottom line saving realized, growth slows significantly | $57 | 20% |
| Slowed growth going forward, some cost savings | $54 | 54% |
| Very challenging conditions | $41 | 10% |
| JW.A becomes obsolete due to a change in its competitive environment | 0 | 1% |
When valuing JW.A to the weighted average of these scenarios net present value of a share is $52.
In addition, the firm holds $5.33/share in cash which is high. I estimate approximately $3/share of this is excess cash it is holding that is not required to generate future cash flows. To be fair, I think the $3 should be added to the company's net present value. In total that makes the company worth $55.
Very close to the $57 value the market assigns the stock.
Although I like the company and its strong competitive position, at this time it is pass due to the price tag the market put on the stock.
Disclosure: I have no positions in any stocks mentioned, and no plans to initiate any positions within the next 72 hours. I wrote this article myself, and it expresses my own opinions. I am not receiving compensation for it (other than from Seeking Alpha). I have no business relationship with any company whose stock is mentioned in this article.