Heading into the weekend, commodity investors are once again faced with the serious question of whether they want to hold open positions with what is taking place between Russia and Ukraine. It seems that Ukraine's armed forces have gone on the offensive in the eastern portion of their country against pro-Russian forces and this has drawn Russia's attention. So much so that Russia has requested a meeting of the UN Security Council, something that could pave the way for Russia to do another land grab or possibly result in a ceasefire and de-escalation of the situation.
We continue to hold our energy positions, but must point out that with rising inventories here in the US that we could see prices fall for oil, which would cause a drop in the E&P names. Although WTI could fall on talks of peace, we still think that it is a buy over Brent, as peace would also impact that market and we think to a more significant level.
Moving today in the commodity arena are the precious metals and copper. If gold can hold above the $1,300/ounce level, we might see a bounce higher next week.
Chart of the Day:
Everyone continues to be drawn to the coffee trade, which is once again trading near recent highs. There is still a long way to go to get back to the prices of a few years ago, but as the one year chart below shows, the run has been significant. For those investing via the ETFs, the returns have been strong. For those using the various contracts, the returns have been amazing. The run from late January to late February is one that certain traders will remember their entire lives. Months like that in the commodity industry can make not just a month or a year, but a career.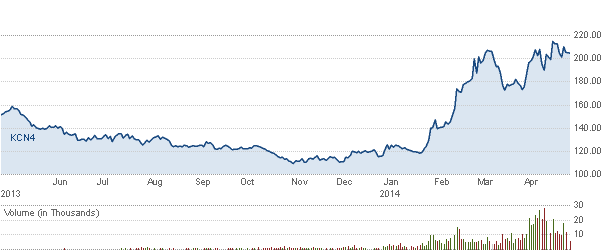 Source: CNBC
Commodity prices are as follows (at time of submission):
Gold: $1,300.90/ounce, up by $17.50/ounce
Silver: $19.55/ounce, up by $0.561/ounce
Oil: $99.85/barrel, up by $0.43/barrel
RBOB Gas: $2.9537/gallon, up by $0.0149/gallon
Natural Gas: $4.70/MMbtu, down by $0.019/MMbtu
Copper: $3.0675/pound, up by $0.046/pound
Platinum: $1,441.90/ounce, up by $14.40/ounce
Iron Ore Market
We ran across an article from Bloomberg (located here) this morning discussing the surging iron ore exports from Australia's Port Hedland that are destined for China. These record shipments from Australia show that the producers there, namely Rio Tinto (NYSE:RIO) and BHP Billiton (NYSE:BHP), continue to be serious about expanding their low cost production in the region to take market share, even if it impacts market prices. That is key because with inventories/stockpiles in China nearing records, one has to assume that prices are set for a continued downturn, and could be headed for a more pronounced moved lower should economic growth in China not ramp up.
Another name investors want to continue to watch is Vale (NYSE:VALE), which produces iron ore cheaply in Brazil. Gains by Rio Tinto and BHP Billiton in Australia might eventually take their toll on Vale's business. That would be a few years down the road, but news like this is precisely why we are not interested in the iron ore market right now.
But Nat Gas Is Driving Results
Both ExxonMobil (NYSE:XOM) and ConocoPhillips (NYSE:COP) beat analysts' expectations due to strong natural gas pricing in North America. Although we continue to believe that long-term natural gas prices will head back down, we have to acknowledge that recent events have set the stage for prices to remain at elevated levels. Storage levels are low after having been drawn down significantly over the winter months, and with the fire at the processing plant in Wyoming, we could see some delays out west.
ConocoPhillips is one of those names that gets lost in the shuffle when discussing energy names. Its performance has been quite strong as of late, and should garner more attention moving forward should natural gas prices remain stable.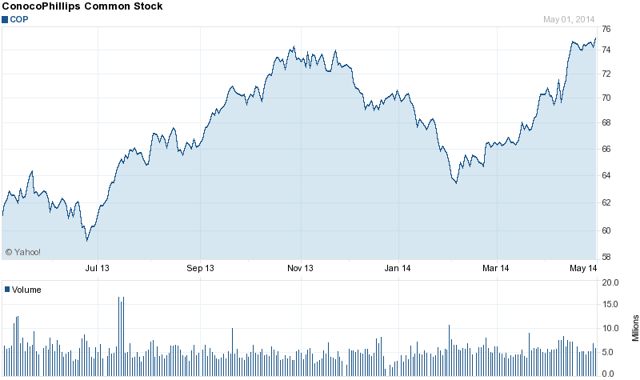 Source: Yahoo Finance
Even with prices in a downtrend, if the move is not significant it could help elevate results at various North American E&P companies moving forward as they update their hedging programs and open new hedges for new production. Another thing for investors to watch is whether the west coast gets El Nino or La Nina this year.
Disclosure: I have no positions in any stocks mentioned, and no plans to initiate any positions within the next 72 hours. I wrote this article myself, and it expresses my own opinions. I am not receiving compensation for it (other than from Seeking Alpha). I have no business relationship with any company whose stock is mentioned in this article.