Magnum Hunter Resources Corporation (MHR) is a risky oil and gas company. While its shares might be attractive to some, what is enticing me is the availability of Series E Cumulative Convertible Preferred Stock (MHR-PRE, CUSIP 55973B409), a dividend-paying instrument that can be converted into common equity. Ownership of this type of security can lead into a low-risk trade that can result in a windfall.
There is virtually no dispute that an investment in Magnum Hunter is a bet on future profitability, as the company is currently losing money. Pursuant to reporting a fourth-quarter 2013 loss of $0.14 per share on February 24th, 2014, production estimates are varied due to slower ramp ups in Marcellus and Utica, and delays, though some are optimistic about increases.
A separate matter is the company's ability to meet requisite financial needs. After completing over $500 million in asset sales, CEO Gary Evans describes a need to further sell $400 million of non-core assets to "help fund our GAAP CapEx this year." The firm has also been under discussions about refinancing existing debt. Dilutive issuances of stock may occur:
I think, we're geared more to more common stock type equity raises in the future. We want to clean up the perpetual preferreds and hopefully get them convertible handled this year. So, you can really see a dramatic change in the balance sheet in 2014. The Series C Perpetual Preferred is callable at par now with Series D becomes callable next month in March. And then the Series E is a convertible, the stock gets around 10 to 11, we can convert - force conversions. So, we feel, based on the results that we're going to have this year, we can continue to clean up the balance sheet and then access the capital markets as we deem fit.
(Source: Q4 2013 Transcript)
Though the corporation has since made a stride toward addressing liquidity concerns through announcing the sale of Canadian property, it still has nearly all tasks ahead of it in order to meet its fiscal burden.
The preferred stock is set to convert at $8.50. It has some favorable features, though it is not rated by Moody's or S&P. It pays out $2 yearly so that it would yield 8% at its call price. It is cumulative, and if a payment is missed, perhaps due to liquidity problems, the corporation is required to compensate investors eventually, with a 10% penalty rate after "four consecutive quarters (S-57 of Prospectus linked above)." The preferred is senior to common shares, but junior to some other issuances and bonds. The company can buy the debt back on or after 11/02/2015. Lastly, as referenced in the quote above, if the price of the common stock exceeds 130% of the conversion price for 20 of any 30 consecutive trading days, the company may redeem at $25 per depositary share. Though the CEO says "…we can force conversions;" with the stock currently at $8.21, it would need to appreciate 35%, to over $11.05! If that does not happen, look for Magnum Hunter to tap capital markets first through November 2015.
The Series E Preferred has closed at $28.98, at 115.9% of its issued price and the amount investors would obtain if the company is able to retire the debt next autumn. It is near its all-time high of approximately $30. Thus, though it is not currently callable, it is relatively expensive.
In order to make an investment or trade in MHR.PRE profitable, the first step is to obtain a low price. Ideally the shares could be obtained at or under $25. Though they can participate in the upward movement of the common stock's price, there is not a particularly strong correlation, as the preferred has closed up 0.79%, with the common down 3.53% on 5/1/14 (preferred blue, common red in Marketwatch 6 month graphic):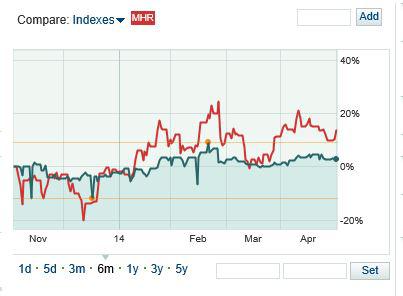 Hypothetically, if depositary shares are acquired at the current 16% premium price, an investor could easily lose an amount that would not be fully offset in dividends before the call date. Thus, it seems appropriate to patiently wait for the security's price to come down - though it might never happen. The convertible preferred is not a well-kept secret.
However, if it does drop enough, virtually all risk incurred in selling short the common stock in anticipation of secondary offerings - or a corporate catastrophe - would be negated. For example, if Magnum Hunter is bought out at a price of $15 per share, 183% of its current $8.21, anyone owning the convertible instrument could effectively cover by exercising his or her right to purchase groups of 2.941176 shares at $8.50, or $25 total. Meanwhile, a return of nearly 8% yearly through distributions should easily outpace inflation if opportunistically waiting to short the regular shares.
Additionally, the latter equity pays no dividends, is highly volatile, with a Beta of 2.64, and entails ownership in a speculative company that is struggling with capital needs. If there is an extreme situation such as bankruptcy, short sellers' gains would approach 100%; while there is a simultaneous possibility of limited or no losses, or gains, on the preferred.
There are several reasons to consider owning Magnum Hunter's convertible issuance. It can allow for participation in any appreciation of common equity, a de-risked method of betting against it if the situation arises, and probably can be expected to pay what many would find to be an acceptable rate over the next year and a half, at least. However, there might not be such a hurry at current prices.
Disclosure: I have no positions in any stocks mentioned, and no plans to initiate any positions within the next 72 hours. I wrote this article myself, and it expresses my own opinions. I am not receiving compensation for it (other than from Seeking Alpha). I have no business relationship with any company whose stock is mentioned in this article.
Additional disclosure: I may initiate a long position in the MHR.PRE or sell short shares of MHR over the next 72 hours.