In the last few days I have seen unusually heavy put buying in two of the high yielding shipping stocks, Frontline (NYSE:FRO) and Teekay Corp. (NYSE:TK). Neither of these companies has reported earnings yet this quarter.
On Monday August 2nd, Frontline traded 5X daily average put volume as more than 3,000 August $30 puts were bought with shares at $32, and implied volatility climbed more than 10%.
On, August 3rd, Teekay traded 3,136 puts, or 15X average daily put volume and implied volatility jumped 13.2% higher, a focus on the September $25 puts that were bought more than 2,100X, with shares trading at $27.80.
Picking up trends in the options market is a specialty of mine and often pays off big, so when you see this type of action, far out of the money put buying, in two related names on consecutive days, the alarm sirens.
Along with Nordic American (NYSE:NAT) and Overseas Shipping (NYSE:OSG), we have a group of 4 stocks that yield greater than 4.6% dividends (Frontline yields 9.5%) that are all heavily exposed to crude oil, for transportation and storing purposes.
Crude Oil has rallied more than 12% in a month and many feel that $85 is a likely near term top, currently at $82.30, as the global demand/supply picture does not justify a higher price. As global economic growth comes into question, seen in recent data in the US (PMI, ISM, etc.) as well as globally (seen in the weak Baltic Dry Index), the oil shipping stocks become less attractive.
The more interesting story here is that these stocks may start to decline as investors pull out money due to dividend investing being less attractive, as the chance for government changes to tax laws increase. If dividend tax rates were to be set at a level above capital gains tax rates there would be massive outflows from the high yielding oil shippers, because they are not invested in with growth or price appreciation in the thesis.
For the most part profitability ratios (margins, ROA, ROE, etc.) are terrible for these firms and aside from Nordic American, the rest of these three shippers have massive amounts of long term debt obligations. Without the dividend rationale, there is really not a reason to be invested in these shippers. If you want exposure to oil there are plenty of oil services and integrated oil/gas companies with better fundamentals.
The charts tell the story, as none of these stocks has managed any sort of strength despite the big rise in oil prices. Frontline would break trend support and 200 day moving average support below $30, Overseas Shipping is nearing a major break of a double bottom at $34.50, and Teekay (TK) put in a double top at $29 recently
Option traders are playing for big moves lower in Teekay and Frontline, and action could pick-up in Overseas Shipping any day. Teekay looks to have the most room to fall, as this rising wedge displayed below would break at $26:
click to enlarge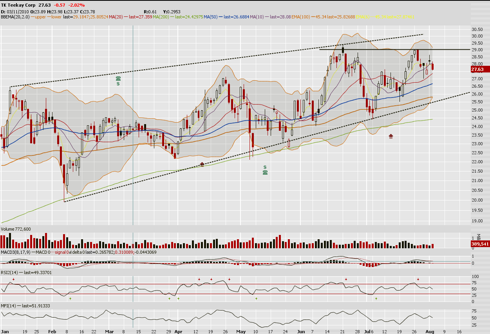 Disclosure: Considering Puts in OSG and TK