As in some of our recent articles, we've found another high dividend stock whose business model is based on stable, long-term leases. This company is riding the huge ongoing wave of data storage demand in North America with its data centers.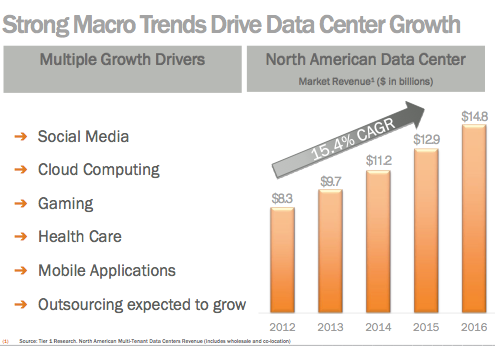 Profile: DuPont Fabros Technology (NYSE:DFT) is a real estate investment trust (REIT) and leading owner, developer, operator and manager of wholesale data centers. The Company's data centers are highly specialized, secure, network-neutral facilities used primarily by national and international Internet and enterprise companies to house, power and cool the computer servers that support many of their most critical business processes. Well known industry leaders, including Microsoft (NASDAQ:MSFT), Yahoo (NASDAQ:YHOO) and Facebook (NASDAQ:FB), entrust DFT to provide continuous power and cooling to their computer servers and network equipment that support their critical business processes.
(Source: DFT website)
Big Dividend Growth: With its 5%-plus common stock yield and 7%-plus preferred stock yield, we've added DFT to the tech section of our High Dividend Stocks By Sector Tables.
After cutting its annual dividends paid out from $.56 in 2008 to just $.08 in 2009, DFT has returned to steady dividend growth since 2009.

DFT raised its quarterly dividend 40% in April 2014, to $.35, from $.25, and its 2014 $1.40 payout will be over 47% above its 2013 payout of $.95.
This hike is well-supported by strong Funds From Operations - FFO: In its Q1 2014 earnings release, DFT increased its 2014 FFO guidance to a $2.32 to $2.40 range, from its previous forecast of $2.28 to $2.38. DFT had AFFO/dividend coverage of 1.97 in 2013. (AFFO = Adjusted Funds From Operations):

The company has also shown steady growth in Revenue, EBITDA, AFFO and Operating Cash Flow over the past four years: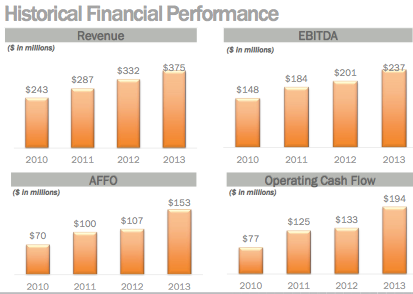 (Source: DFT March 2014 Goldman Sachs Presentation)
Preferred shares: DFT also offers two preferred stocks, both of which are currently yielding over 7%: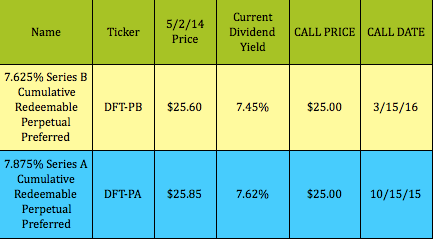 Even though the B series yield is a bit lower, it's a safer bet, long term, since it's not callable until 3/15/2016, so you'll be able to collect one more quarterly dividend and achieve a lower breakeven. It's also currently cheaper than the A series. Since both shares are above the $25 call value, if you hold them to the call date, you'll only be paid the $25 when DFT redeems them. So, you should deduct the difference in your cost/share from $25 to figure out your total return to maturity, as we did in the table below. You could also choose to sell them sooner after collecting some quarterly dividends, in which case you may be able to get more than $25 for your shares:

Options: This short-term July trade offers you some additional income from DFT's common shares. The July $25 strike price pays $.50 and is also $1.08 above DFT's price/share, which offers you potential price gains.
You can find more details on this and over 30 other trades in our Covered Calls Table.


Earnings Forecasts: DFT looks undervalued on a 2014 PEG basis, with huge growth being forecasted by analysts:

Where's the growth coming from? DFT has two big projects under development: an 11 MW facility in VA, due to go online in June-July 2014, and a 9.1 MW in Santa Clara, CA, already 50% pre-leased to its top four existing customers due to start up this month.
In addition to these two projects, DFT is commencing a large 25.6 MW project in 2014.
DFT's Long-Term Triple Net Leases afford it strong cash flow with which to increase its dividends:
In addition, it has a strong tenant base: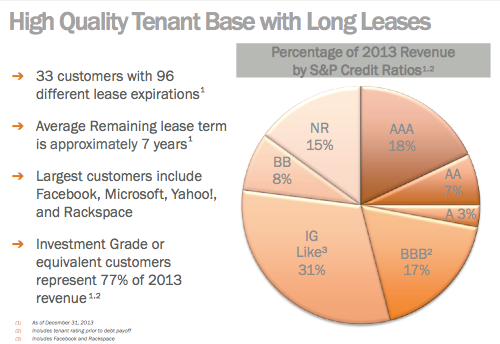 (Source: DFT March 2014 Goldman Sachs Presentation)
Financials: DFT lags in Operating Margin and ROE, but has better Debt/Equity and Interest Coverage. 99% of DFT's debt is very long term - it has total debt of $966 million, of which $600M doesn't mature until 2021, and $353M matures in 2018-2019.
Here's a narrower Peer breakdown, in which DFT shows favorably on several metrics: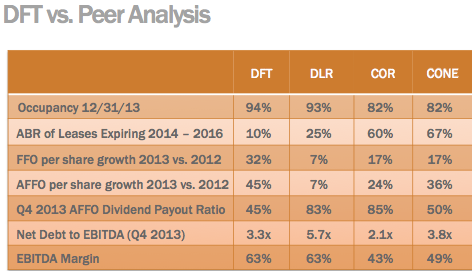 (Source: DFT March 2014 Goldman Sachs Presentation)
Performance: DFT has underperformed the market over the past year and year to date: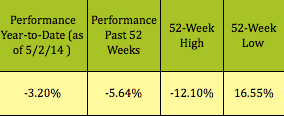 Disclosure: Author was long DFT-PB shares at the time of this writing.
Disclaimer: This article was written for informational purposes only.
Above Tables were furnished by DoubleDividendStocks.com, unless otherwise noted.
Disclosure: I am long DFT. I wrote this article myself, and it expresses my own opinions. I am not receiving compensation for it (other than from Seeking Alpha). I have no business relationship with any company whose stock is mentioned in this article.
Additional disclosure: I'm long DFT-preferred B, not the common.