Baidu's (NASDAQ:BIDU) core search engine business is expected to continue delivering solid revenue growth over the next several years, largely driven by China's rising Internet user base. Baidu recently entered the mobile segment by providing mobile payments, map services, online video and apps. These initiatives are not yet generating meaningful revenue, but I believe they will become long-term revenue growth drivers on the back of rising demand for mobile services.
Even with Baidu shares up more than 80% over the last 12 months, the stock is still trading at a substantial discount to its Internet peers. I believe this is unjustified given the company's robust growth, ramping margins and wide economic moat. Taking these factors into account, I believe Baidu is one of the best investment opportunities of 2014.
Business Overview
Baidu is the dominant Chinese search engine, with over 70% market share, and the second-largest search engine in the world behind Google (GOOG, GOOGL). The Baidu.com website is the most trafficked website in China, and the "Baidu" brand is ranked as the most valuable Internet brand in China. The company generates revenues primarily from pay-for-performance advertising ("P4P"). Its P4P platform helps connect millions of Internet search users to its more than 753,000 marketing customers who pay it a fee based on click-throughs for priority placement of their links in the search results. Baidu was founded in 2000, and listed on the Nasdaq in 2005.
Baidu Benefits From a Tremendous Network Effect
Baidu is the dominant Internet search engine in China, with over 70% search market share as of 1Q14. Some investors have been concerned that Baidu will eventually lose its market share advantage to competitors such as Qihoo 360 (NYSE:QIHU) and Sogou (including Soso). Although rising competition is a risk one should consider, I still believe Baidu will remain the dominant Chinese search engine going forward, because the company benefits from a tremendous "network effect."
Figure 1: Baidu's Total Search Market Share (PC + Mobile)

Note: This market share estimate is an average based on various sources.
Source: M&E Research, Analysys International, iResearch, CNZZ and EnfoDesk
Baidu ended 2013 with more than 753,000 marketing customers, making it the largest Internet search engine in China by some distance. This customer base has grown at an impressive 41% per annum between 2003 and 2013, and will likely continue growing at double-digit rates for the foreseeable future. More customers have led to more information on Baidu's online platforms, and consequently, attract more search engine users. This creates a self-reinforcing network effect that is very difficult for its competitors to replicate, since it takes a fairly long time for other companies to achieve a user base of similar size. Moreover, millions of Internet users rely on Baidu's dominant online platform to connect with each other and share information and knowledge. It is highly unlikely for users to give up the massive network and information source by switching away from Baidu.
I believe the increasing Internet penetration in China will help widen Baidu's economic moat over time. First-time Internet users are more likely to choose Baidu as their preferred search engine, simply due to the fact that it is probably the one they are most familiar with. In my opinion, this gives Baidu an enormous competitive advantage. The Internet penetration rate in China has increased steadily from 6% in 2003 to just below 46% in 2013. However, this penetration rate is still low compared to developed countries. The Unites States, for example, has a penetration rate of nearly 80%. Over the long term, the growth in the number of Internet users in China will contribute toward the growth in the number of Baidu users. I believe this will further strengthen the company's network effect and widen its economic moat.
Figure 2: Internet Penetration Rate in China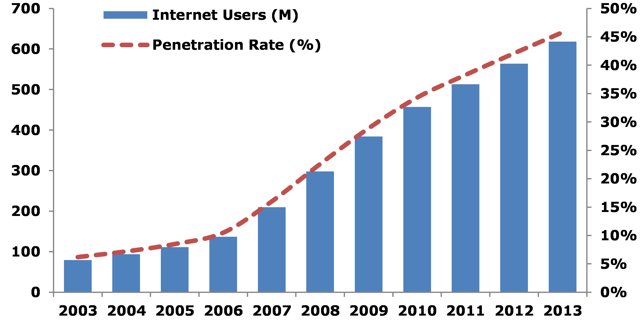 Source: M&E Research and CNNIC
Mobile Business Will Be a Long-Term Growth Driver
The number of mobile Internet users in China has grown at 47% per annum between 2007 and 2013, and reached 500 million by the end of 2013. Still, considering China has a population of over 1.3 billion, this represents a mobile Internet penetration rate of only 37%. Although, with the continued rapid adoption of mobile devices in China, the number of mobile Internet users is likely to see further growth in coming years.
Figure 3: Mobile Internet Penetration Rate in China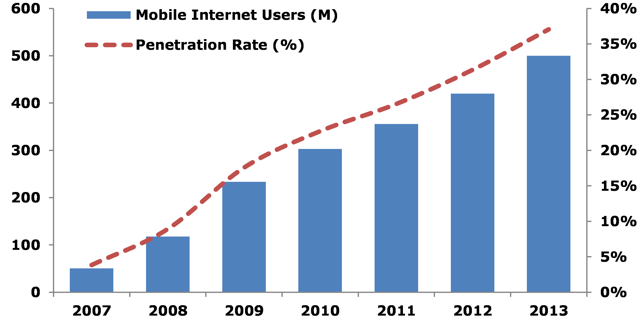 Source: M&E Research and CNNIC
I believe Baidu is the strongest-positioned to benefit from the fast-growing mobile search market. According to the 2013 survey on "Internet User Search Behavior" by CNNIC, over 89% of mobile Internet users in China picked Baidu as their favorite mobile search engine, dwarfing its main competitors Qihoo 360 and Sogou (including Soso). This suggests that Baidu's mobile search will eventually achieve success similar to its PC search business.
Mobile revenue accounted for over 20% of total revenue in 4Q13, with the majority of this revenue being search-related. Baidu's large existing customer base will give the company a major competitive advantage when it comes to monetizing mobile search services. As the company's PC customers continue to migrate toward its mobile search platform in the coming years, mobile search revenue will be a key growth driver. As such, I forecast mobile search revenue to account for 30% of Baidu's total revenue in fiscal 2014 and 40% in fiscal 2015. It is also important to note that Baidu's mobile search cost per click ("CPC") is around 30-35% lower than its PC CPC. However, I strongly believe this gap will narrow in the coming years as more users adopt smartphones and tablets.
As of 1Q14, Baidu had over 160 million daily mobile search users and over 400 million activated mobile search users. Moreover, Baidu mobile search traffic accounted for over 61% of total mobile search traffic in China in 3Q13. Given that the company benefits from a strong network effect, I expect its mobile search traffic market share to remain in the 60%-70% range for the foreseeable future.
Figure 4: Baidu Mobile Search Traffic Market Share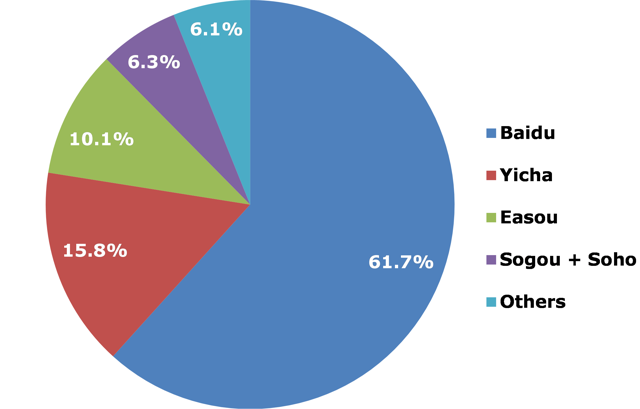 Source: M&E Research and Sootoo.com
Expanding Beyond the Core Search Engine Business
Apart from being the most popular and widely used search engine in China, Baidu has a strong presence in a large number of online properties and businesses. I believe this will allow Baidu to diversify away from its core search engine business, and will help drive future growth.
Baidu owns iQiyi-PPS, which recently dethroned Youku (NYSE:YOKU) as China's most popular Internet video service. As of February 2014, iQiyi-PPS' market share stood at over 24%, well ahead of Youku's market share of 17%, according to iResearch. I expect Baidu to step up its content investment aggressively in coming years to maintain its leading market share position in the online video market.
The acquisition of 91 Wireless in late 2013 was a huge success and has significantly improved Baidu's app distribution capability. In 4Q13, Baidu was ranked No. 1, with app distribution market share (including 91 Mobile Assistant, HiMarket, Baidu Mobile Assistant, Baidu Mobile Browser and Baidu Search) of over 41%, according to Analysys International. Baidu extended its lead in 1Q14, surpassing 100 million daily app downloads, and will likely remain the leader in app distribution for the foreseeable future.
Baidu's mobile map, with over 190 million monthly active users as of 1Q14, has become the clear leader in China's mobile map industry, with nearly 65% market share (number of times used) as of February 2014, according to iResearch. To put things in perspective, closest competitors AutoNavi (NASDAQ:AMAP) and Google only have 16% and 9% mobile map market share in China, respectively. I expect Baidu's mobile map to gain additional market share over the next several years, likely reaching 75-80%.
Baidu's recent launch of mobile payment service "Baidu Wallet" will be another huge success, in my opinion. China's mobile payment market has grown at an astounding 137% per annum since 2009, and reached nearly $200 billion in transactions in 2013, according to iResearch. Given this robust growth, I expect China's mobile payment market to double again in 2014. This is a massive opportunity for Baidu, and I believe the company is well-positioned to become the market leader in this segment in coming years.
Baidu's 55% stake in Chinese travel and e-commerce business Qunar (NASDAQ:QUNR) gives it access to China's online travel industry, which is growing at over 20% annually. According to iResearch, the entire travel market in China had $470 billion of sales in 2013, yet the online travel industry penetrates less than 8% of the overall market. I believe that the online travel market possesses substantial growth potential going forward, considering the rising Internet user base within China and the widening adoption of mobile devices. Qunar is well-positioned to exploit this market opportunity with its presence on all available platforms and in all major travel product segments.
Founding CEO with Skin in the Game
Baidu Chairman and CEO Robin Li founded the company in 2000, along with his business partner Eric Xu. Prior to founding Baidu, Mr. Li was already regarded as one of the world's top search engine experts, and his work has helped shape today's search engine technology. The fact that Baidu is run by its founder is a good thing, in my opinion, primarily because the majority of the most successful companies in the world have been led by their passionate founders. Founding CEOs simply care more, because their companies are their life's work, so they are more likely to embrace long-term strategies. Mr. Li also owns 15.9% of the company, and all directors and management together own 16.7%. This gives them "skin in the game", and will motivate them to do anything necessary to make the company succeed.
Trading at 40% Discount to Fair Value
Given Baidu's spectacular growth, strong profitability and huge economic moat, one would expect its stock to have a generous valuation. However, this does not seem to be the case when we compare Baidu to other similar companies in the Internet space. With an enterprise value of roughly $50 billion, the stock is trading for only 24x adjusted EBIT. This is more than a 60% discount when compared to its Internet peers shown in Figure 5 below.
Figure 5: China and U.S. Internet Comps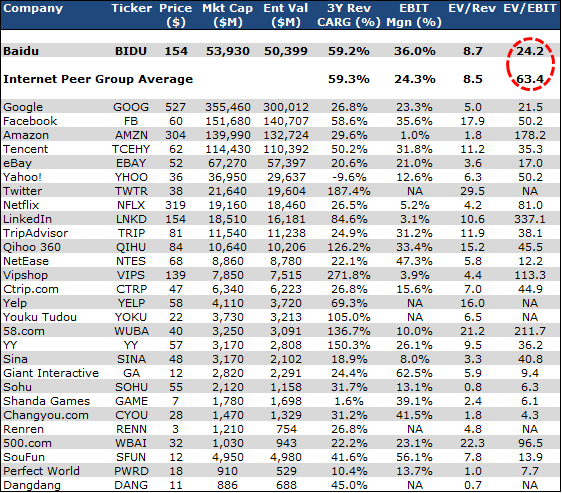 Note: Adjusted EBIT = EBITDA - CapEx +/- one-time items. Normalized adjusted EBIT was $2.1 billion during the most recent 12-month period.
Source: M&E Research and Bloomberg
A discount this large is simply not justified, in my opinion. Considering Baidu is the strongest-positioned Chinese company to benefit from China's Internet boom, I believe the stock could easily support a 35x adjusted EBIT multiple. This would imply a fair value of roughly $220 per share, giving the stock a conservative upside potential of over 40% from the current price of $154 per share. It is important to keep in mind that, even at 35x adjusted EBIT, Baidu shares would still be trading at a substantial discount to most Internet peers. Therefore, I think my fair value estimate will likely turn out to be overly conservative in the long term.
Ramping Margins a Long-Term Catalyst for the Stock
I believe eventual margin improvements could be a long-term catalyst for the stock. Baidu's margins have been under pressure since fiscal 2012, due mainly to the company investing heavily at the operational level to gain market share and maintain its leading position in the industry. With Baidu's latest initiative to dominate mobile Internet, I expect the company's margins to remain under pressure until fiscal 2015. However, I believe margins will eventually stabilize, which could serve as a catalyst to drive the stock price higher. Taking a longer-term view, I think we could see adjusted EBIT margins in the mid-40% range.
Figure 6: Profitability Analysis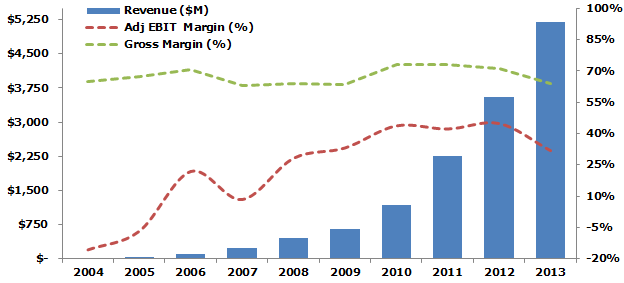 Source: M&E Research and company reports
Key Risks to Consider
Key downside risks to my investment thesis include: (1) Baidu's PC + mobile search market share could shrink due to increased competition from Qihoo 360, Sogou (including Soso) and others; (2) The low monetization in mobile search means it will take some time before Baidu's heavy investments reach fruition; (3) The company is actively expanding into non-search areas, which might weigh on the overall profit margin in the future; (4) Baidu has undertaken a large number of M&As in recent years, which could result in integration risks; and (5) The dual-class share structure allows insiders to control over 70% of the total voting power, which means outside investors have little say in what happens at the company.
Summary and Conclusion
Baidu's core search engine business will continue delivering solid revenue growth over the next several years, largely driven by China's rising Internet user base. The company's recent entrance into the mobile segment by providing mobile payments, map services, online video and apps will be a long-term growth driver due to the rising popularity of mobile devices. Given Baidu's robust growth, impressive profitability and wide economic moat, the stock deserves to be trading more in line with the rest of its Internet peers. For this reason, I believe the stock is substantially undervalued and has more than 40% upside potential. Overall, I believe Baidu is one of the best investment opportunities of 2014.
Disclosure: I am long BIDU. I wrote this article myself, and it expresses my own opinions. I am not receiving compensation for it (other than from Seeking Alpha). I have no business relationship with any company whose stock is mentioned in this article.