Shares of Goodyear Tire (NYSE:GT) sold-off sharply following the release of Q1 2014 results. The company missed consensus estimates for sales and earnings. Excluding one-time charges, Q1 EPS of $0.56 was $0.04 below consensus while revenues of $4.47 billion fell short of estimates by $310 million in the similar period.
Investors were clearly unsympathetic to the impact of cold weather in the northeast U.S. and problems in Latin America (primarily Venezuela). That said, we believe selling pressure was exacerbated by both the perception of "weak" results and disparity to consensus estimates. It was a "shoot first and ask questions later" situation.
However, the post-earnings decline appears to be exaggerated and current valuations place GT on our stocks-to-watch list. The primary catalyst to our "over-sold" thesis is that investors may be discounting the operational progress GT has achieved in recent years.
For disclosure, portfolios we manage have previously owned equity in Cooper Tire (NYSE:CTB) and held positions in GT bonds.
GT Management Tackles Legacy Issues: One of the more positive actions taken by GT management was a $1.15 billion cash contribution to the company's pension plan earlier this year.
We view this event as "transformational" in that it allows the company to freeze the defined benefit plan and reduce employee benefit obligations. The action of fully funding a pension plan with cash is shareholder positive for several reasons:
Provides additional transparency to the underlying tire business;
Signals management confidence in generating future cash-flow; and

Increases prospects for improved earnings going forward.
From a financial perspective, this eliminates projected future obligations for retiree healthcare benefits. It also removes a projected $1.3 billion from the balance sheet, which management believes will improve cash flow by $145 million a year.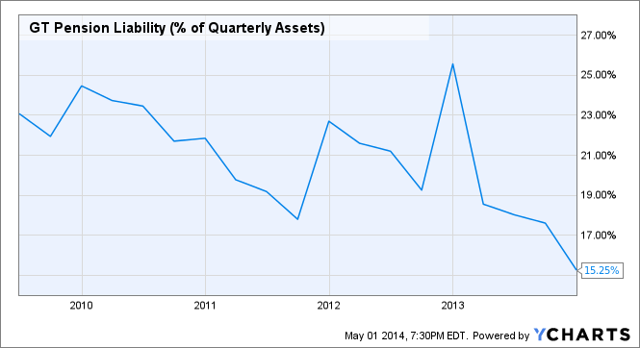 GT Pension Liability (% of Quarterly Assets) data by YCharts
Are investors ignoring overall margin improvement?: GT shares declined 10% in response to the Q1 report. Relative to consensus estimates, earnings missed by 6.6% and revenues were almost 7% light of street expectations.
It should also be noted that in a Regulation FD Disclosure filed April 10, 2014, the company warned investors on the issues in Venezuela and Latin America. Problems in Venezuela are not unique to GT and the aforementioned disclosure was announced three-weeks prior to release of Q1 2014 results.
However, GT did manage to improve U.S. operating margins by 240 bps to 8.3% in the latest quarter (Y-Y). Europe/Middle East/Africa operating margins were 6.1% in Q1 2014 versus 1.9% in Q1 2013.
In contrast, Operating margins for Asia and Latin America declined in Q1 2014 due to lower operating income. Currency fluctuations in both regions accounted for much of the margin contraction in those segments.
GT Operating Margin (Quarterly) data by YCharts
That said, it is difficult to ignore the operating margin progress made by GT in recent years (see chart above). When you consider that GT (and most tire manufacturers) are extremely capital intensive, any improvement in one or more inter-segment operating regions should be viewed as significant.
Caveats are plenty: In addition to the macro factors cited by the company in Q1 results, there are numerous other potential headwinds that could derail our "over-sold" thesis on GT. Several of the obvious risks that come to mind include:
Rising input costs;
Labor disruptions;
Supply chain interruptions;
Quality control issues; and

Geopolitical events.
GT also faces competition from other tire manufacturers, which by default exposes GT to pricing pressures, discounting schemes and other strategies employed to grow / maintain market share.
Closing comments: GT's share price does appear to be recovering from the post-earnings report low of $24.90 reached on April 30th.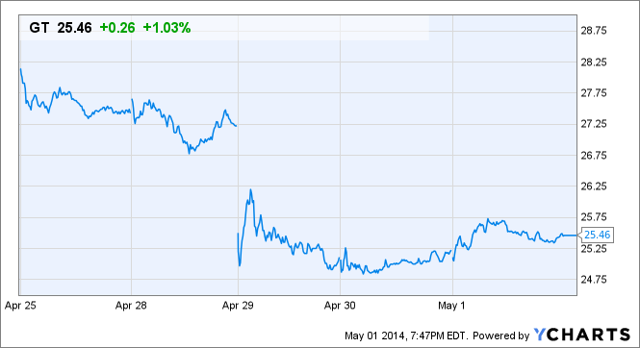 GT data by YCharts
Resistance at the $25.75 area suggests a possibility that GT shares might revisit the April 30 lows. We are not technicians, but the failure to push through resistance or retrace to the $26 area (morning of April 29th) tells us to be patient.
However, we would be tempted to initiate a partial position on any pullback to $25 or under. In the event of broader equity market consolidation, we would be looking for the $24 area to step-in or add to positions.
Disclosure: I have no positions in any stocks mentioned, but may initiate a long position in GT over the next 72 hours. I wrote this article myself, and it expresses my own opinions. I am not receiving compensation for it (other than from Seeking Alpha). I have no business relationship with any company whose stock is mentioned in this article.