Early Wednesday morning, BP (NYSE:BP) announced that the static kill has successfully sealed the well. Now that the worst oil spill in U.S. history seems to have been more or less sealed (the relief well which will permanently seal the leak still needs two weeks to complete, though), many people are wondering what BP is worth. Based on our analysis, it's between $41.21 - $47.24 per share.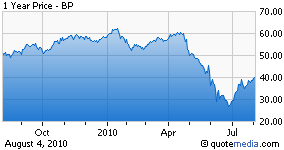 Here's how we got to those numbers. We looked at what other multi-national integrated oil companies (XOM, COP, CVX) are trading at as of close Tuesday. Some would argue out of those three, BP is most similar to XOM, given its size, oil reserve, and future development pipeline. The average of the big three is 9.7x 2010E P/E, with XOM trading at 10.8x 2010E P/E. Note, oil prices ($82 a barrel now) and oil stocks have traded up 5-6% in the past week.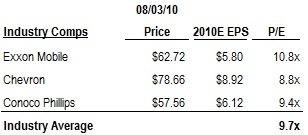 When we apply those multiples to BP's 2010E EPS of $5.32, we get a price range of $51.49 - $57.53 per share. When then need to take out the total cost of the oil spill which the Company estimates at $32.2 billion on their latest earnings call, which works out to be $10.29 per share. When we take that out, we get to a adjusted price range of $41.21 - $47.24 per share, the low end being if we applied industry average P/E and the high end being if we applied XOM multiple.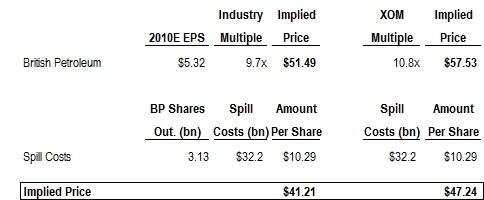 Finally, we need to check if the $32.2bn BP has reserved for the oil spill is an appropriate number. The government released early this week that 4.9mm barrels of oil has spilled into the Gulf since the well ruptured in April 20. Out of the 4.9mm, BP has contained 0.8mm, for net amount of 4.1mm.



Click to enlarge

Current fines ranges from $1,100 to $4,300 a barrel (if gross negligence is proven). This means the fine amount can be anywhere from $5 - $26 billion. We believe it will be difficult to prove gross negligence and estimate the fine to be $10bn. BP has spent approximately $5bn for clean up costs to date, leaving $17.2bn remaining that BP has reserved for future remaining clean up and other costs. We feel good about the $32.2bn reserved number by BP.

Disclosure: Own BP