Some articles and commentators describe regional banks as the weak spot in the financial industry, now that the larger institutions seem stabilized by government bailouts, asset write-downs and capital raising. The charts don't give good guidance on that, but the "short interest day's to cover" paints a stark picture.
This daily one-year performance chart for KRE (the regional banks ETF) and KBE (the large banks ETF), shows the two in reasonable proximity of each other.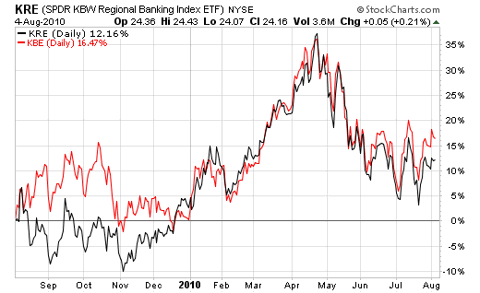 This weekly three-year chart shows the regional banks to have outperformed the large banks, but does not suggest special trouble ahead.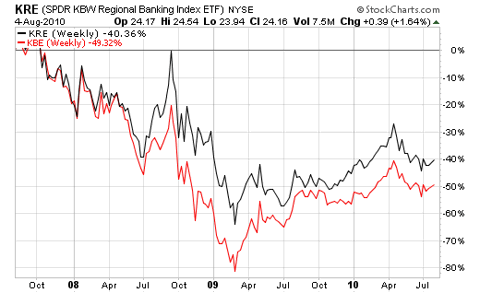 However, the short interest day's to cover (total shares short divided by average daily share volume), which is forward looking, tells a much different story. The day's to cover for the regional banks at 20 days is many times greater than the day's to cover for large banks, insurance companies (NYSEARCA:KIE), capital markets companies (NYSEARCA:KCE), and the S&P 500 financials (NYSEARCA:XLF).
One would assume from these short interest data that either a substantial short squeeze rally or a steep fall is ahead for regional banks.
Securities Cited: KRE, KBE, KIE, KCE, XLF
Holdings Disclosure: As of August 5, 2010 we do not own any securities mentioned in this article in any managed accounts.
Disclaimer: Opinions expressed in this material and our disclosed positions are as of August 5, 2010. Our opinions and positions may change as subsequent conditions vary. We are a fee-only investment advisor, and are compensated only by our clients. We do not sell securities, and do not receive any form of revenue or incentive from any source other than directly from clients. We are not affiliated with any securities dealer, any fund, any fund sponsor or any company issuer of any security. All of our published material is for informational purposes only, and is not personal investment advice to any specific person for any particular purpose. We utilize information sources that we believe to be reliable, but do not warrant the accuracy of those sources or our analysis. Past performance is no guarantee of future performance, and there is no guarantee that any forecast will come to pass. Do not rely solely on this material when making an investment decision. Other factors may be important too. Investment involves risks of loss of capital. Consider seeking professional advice before implementing your portfolio ideas.