By Bryan McCormick
The economic calendar begins early today with Chain Store Sales, which are generally released starting in the pre-market with no fixed schedule.
As each store reports, its shares are likely to be active. The SPDR S&P Retail (NYSEARCA:XRT) and Retail HOLDRS (NYSEARCA:RTH) exchange-traded funds may also see more action than usual.
The Monster Employment Index is set to be released at 6 a.m. ET. No forecast is available, but the previous report came in at 141. A number higher than that reading by 5 percent or more would be bullish. A lower value by the same measure would be bearish.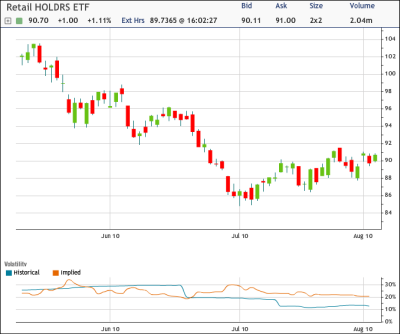 Traders often view this report as a leading indicator of hiring patterns. Given today's Jobless Claims and the Employment Situation Report tomorrow, the reaction to this number could be smaller than normal.
Jobless Claims is likely to be the report that traders follow most closely for today. The numbers are scheduled to be released at 8:30 a.m. ET. Consensus has initial claims falling to 455,000 from the previous week's 457,000.
The range expected is fairly narrow, which could make a surprise more likely because the number wouldn't need to deviate much from consensus to break either end. If claims come in at the low end of the range, which is at 444,000, that would be very bullish. A number at the high end of the range, at 465,000, would be bearish.
Continuing claims may see distortions because of the lapse in extended coverage. Traders may discount this number as a result because lower numbers may reflect an end to eligibility rather than the long-term unemployed finding jobs. Consensus calls for continuing claims to come in at 4.54 million, which is just a bit lower than the previous week's 4.565 million.
The wild card for today may be Treasury Secretary Timothy Geithner's press conference at noon ET on Social Security and the Medicare Trust Fund. He is likely to face some tough questions regarding concerns about the impact of health care reform on Medicare. The ballooning government deficit will no doubt be a key topic as well.
(Chart courtesy of tradeMONSTER)x