In my pre-earnings article on LinkedIn (NYSE:LNKD), I argued that the stock was priced for unrealistic expectations and advised against buying.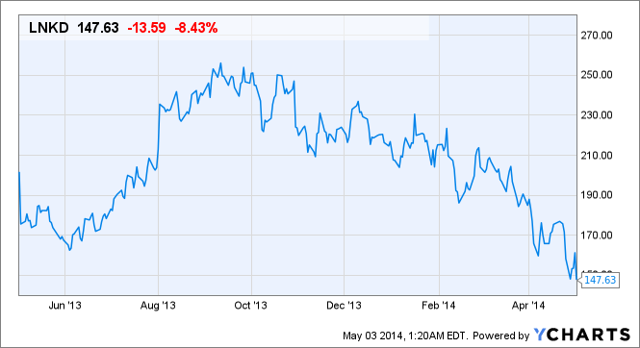 Post-earnings, the stock fell 8.4% in spite of really strong operating performance on most dimensions. Revenue grew 46% YoY, with robust growth along all three segments of talent solutions, marketing solutions and premium subscriptions. I will attempt to dissect the earnings relative to my valuation model which estimated a value of $105/share, and plug in these new estimates to see if the valuation warrants a change.
Talent solutions
At the end of Q1-14, LinkedIn had 25.8 thousand corporate solutions customers, a sequential growth of 6%. Using this growth rate, I estimate that it will have 30.5 thousand customers at the end of 2014. This is about 4% below the 31.7 thousand I used in my model based on 30% growth off 2013. However, revenue per customer grew 4% YoY - at these rates, LinkedIn will make $38.8k per customer in 2014 against my assumptions of $37k - an uplift of 5%. Taken together, I get to an updated revenue of $1.18B for talent solutions, which is only $12M above my modeled number of $1.17B.
Marketing solutions
Marketing solutions revenue is a function of the number of page views and the revenue per thousand (RPM) page views. In Q1, RPM grew significantly above my expectations to $8.2, or 29% YoY. I expect RPM growth to moderate to 15% over the next three quarters since Q2 and Q4 of 2013 already saw a sharp uptick. This indicates that LinkedIn has been successful in drawing high-quality advertisers. On the negative side, page views grew only 4% YoY - at this rate, even assuming an uplift for mobile, LinkedIn will garner 51.3B page views in 2014 against my assumption of 56.8B - a delta of -10%. Since LinkedIn is being able to monetize better even with a lower than expected base of page views, this is potential upside.
The combination of higher RPM and lower page views makes my revised estimate for marketing solutions revenue very close to the model (only $2M variance).
Premium subscriptions
LinkedIn showed a healthy membership growth of 36% YoY and 7% sequentially to 296M. Assuming a 7% sequential growth would lead to 361M members by the end of 2014, a 9% upside to my estimate of 332M. Subscription revenue per member is now projected at $1.16 against my prior estimate of $1.14 - this remained pretty flat year on year. I have revised my estimates of premium subscription revenue up $40M based on the increase in membership.
The table shows a comparison of LinkedIn's key operating metrics in Q1 against my model, and my re-forecast of 2014.

Based on the latest information, I updated my valuation model for LNKD. I increased membership numbers as well as RPM, in order to capture the impact of execution we saw in Q1. The updated model results in a valuation of $113/share, which is still a discount of 24% to Friday's close. Some members had argued that the terminal value growth rate was too pessimistic - even if I up that to 7%, the FMV still yields a 13% discount.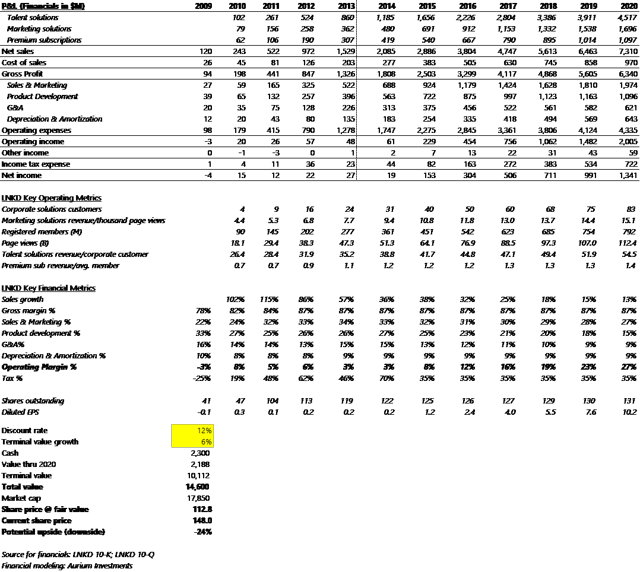 Summary
LinkedIn continues to execute well, attract new members and monetize them. User engagement as measured by was a bit lighter than expected, but only by comparison. The stock however is still too richly priced - there is more downside ahead. If LNKD were to decline to $100 levels, I would start getting interested. To that end, I have sold some OTM puts at $85-$105.
Disclosure: I have no positions in any stocks mentioned, and no plans to initiate any positions within the next 72 hours. I wrote this article myself, and it expresses my own opinions. I am not receiving compensation for it (other than from Seeking Alpha). I have no business relationship with any company whose stock is mentioned in this article.
Additional disclosure: I am short LNKD puts.