As was the case last October with the rights offerings from Cornerstone Progressive Return Fund's (NYSEMKT:CFP) sister funds (Cornerstone Total Return Fund (NYSEMKT:CRF) and Cornerstone Strategic Value Fund (NYSEMKT:CLM)), the recently announced rights offerings, with a record date of May 1, 2014, from CFP is a "fool's game." It is simply a tool used to raise funds to ensure the continuation of the fund's high dividend yield. The subscription period will commence on or about Tuesday, May 6, 2014, and will expire at 5:00 p.m., EDT, on Friday, May 30, 2014, (the "Expiration Date") unless extended. Its most recent "rights offerings" were on July 26, 2013 and June 22, 2012. Stay tuned for CFP's 2015 "rights offering".
Dividend Yield: CFP's current dividend yield is 17.6%, which is quite a hefty (and attractive) sum. But don't let this mislead you. During 2013, 53% of all distribution payments came as a return-of-capital. This means that CFP needed to dip into their asset base to fulfill distribution payments, effectively decreasing the fund's NAV. If sustained over time, this practice would deplete the fund's capital completely - unless they had another source.
Rights to the Rescue: By issuing additional shares via a rights offering, the fund raised the additional capital necessary to support their distribution yields while circumventing the classification as a Ponzi scheme.
Unfortunately for shareholders, the high yields create demand that supports the stock price while the NAV slowly erodes underneath. This produces extended premiums (price/NAV) that represent the fund's overvaluation. Of the 593 currently active CEFs, there are 10 funds with premiums over 15%. Three of these are managed by Cornerstone Advisors, Inc.: Cornerstone Progressive Return Fund, Cornerstone Total Return Fund and Cornerstone Strategic Value Fund.
Play CFP: However, there is another way to play Cornerstone's CEFs and others like them. Once the ex-dividend date occurs, the stock price will typically drop as new investors will miss out on the current period's dividend payment. By purchasing the stock after the ex-dividend date, and selling it before the next ex-dividend date, it is possible to pick up the price appreciation that occurs during that time - sans the dividends.
Dividend History: Below we have produced two charts that show this strategy in action with CRF starting on 12/13/2011. The "DivAmts" (chart 1) have gone from a monthly rate of $0.1110 on 12/13/11 to $0.0871 on 1/13/14, a decrease of 21.5%. The price has respectively gone from $8.48 to $5.96, a decrease of 33.8%. If you receive the dividend on the $8.48 price (12/13/11), you would have gotten 2.7% on a 12 months basis (71.1% return-of-capital).
Dividend Declines; Sorry Stock Price: The dividend decline is when the dividend amount goes downward (See Chart 1, "DivDecl"). After these dividend adjustments, the stock price drops dramatically. After the declaration on 11/4/2011, the price drops from $8.48 on 11/10/2011 to $6.38 on 12/13/2012, a decline of 24.8%. After the declaration on 11/9/2012, the price drops from $6.03 on 11/13/2012 to $5.89 on 1/10/2013. Finally, after the declaration on 11/15/2013, the price drops from $6.70 on 11/13/2013 to $5.61 on 12/11/2013. We will be lucky to miss a similar decline in 2014.
Dividends Plays: However, what is interesting is that the stock price can be manipulated on the dividends. If you get the stock price after the dividend (ex-dividend date) and sell it before the next dividends (pre-ex-dividend date), you will get on average a 0.7% on the monthly dividend. For 29 months, you will get a 20.9% share price to share price, but you will miss the dividend on a monthly basis.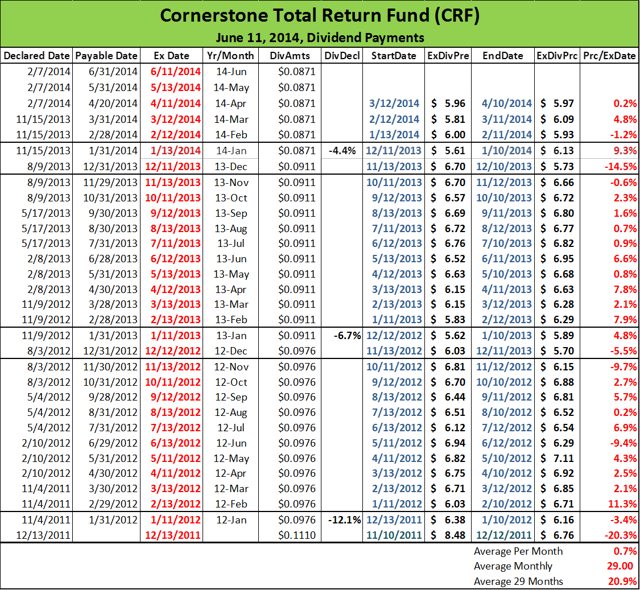 Distribution of a Monthly Basis: On the dividend per month, if you go before there it is ex-dividend data and sell it after the distribution date, you would collect an average loss of -$0.02 per share - along with the dividend and price per share.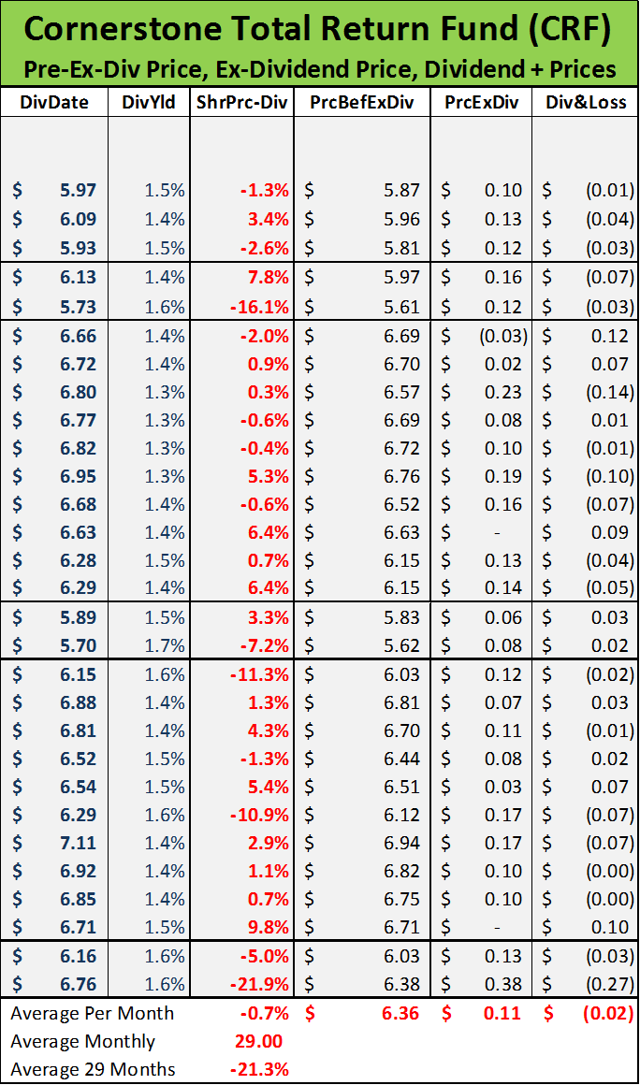 Disclosure: I have no positions in any stocks mentioned, and no plans to initiate any positions within the next 72 hours. I wrote this article myself, and it expresses my own opinions. I am not receiving compensation for it. I have no business relationship with any company whose stock is mentioned in this article.