Quite honestly, I have been downplaying ADP's monthly employment report because the methodology changed in October 2012 - and I had the feeling this report was now trying to mimic the Bureau of Labor Statistics (BLS) data instead of being an independent source of labor data. I felt the old ADP methodology provided independent employment data, and was concerned that the "new" ADP report simply was trying to "guess" what the BLS employment numbers would be.
We now have a full year of non-farm private employment data to compare the BLS to ADP - and the results are rather surprising. The table below compares the employment growth announced at the beginning of each month (real time estimates) by the BLS and ADP to the current BLS estimate of employment growth. While it is likely true that ADP is trying to guess the final estimated BLS non-farm private employment - they do a better job of guessing.
| | |
| --- | --- |
| | Variance From BLS Current Estimate for 2013 |
| BLS Original Estimate for 2013 (Seasonally Adjusted) - headline data | 18.4% too low |
| BLS Original Estimate for 2013 (Non-Seasonally Adjusted) - basis for Econintersect analysis of BLS data | 17.2% too low |
| ADP Original Estimate for 2013 | 11.8% too low |
The BLS uses a methodology of announcing job growth using incomplete data, and then for months following the initial release continues to revise the data. If this approach was not bad enough - then there is the annual BLS benchmarking revision.
Each year, the CES survey realigns its sample-based estimates to incorporate universe counts of employment-a process known as benchmarking. Comprehensive counts of employment, or benchmarks, are derived primarily from unemployment insurance (UI) tax reports that nearly all employers are required to file with State Workforce Agencies.
So, at the end of a year's worth of data - the BLS benchmarks it - and this year the change was fairly large. Now we know that ADP's use of its internal employment records was more than 1/3 more accurate in real time in 2013 to whatever methodology the BLS uses to "estimate" in real time.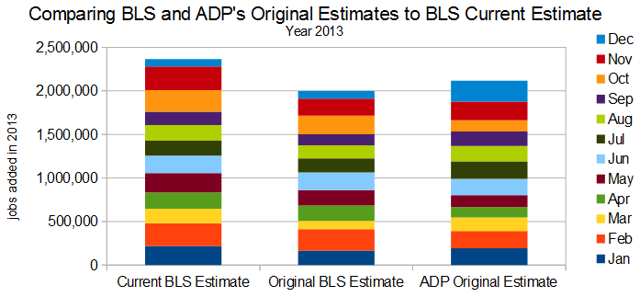 If the USA was a company, and the BLS was my control group feeding back the number of people employed - how could this company make decisions in real time? The government can spy on our internet habits - but has no good idea of how many people are employed. An 18% error rate in real time growth is unacceptable.
This is 2014 - and there is no excuse to not having accurate data in real time.
I sit here listening to the talking heads on TV associate what they believe is a great BLS employment report on Friday [my analysis here] - and predicting economic resurgence. I have no confidence this report is accurate in real time, but more importantly - employment is a lagging indicator reacting to economic events which have ALREADY occurred. Employment in general cannot be used as a forward indicator.
My usual weekly wrap is in my instablog.
Disclosure: I have no positions in any stocks mentioned, and no plans to initiate any positions within the next 72 hours. I wrote this article myself, and it expresses my own opinions. I am not receiving compensation for it. I have no business relationship with any company whose stock is mentioned in this article.