Diversified industrial companies have performed well over the past two years, primarily because of the improvement in the economic environment. The businesses of General Electric Company (NYSE:GE) and 3M Company (NYSE:MMM) were negatively affected by the economy during the economic downturn from 2007 through 2011. In 2008 diversified industrial companies performed poorly and their stocks lost 44% of their value. The good news is that, during the downturn these companies restructured their businesses and focused on their core products. Currently, both companies are making acquisitions and disposing of their underperforming businesses. They also are reducing costs and producing innovative products.
Over the past two and a half years, since the global economy started showing signs of recovery, these companies have generated profits and gained momentum. These companies have strong business models and global exposure, and should be able to continue their strong top and bottom-line growth. This article will analyze how these two diversified industrial companies 3M and GE compare to each other.
Where does General Electric Stand?
General Electric's stock price took a beating during the economic downturn due to its dependence on its financial services business. The company has made corrections to its business strategy and focused more on its industrial business. GE's restructuring plan also included reducing its dividend and the initiation of a cost cutting program. GE also made acquisitions such as that of Avio Aero and Lufkin Industries, a supplier of artificial lift technologies, and formed a partnership with XD Electric Group, which offers high voltage transmission and grid automation equipment and services in China. The company has also invested billions in its gas exploration and transportation businesses. The company recently announced $2 billion bolt-on acquisitions to strengthen its healthcare unit. In addition, GE disposed of some non-core and underperforming businesses. For instance, it recently announced the spin off its North American consumer lending unit through an IPO.
As a result of the restructuring, GE has begun to grow and is gaining momentum. The company improved earnings in 2013 and continued its growth in the first quarter of 2014. In the first quarter of 2014, GE's industrial business grew 12% growth year-over-year while its organic growth was strong at 8% and its earnings per share increased by 9%.
Where Does 3M Stand?
3M is a diversified industrial company that has developed a strategy, which is paving a path for both its organic and inorganic growth. First, the company will work to create a portfolio of innovative and powerful products. To do this, 3M is increasing it research and development budget. In 2013, it spent more than $1.7 billion on R&D and in the first quarter of 2014 the company's R&D expenditures raised 20 basis points to 5.8% of sales. Increasing R&D is a key aspect of the company's strategy to continue its strong organic growth. In addition, 3M is looking to add new and innovative products to its portfolio through mergers and acquisitions. The company has made provisions to make as much as $10 billion in acquisitions by 2017.
Another key element of 3M's business plan is to improve portfolio management. It has scaled back its Electronics, Energy and Safety and Graphics businesses while enhancing operational efficiencies and increasing product offerings so that it can better serve its customers. Each of its business segments are currently generating strong growth, and now that its key plans are in place, it will be able to continue improving margins and organic growth. In the last quarter, the company achieved 4.6% organic growth and grew its net income by 11.2% on a year-over-year basis. Further, the company is on track to generate double digit income growth for the full year of 2014.
Which Is the Better Buy?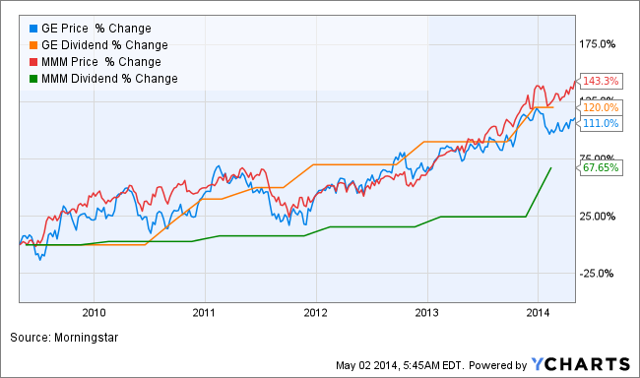 GE data by YCharts
| | | | |
| --- | --- | --- | --- |
|   | GE | MMM | Industry Average |
| Price/Earnings TTM | 18.2 | 21.0 | 20.8 |
| Price/Book | 2.1 | 5.3 | 2.9 |
| Price/Sales TTM | 1.9 | 3.2 | 1.8 |
| Rev Growth (3-Year Avg) | -0.8 | 5 | 3.1 |
| Net Income Growth (3-Year Avg) | 3.9 | 4.5 | 7.0 |
| Debt/Equity | 1.7 | 0.2 | 0.9 |
| ROE | 10.3 | 26.6 | 14.3 |
Source: Morningstar.com
Both companies have shown solid business and financial performance over the past years. 3M's price appreciation was steady before 2013. However over 52 weeks of 2013 the stock price has rallied by over 47% because of its new strategy and improving earnings. It looks as if the company is on the way to generate big profits this year and beyond.
I must say 3M is a better investment than GE. Its strategy has not only impacted its financial results, but it has enhanced investor confidence in the company's ability to increase returns for them. The company has the potential to generate massive cash flows, which will allow it to increase dividends and invest in growth opportunities. Last year, 3M increased its dividends by 35%. The company also plans to accelerate its stock buyback program, which I believe will have a positive impact on the stocks share price and dividend.
While GE was slow to restructure its businesses, its move to increase its industrial business to 70% of the entire company and reduce its financial service business to 30% was positive. While I think that 3M is the better investment it should be noted that GE has shown solid financial performance and manages to reward its investors in terms of stock appreciation and dividend yield.
Since the start of 2013, 3M has outperformed GE in terms of stock appreciation and dividend increases. I believe that 3M will continue the trend and generate better returns for investors than GE. Though 3M looks slightly overvalued when compared to GE, its strong outlook makes it a more attractive investment.
Disclosure: I have no positions in any stocks mentioned, and no plans to initiate any positions within the next 72 hours. I wrote this article myself, and it expresses my own opinions. I am not receiving compensation for it (other than from Seeking Alpha). I have no business relationship with any company whose stock is mentioned in this article.