Syngenta AG (SYT)
Sector: Basic Materials
Industry: Agricultural Chemicals
Syngenta AG, an agribusiness company, engages in the discovery, development, manufacture, and marketing of a range of products designed to enhance crop yields and food quality worldwide. It operates in three segments: Crop Protection, Seeds, and Business Development. The Crop Protection segment offers herbicides primarily for corn, cereals, soybean, and rice; fungicides for corn, cereals, fruits, grapes, rice, soybean, and vegetables; insecticides for fruits, vegetables, and field crops; seed care primarily in corn, soybean, cereals, and cotton; and professional products, such as products for public health, and turf and ornamentals.
How well is the Company growing?
With every business we want to know if they are growing. Why would we put money into a business that is not growing? Well, over the last year, this company has not done well in its Industry. While it has grown a bit, 1.3%, the industry has grown a whopping 22.70% this is definitely not an industry leader when it comes to growth over the last year.
How valuable is the Stock?
It may not have grown over the last year, but it does have value. When we think about value we have to think about the potential growth. How much potential? Something called the price to sales ratio gives us the best indicator of this. The more money a company has coming in through sales compared to how much working capital it has speaks volume of its health. The lower the price/sales ratio, the healthier it is. If we compare SYT to its industry, we find a mind-blowing embryonic possibility to sprout and grow.
The industry comes in with a 3.28 ratio while SYT stands at almost half that at 1.87%. It has what it takes to get bigger. The second most important thing we need to consider is how much money is flowing through this company as compared to its price. This is called the price to cash flow ratio. The closer the ratio gets to that magical "100" the less capability a company has. "100" means it can just pay its bills because the value of the company is equal to the amount of money coming in and no more. The industry stands at 17.20 while SYT shows off 60% of that, coming in at 11.90. We have an abundance of upside potential compared to the industry as a whole.
Our conclusion: this is still highly under valued. We give it an "A."
How profitable is the Company?
If a company has a good sales force and the money is flowing, that is a possible good sign for an investment. But alone, this is not good. What if a company brings in money but then spends it as fast as it brings it in? What if it costs them almost as much to make a sale as it does to sell? These are important things to think about and know if you are going to put your money into a company. To know things like this, I would ask the question: "How much money is left over from a sale after you pay all your costs to make that sale?" This is called the gross margin.
Comparing the industry to SYT, the industry comes in at 39.70%, SYT's gross margin is 49.3%. Wow! This means SYT is a full 25% better than the Industry.
Our Conclusion: this company is extremely profitable. We give it an "A."
Technical Analysis:
Long Term Investing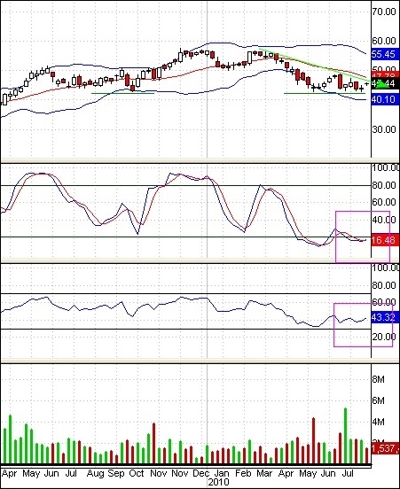 SYT peaked at the beginning of the year and through the first 8 weeks attempted to break through that 57 barrier but could not muster the strength. Since then it has been in a long term downward pattern. (Click chart to enlarge)
The bearish pattern is strong. It has yet to show some strength and break through that middle Bollinger Band area.
One consolation to watch is a possible support building at the 42 level. If this happens, SYT could start to move back up.
Opportunity
While the stock did not have a banner year, it still has a lot of underlying value. Yet, with a debt load 3.59 billion and an Interest ratio of 13.60% (when the industry average id 99.50%) we are concerned about its debt.
A low BETA of .44 shows it will not move as fast as the market. It has very low volatility. We would watch the company but invest yet. There is potential there with the value of the company looking good, but we are not sure it has finished moving in a bearish pattern.
For now: Watch
Disclosure: No position