By Chris McKhann
Tesoro has been stuck in a tight range over the last couple of weeks, but option traders are expecting volatility to pick up.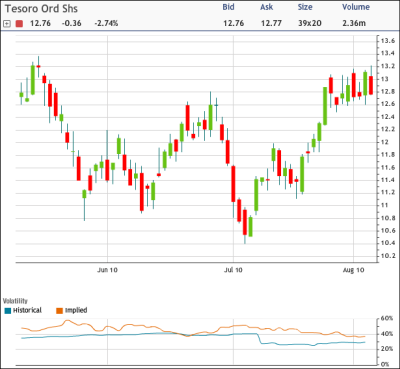 TSO is down 2.74 percent to $12.76 today. The oil refiner is right in the middle of a range of the last few weeks that has seen shares between $12.50 and $13.20 since July 26. Shares have been trending higher since hitting a 52-week low of $10.40 in early July.
The average option volume has been just 2,100 contracts, but 7 times that number trades today, split fairly evenly between puts and calls. Most of this comes from the September 12 puts and September 14 calls, with more than 6,000 at each strike. The open interest at both is fewer than 1,000, so these are new opening positions.
A trader bought 6,000 September 14 calls, mostly for $0.31. The majority of the September 12 puts were bought for $0.33.
This strangle will profit if shares move sharply in either direction or if the implied volatility picks up. The average implied volatility for TSO is 39 percent, near the 52-week lows and down from 53 percent a month ago.

Disclosure: No positions