Facebook (NASDAQ:FB) is going strong and beat analysts' estimates in Q1 2014. Earnings were reported to be $642 million, $0.34 per share, beating analysts' consensus estimates of $0.24 per share. Total revenues rose to $2.5 billion at an impressive rate of 72% compared to last year's revenues and beat analysts' consensus estimates of $2.36 billion.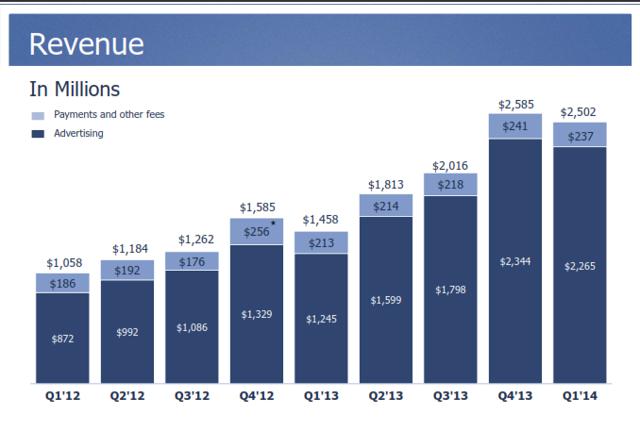 There was an 82% YOY growth in ad revenue. FB executives praised the strong growth of mobile advertising for pushing revenues to this high level. FB also managed to raise average ad price by a surprising 118% compared to an increase of 92% in ad pricing last year. FB considers the source of this success to be the growing portion of feed-based ads that have a much higher level of engagement and therefore makes higher prices acceptable.
Facebook's number of mobile daily active users has experienced very good growth. There was an increase of about 43% in the number of mobile daily active users in Q1 of 2014 compared to Q1 of 2013.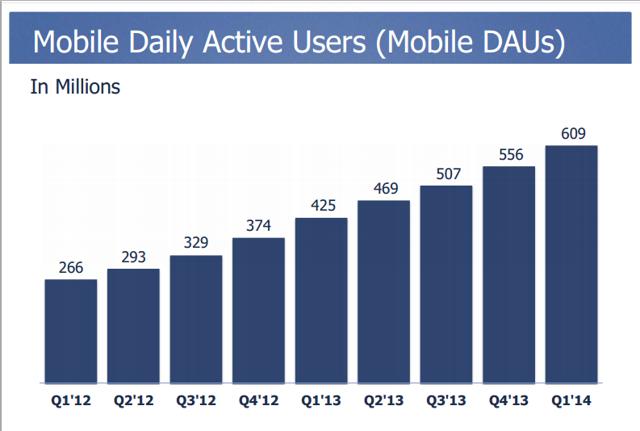 Like many other business, FB is successfully riding the growing trend of mobile phone usage. Facebook's main source of revenue is its ad revenue and now the key driver behind ad revenue is mobile ad revenue that makes up about 59% of the total ad revenue. Only a year back, mobile ads made up 30% of the total ad revenues and two years back revenue from mobile ads was negligibly small.
FB's strength can also be seen in its YOY earnings and revenues growth rates. Revenues and earnings are growing at a higher rate compared to the last quarters. The following table shows that there is generally an accelerating growth rate over the last quarters, excluding Q4 of 2013.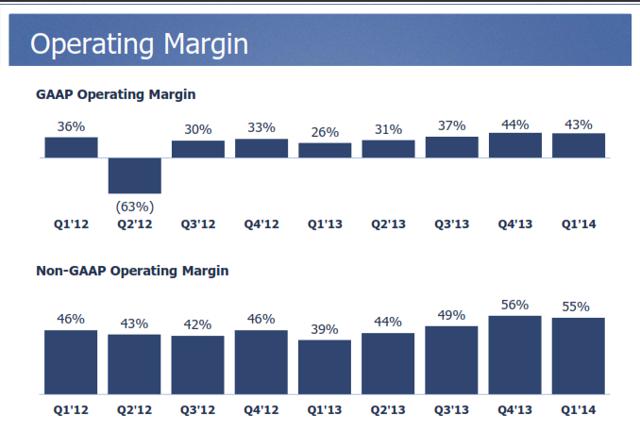 FB has improved its operational efficiency over the last few quarters and it has increased the scale of its operation indicating that it is still in its growth phase (see graph above). The GAAP operating margin was 43% and non-GAAP operating margin was 55% in Q1 of 2014. FB's high growth rates for its top and bottom lines coupled with increasing operating margins shows that its core operations are doing very well.
FB's focus on its core products and business is important for keeping its users interested and engaged and FB is doing well so far in this regard.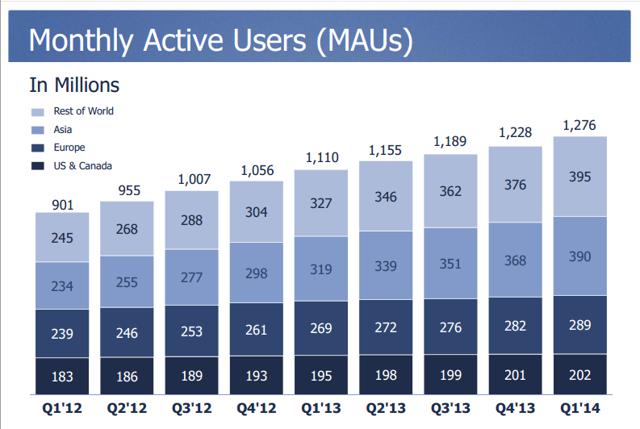 It's fascinating to see how FB is attracting millions of users each quarter. During the first three months of this year FB managed to add another 48 million active monthly users to its user pool. Out of these 48 million users 22 million came from Asia, 19 million came from its rest of the world geographical segment, 7 million came from Europe and 1 million came from the US and Canada. Google (NASDAQ:GOOG) is using video adverts to promote the usage of its google.com search engine in the emerging markets and in my view this campaign can be very successful. FB should also consider investing in similar promotional campaigns to promote FB usage in the emerging markets to help it grow its active user pool.
FB is Overshadowed by Tech Bubble Concerns
FB's explosive results were not well received by the market as the market has not shown much excitement regarding its Q1 results and this seems to be due to market concerns that there is an inflating tech bubble. Positive results that are overshadowed by prevailing concerns regarding a tech bubble seem to be a good opportunity for long-term investors. The price hike that should have followed the positive earnings announcement has been halted by the investors' concern. The fundamentals of the company are quite intact but the investors are too panicked to realize that.
Facebook's Acquisition Spree
FB is investing very heavily in new technologies and business opportunities with the hopes of monetizing them in the future. However, I think Facebook needs to be careful with its acquisitions otherwise it will be punished by the market. The huge cash flow the company is gaining needs to be invested with wisdom. There is a possibility that FB's aggressive investment momentum and its acquisition spree may be the reason behind its concerned CFO Ebersman stepping down. There are concerns regarding FB's ability to monetize its ongoing investments. There are concerns whether FB's "long-term bets", as Zuckerberg described the new ventures FB is taking up, are worth risking investors' money. FB is successfully building up wide moats in the form of its growing gigantic user base but the company needs to carefully undertake new investment projects.
Conclusion
Facebook is beating analysts' estimates and its user base is growing with the passing of time. Facebook's focus on mobile users is expected to give it a good growth. Its huge user base of over 1.27 billion monthly users, accelerating revenue and earnings growth, and improvement in operating margins is widening the economic moats around this social networking giant. The market did not react appropriately to the explosive Q 1 results due to the tech bubble concerns. There is nothing wrong with Facebook's fundamentals that may disrupt its growth in the foreseeable future so presently the stock price is attractive for an investor that is not aiming for the short term.
Disclosure: I have no positions in any stocks mentioned, and no plans to initiate any positions within the next 72 hours. I wrote this article myself, and it expresses my own opinions. I am not receiving compensation for it (other than from Seeking Alpha). I have no business relationship with any company whose stock is mentioned in this article.