LinkedIn Corporation (LNKD) operates an online professional network. The company, through its proprietary platform, allows members to create, manage, and share their professional identity online; build and engage with their professional networks; access shared knowledge and insights; and find business opportunities. The company provides premium subscriptions that are subscription packages for general professionals to manage their professional identity and connect with talent. LinkedIn Corporation was founded in 2002 and is headquartered in Mountain View, California.
For those who are not familiar, LinkedIn being part of the social media boom was intensely bought up because of the revolving hype and potential market share. It was and still is seen as the forefront of connecting professionals in the business world without almost no end in sight. The market apparently liked the story at the beginning of 2012 which led into a five bagger for associated shareholders. Like any growth story, the share price is primarily propelled by quarter over quarter results and corresponding guidance by management. LinkedIn started experiencing headwinds moving into mid-2013 and the rationalization of the market viewed it as a bubble. Personally, I did not like Twitter (NYSE:TWTR) either since the valuation multiple was solely based on revenues. LinkedIn has a similar story.
In any event, LinkedIn has declined over 40% since its top in September and observably shows no signs of slowing down. Recently it provided its quarterly report, topping consensus analyst estimates on both lines, but provided a poor outlook and shares slid an additional ~8%.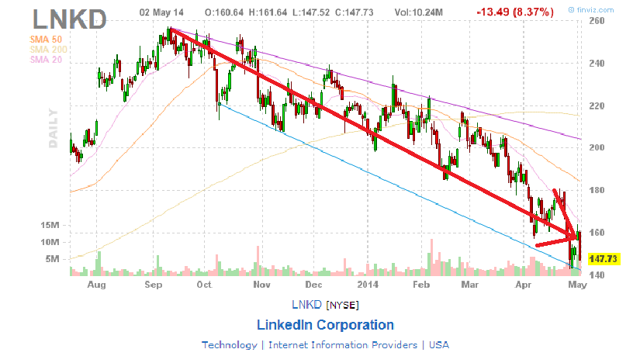 (available chart provided by finviz.com)
Analysts
Institutions have a majority interest in rating the stock as a buy or outperform candidate, with little to no mentions of holding or selling while the stock continues to tank. Misaligned interest? Maybe.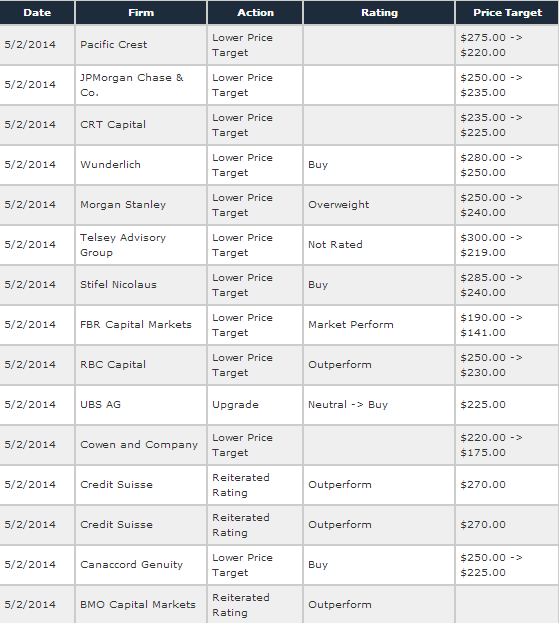 (data provided by analystratings.net)
However the Argus Analyst Report does make a valid point about their model in that it will likely remain a top choice for people with respect to professional networking: "We believe that HOLD-rated LinkedIn Corp. (NYSE: LNKD) has a solid business case and is demonstrating excellent though slowing top-line growth. LinkedIn, which caters to affluent, upwardly mobile professionals and the enterprises/recruiters who hire them, occupies a particularly lucrative niche within the social network universe. The company has been willing to sacrifice margins to build market share, and its efforts have paid off in strong membership growth. The company is innovating across its product lines to deepen customer relationships with both members and enterprise clients." This makes sense in general, but does it tick with value?
Valuation
For the first method, I used LinkedIn's historical growth of free cash flow to determine its market cap fair value range. Using a five year compounded annual growth rate, its average came out to 52% rounded up. Using fcf ttm of 158.45 million with a 52 multiple suggested a value near $68. If we use the larger figure from last quarter with the same rate, it comes closer to ~$92. So theoretically even if the business sustains aggressive growth, there is likely another 30% downside from here. Bears do have a strong case in terms of value, and without management giving the good news that the market wants to hear, shares will likely continue to fall.
Practically any book method you look at for LinkedIn, the company looks grossly overvalued. Institutions have been primarily focused on top-line growth businesses in the last several years, and LinkedIn is no exception. From 2010 to 2013, the company turned about 250 million into 1.5 billion in revenue. Needless to say, funds seemed to follow price-to-sales as an indicator, probably buying beneath the 17 level: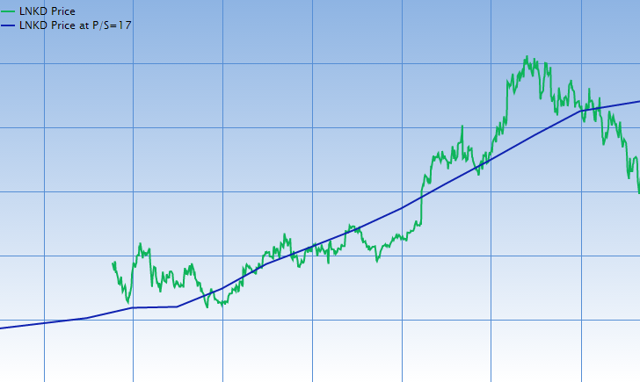 (software tool provided by gurufocus.com)
However, with rising market challenges, this no longer seems to be case at least at the moment.
Even though the company is not looking to cut expenses immediately to maximize profit, analysts currently stand that EPS will likely reach $2.07 by FY of 2015. Discounted cash flow with 37% annualized growth reaches a share price of $75, in between the cash flow range of $68-92.
Reiterating Market Mentality
Sales and management guidance are the two key drivers here, and the second half of 2013 practically sparked the opposite. Analysts oddly maintain their buy ratings stating that growth will remain elevated for the next several years, and subsequent operating efficiency will justify a share price above $200.
Clearly the company is not very predictable for a prospective investor so it's difficult to assess fair value, but right now things don't look good. For those looking to short the stock, people should be wary that institutional ownership is over 80% and that volatility remains high. In other words, don't be surprised if you get stopped out of your position quickly; this is high level risk.
Insiders are trying to take cash while they can, not selling for "varied reasons." I think management knows the party is over hence the sizable insider selling over the last three months: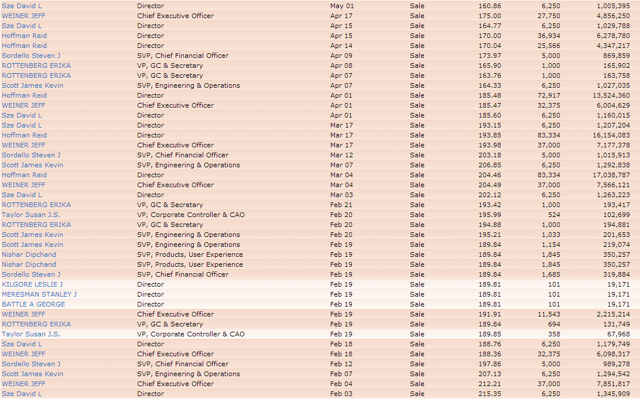 (information provided by finviz.com)
Technicals
The chart says it's a sell. A death-cross was created back in February and all daily moving averages still remain well above the price. Candlestick patterns have been bearish time and time again with multiple descending triangles over the last several months. However, I can't just say it's an avoid all together in terms of a trade. The money flow index has a short-term bullish divergence represented by the green line. Also, if the MACD makes a clean break through the exponential moving average (teal through light blue) then it might bounce back.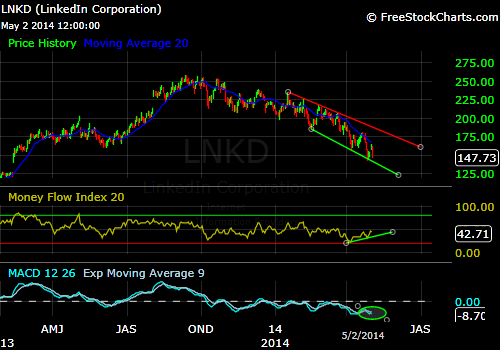 (software provided by freestockcharts.com)
Final Thoughts
Personally I'm not a fan of buying into the "momo" stocks, particularly the social media companies like LNKD, TWTR, or Facebook (NASDAQ:FB). Both valuation and volatility remain highly unpredictable so both sides of the trade, longs and shorts, face significant risk. LinkedIn is an exemplar of why people should not get married to these high-flyers and past ones included. Conclusively, I would recommend it as an avoid for now, although if technicals do shape up traders may be able to get back in on the action.
Disclosure: I have no positions in any stocks mentioned, and no plans to initiate any positions within the next 72 hours. I wrote this article myself, and it expresses my own opinions. I am not receiving compensation for it (other than from Seeking Alpha). I have no business relationship with any company whose stock is mentioned in this article.