In my previous article on Qihoo (NYSE:QIHU) and Baidu (NASDAQ:BIDU), I suggested that it might be prudent to sell Qihoo and buy Baidu, as I argued that the reward/risk ratio was on Baidu's side. Since March 10, Baidu has fallen 13%, while Qihoo is down 27%. Although both trades are losers at the moment, Baidu might have saved you more money, or you would have made money if you went long Baidu and short Qihoo. Since Qihoo suffered more, its valuation is now more compelling, and I believe it is a good time to consider a long position in Qihoo.
The selloff in the internet names creates a new buying opportunity
As the market went down in the last two months, high-flying internet names were hit the hardest. Baidu and Qihoo are down 15% and 30% respectively from their early March highs, but their fundamental outlook has changed for the better. Baidu reported Q1 earnings that were ahead of estimates, and the growth outlook has improved in the meantime. Baidu's revenue growth has accelerated in the last three quarters, from 41.5% in Q2 2013 to 61.2% in Q1 2014. Earnings per share grew 23% to $1.18 after four quarters of very modest growth. Qihoo is slated to report earnings in two to three weeks, and analysts expect triple digit earnings and revenue growth. Both companies are investing aggressively to capture market share, and have been crossing each others' path on the way, but China's market is big enough for both of them. The mobile segment is deemed the most important right now. In Q1, mobile search was the main driver of Baidu's page view growth, and the company expects it to surpass PC as the biggest source of search traffic later this year. Management is pleased with the progress on mobile monetization but the race is just getting started. As customers see stronger ROI from mobile, the company expects the CPC gap between PC and mobile to continue to narrow.
On the other hand, Qihoo's search monetization accounted for 30% of its total business and the number is expected to be higher in the future. Qihoo's search and mobile monetization are ramping up, and the company expects the strong growth to continue.
The recent selloff has driven the valuation of both Baidu and Qihoo to a more attractive level, and the reward/risk ratios are more favorable right now. I believe it may be time to consider a long position in both Baidu and Qihoo. Although Baidu enjoys a more favorable valuation, Qihoo's growth levels justify its current premium.
Potential upside - both stocks can move higher significantly
In the table below, you can look at some key growth and valuation metrics for Baidu and Qihoo. The growth outlooks for both companies have improved since my last article, and the valuation is more compelling. For example, Baidu's TTM P/S ratio has contracted from 12.7 to 9.5, and Qihoo's TTM P/S ratio is down from 21.5 to 15.8. On the other hand, Qihoo's forward P/E premium is almost gone, and Qihoo is now trading at a 10% and 20% premium over Baidu.
As for the upside potential, I think that both stocks could rise 50% to 70% in the next six to twelve months. As I stated earlier, Baidu could be trading at 11 to 13 times its 2014 sales, which translates into 55% to 85% upside from the current price. Qihoo should retain its higher P/S ratio as it has higher growth rates, and if it retains the current P/S ratio of 15 by the end of 2014, its share price might rise 45%. If the stock rises again to its former P/S ratio highs, the upside could be north of 100%, but I do not think this will be the case, since the growth prospects are not as high as they were in the previous six to twelve months. However, judging from the previous "beat and raise" trends, there might be substantial upside for consensus estimates which translates into more upside than I might have anticipated.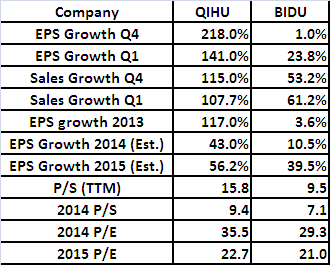 Source: Yahoo! Finance
As for the downside, both stocks could fall 20% to 30% from here given the P/S ratio trends over the last year. This would make both stocks quite cheap, as both would be trading at a forward 2015 P/E of 15 to 18, which is quite low given the growth prospects and the secular internet and mobile growth trends in China.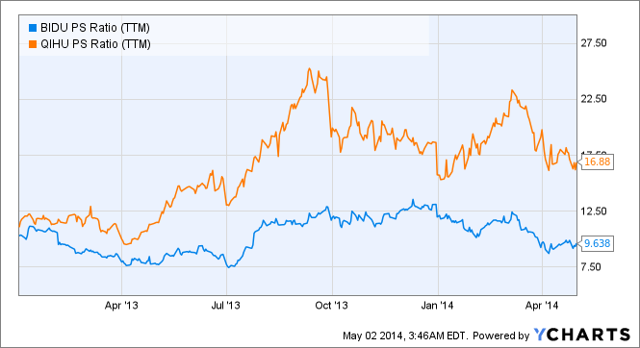 Source: ycharts.com
Conclusion
The recent selloff in the internet segment created some compelling buying opportunities. Baidu and Qihoo have significant growth potential, which should translate into a much higher share price in the next couple of years. Both stocks could rise between 45% and 100% in the next six to twelve months, and the downside should be limited to 20% to 30% and regarded as a solid buying opportunity for long-term investors. This gives investors an asymmetric reward/risk proposition.
Disclosure: I have no positions in any stocks mentioned, but may initiate a long position in BIDU, QIHU over the next 72 hours. I wrote this article myself, and it expresses my own opinions. I am not receiving compensation for it (other than from Seeking Alpha). I have no business relationship with any company whose stock is mentioned in this article.