Corporations release thousands of pages of documents pertaining to their intentions on how they plan on managing their business. The vast majority of the filings are rather mundane matters that really aren't worth commenting on. Every once in a while a tidbit of useful information is unearthed that can give the patient long-term shareholder an edge over the frenetic hyper trading that occurs on a daily basis. I believe the Ensco Plc (NYSE:ESV) recent notice of annual general meeting of shareholders offers an interesting look into management's future capital return plans. The article below will highlight some of the interesting points contained in the notice.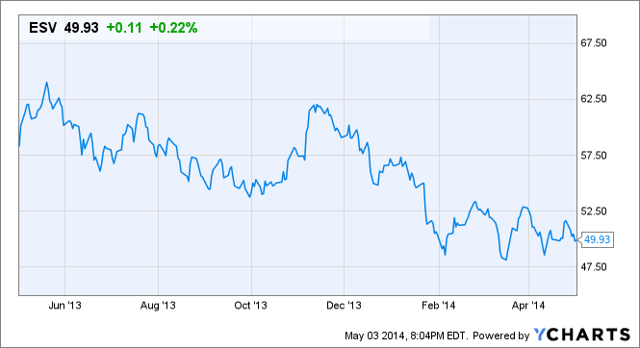 The most interesting portion of the notice revolves around resolution 10 which asks for a recapitalization of the company. Management is looking for shareholders' approval to convert undistributable reserves into distributable reserves which can be used to raise the dividend or repurchase shares. The exact wording of the resolution is listed below.
ESV as a U.K. public company governed in part by the Companies Act, we may generally only pay dividends on our shares or repurchase shares out of accumulated distributable reserves on our stand alone balance sheet, without regard to our consolidated financial statements. Furthermore, we can make a distribution only if, among other things, the amount of our net assets (that is, the total excess of assets over liabilities) is greater than the total of our share capital and undistributable reserves (the "Net Assets Test"). Our undistributable reserves include our share premium account and our merger reserve.

As of 31 December 2013, the Company had, on the basis of our audited U.K. statutory accounts, (I) net assets of $6.01 billion, (II) share capital of $24.1 million, (III) undistributable reserves of $4.68 billion (our share premium account of $184.6 million and our merger reserve of $4.50 billion), and (IV) distributable reserves of $1.40 billion. The merger reserve of $4.50 billion was recognized in the Company's accounts in connection with our acquisition of Pride in 2011.

The Company paid dividends totaling $525.6 million during 2013 and $175.3 million during the first quarter of 2014. While we currently have substantial distributable reserves, the Board believes it to be in the best interest of the Company to preserve a prudent level of distributable reserves to provide flexibility and to enhance our ability to continue to pay regular dividends and to purchase shares where appropriate pursuant to the $2.0 billion share buy-back program approved by our shareholders during 2013.

The Board has concluded that a capital reorganization is the most appropriate course of action for the Company to take in order to reduce the amount of our undistributable reserves for the purposes of the Net Assets Test and to create a corresponding increase in our distributable reserves out of which future distributions to shareholders and share repurchases can be made. The resolution would not of itself change the total amount of shareholders' equity as reflected on our balance sheet.

In order to accomplish this capital reorganization, the Board proposes that: This process is known under U.K. law as a "reduction of capital." We refer to it in this proxy statement as the "Capital Reorganization."

Following the Capital Reorganization, the Company's distributable reserves would be increased by a total of $3.0 billion. If the Capital Reorganization is approved by shareholders at the Meeting, then the Company must receive an order of the U.K. Court that the Capital Reorganization Shares be cancelled, followed by delivery and registration of the court order with the Registrar of Companies in the U.K before the Capital Reorganization becomes effective.

The Court only has the power to reduce share capital and other statutory reserves, including share premium and capital reserves, but not merger reserves. Therefore, it is necessary that we first convert our merger reserves to share capital (in the form of Capital Reorganization Shares), in order for the Court thereafter to be able to cancel the Capital Reorganization Shares and effectively convert the merger reserves to distributable reserves.

It is proposed that $3.0 billion of the Company's merger reserve be used to pay in full for new Capital Reorganization Shares prior to the Court Hearing. The Capital Reorganization Shares will then be allotted and issued either as a bonus issue to holders of Ordinary Shares of the Company on a Capital Reorganization record date to be determined by the Board on the basis of one Capital Reorganization Share for every one Ordinary Share or to one or more affiliates of the Company selected by the Board.
Excerpt taken from Notice of General Meeting page 71.
ESV's management is looking to basically unlock $3 billion in assets to be used to further enhance shareholder value. The question becomes what would be the best path to increase shareholder value. In my view in light of the shares trading at roughly $50 per share, with a forward earnings multiple of less than 10 per share, the bulk of the funds should be earmarked for retiring shares.
As we see from the above excerpt, ESV currently has a $2 billion share repurchase authorization. The market is valuing the whole company for roughly $11.7 billion at a current quote of $49.93. A share repurchase plan executed at a share price less than $52 will very likely retire approximately 15% of all shares outstanding. I realize quite a few of ESV current investors would prefer a dividend hike similar to what was declared last year.
The share repurchase plan is far more effective at the current trading range for two reasons. The primary reason is it will provide a floor under the shares. ESV along with the offshore drilling sector has severely underperformed the market over the past 18 months. There is a palpable fear that day rates will collapse along with the company's earnings power. The fear hasn't materialized, however the shares are unduly depressed because of it. Quite simply, the shares are trading at a forward multiple of roughly 8, with a dividend yield of 6%. ESV is undeservedly underpriced especially from an income generating perspective as the shares yield approximately double what can be attained via a 10 year US Treasury bond.
The second reason why I favor a share repurchase plan is if executed properly, the reduction in shares will lead to a higher dividend rate. Before everyone begins to chuckle, allow me to explain. ESV earmarked approximately $175.3 million for dividends in the first quarter which works out to an annualized amount of $701 million. If ESV is granted permission to execute the recapitalization, they should rapidly repurchase their shares say over a 4 month period. They will know how many shares are retired before the end of the year which allows them the flexibility of raising the dividend at year end. The board can allocate the same amount of funds to be returned to shareholders via a dividend; however, the amount paid out per share will rise by the same percentage of shares that where retired. For example if 10% of shares were retired, the board can raise the dividend from 75 cents per share to 82.5 cents per share which would delight current shareholders.
I can't help but take away from the notice that the ESV board is very shareholder friendly and looks to reward its shareholders. The following excerpt from the notice neatly highlights why I view ESV as a shareholder friendly company. Incidentally, the largest shareholders asked for higher dividends last year and were amply rewarded. I am hoping they will ask for an aggressive share repurchase plan which as illustrated above should lead to capital gains along with a higher dividend.
In our continuous effort to improve our corporate governance and communications with our shareholders, we are implementing a program to proactively seek input from our top 20 shareholders on a variety of matters important to shareholders generally. After the filing of our proxy statement, our Investor Relations Department and certain non-employee directors will reach out to those shareholders to discuss various matters relating to the Company, including corporate governance and executive compensation. Our outreach program will at all times be conducted in accordance with applicable law, including Regulation FD, and we will not share material non-public information with any shareholder without first disclosing it to the public. Further, our outreach program in no way replaces or diminishes other ways shareholders can communicate with management or the Board, as summarized above in 'Governance Transparency'.
I continue to hold ESV, as I continue to view them as a very well run, shareholder friendly company. I plan on reinvesting the dividend that will be received in June. I may make an additional purchase before the ex-dividend date which will nicely add to my yearly dividend total. Thank you for reading and I look forward to your comments.
Disclosure: I am long ESV. I wrote this article myself, and it expresses my own opinions. I am not receiving compensation for it (other than from Seeking Alpha). I have no business relationship with any company whose stock is mentioned in this article.
Additional disclosure: Investors are always reminded that before making any investment, you should do your own proper due diligence on any name directly or indirectly mentioned in this article. Investors should also consider seeking advice from a broker or financial adviser before making any investment decisions. Any material in this article should be considered general information, and not relied on as a formal investment recommendation.