Procter & Gamble (NYSE:PG) is one of the largest companies in the Consumer Industry with its business spread across the globe. The company faced a tough time in FY13 due to currency headwinds and excessive restructuring charges; the company witnessed a decline in sales and earnings, and its margins weakened. However, the recent three quarters of FY2014 have revealed the company's potential with regards to making a comeback. PG has put a stop to its declining results by focusing on innovation and cost cutting programs, which have brought about a recovery in net sales and margins. Moreover, PG offers an attractive dividend yield of 3.1% and has impressive share buybacks. Furthermore, based on my price target calculations, the stock offers a potential price appreciation of 5%.

Bettering Results
For FY2013, a highly competitive industry environment and currency headwinds impacted the company's overall revenue stream and its underlining operating margins. However, the company has been delivering a healthy financial performance so far in FY2014, despite the ongoing currency headwinds; foreign currency had a 3% adverse impact on the reported revenues of the company. The company experienced an organic revenue growth of 3% year-on-year for 3QFY2014, driven by a 3% volume gain and a 1% pricing increase. Other than revenue growth, the company reported an EPS of $1.04, up 5% year-on-year, despite a $0.11 currency headwind.
Emerging markets remain the company's main growth driver; almost 60% of the company's total sales are generated from emerging markets. The company experienced a 5% year-on-year revenue growth in emerging markets, as compared to 1% growth in developed markets in 3QFY2014. The following table shows the performance of different reporting segments of the company for the recent quarter.
| | | | |
| --- | --- | --- | --- |
| | Organic Sales | Organic Volume | FX Impact |
| Beauty | 2% | 1% | (3%) |
| Grooming | 1% | 2% | (5%) |
| Health Care | 0% | 2% | (2%) |
| Fabric Care & Home Care | 6% | 6% | (4%) |
| Baby, Feminine & Family Care | 2% | 0% | (4%) |
| Total | 3% | 3% | (3%) |
Source: Company's Earning Release
The company, under its ongoing 5-year cost saving program set to expire in 2016, targets cost savings of $10 billion, which will improve its long-term growth prospects. PG reaffirmed its cost savings target of $1.6 billion for full FY2014. Also, the company seems to be on track to improving its cost structure and enhancing productivity, as core SG&A as a percentage of sales dropped by 130bps year-on-year and core operating profit margin expanded by 20bps year-on-year to 19% in 3QFY2014. The company has been trying to address challenges in the competitive market with product innovations, followed by its strategic approaches related to cost cuts. In the upcoming quarters, I believe the company will announce incremental cost savings beyond 2016, as the ongoing cost saving program is set to expire in 2016.

Product innovation remains an important stock price driver and is among the top priorities of the company; PG is targeting 20 new products to address changing consumer needs and wants. The company has been making good progress with its new products; in 2013, PG dominated the New Product Pacesetters list. Out of the 10 most successful non-food product launches, seven products were launched by the company. Also, six more brands of the company are on the 'Rising Stars' list of the IRI. Following are the company's innovations that made it to the 10 most successful non-food products of the year list.
- Tide Pods
- ZzzQuil
- Vidal Sassoon Pro Series
- Downy Infusions
- Always/Tampax Radiant
- Secret Outlast, and
- Puffs Basic
Strong Shareholder Returns
The company has been consistently sharing its success with shareholders through share repurchases and dividends. In the recent quarter, the company spent approximately $1.5 billion to repurchase shares. The company is likely to repurchase shares worth $6 billion in FY2014, representing approximately 3% of its current market cap, which will portend well for EPS growth.
Other than impressive share repurchases, the company offers a solid dividend yield of 3.1%, backed by its strong cash flows. The company has been consistently increasing its dividends over the years; last month, PG's recent 7% increase in dividend from the prior quarter's dividend marked the 58th consecutive year of dividend increases. The following chart shows the healthy relationship between FCF and dividends for the company.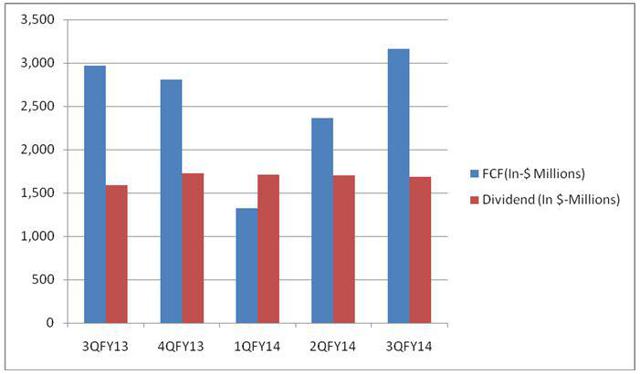 Source: Company's Quarterly Earnings

Moreover, PG's strong balance sheet supports its dividends and indicates the company's financial strength. The company's balance sheet stands the strongest among key players of the industry, including Kimberly-Clark Corporation (NYSE:KMB) and Colgate-Palmolive (NYSE:CL), as indicated below by the debt to equity comparison.
| | |
| --- | --- |
| Companies | Debt to Equity Ratio |
| PG | |
| KMB | |
| CL | |
Price Target
I have calculated a price target of $86 for PG. I have used cost of equity (5.8%), after tax cost of debt (4.5%), a nominal growth rate of 0.5% and WACC of 5.5% in my price target calculations. My calculated price target of $86 reflects that the stock offers a potential price appreciation of 5%.
| | | | | |
| --- | --- | --- | --- | --- |
| | 2015 | 2016 | 2017 | Terminal Value |
| FCF (In $-Millions) | 11,617.5 | 12,627 | 13,637 | 274,104 |
| Present Value (In $-Millions) | 11,012 | 11,344 | 11,613 | 233,431 |
Source: Equity Watch Estimates and Calculations

Total Present Value of Firm = $11,012 + $11,344 + $11,613 + $233,431 = $267,400
Market Value of Debt = $34,800
Market Value of Equity = $267,400 - $34,800
= $232,600
No. of Shares Outstanding = 2,710 millions
Price Target = $ 232,600 / 2,710
= $86
Conclusion
I am bullish on PG. I believe that due to the abovementioned factors, PG is fully capable of going for long term growth. Although currency headwinds have been weakening underlying results, I believe the stock has already priced this in. The cost cutting initiatives announced by the company to lower its costs and expand margins will bode well for the future. Also, international exposure remains the main growth driver for the company. Moreover, the company has rich shareholder return policies, offers a dividend yield of 3.1% and has healthy buybacks. In addition, based on my price target calculations, the stock offers a potential price appreciation of 5%. Due to the above-mentioned factors, I am bullish on the stock.
Disclosure: I have no positions in any stocks mentioned, and no plans to initiate any positions within the next 72 hours. I wrote this article myself, and it expresses my own opinions. I am not receiving compensation for it (other than from Seeking Alpha). I have no business relationship with any company whose stock is mentioned in this article.