Apple (NASDAQ:AAPL) had a stronger-than-expected Q2 because the world smartphone market grew strongly, according to the most recent data from Strategy Analytics, and not because iPhones suddenly started to displace competing products. In fact, the reverse is the case. The market grew a blistering 33.2% to 285 million units in the three months that ended March 31, 2014. Apple added 6.3 million units to its prior year performance, a 17% growth rate or about half the rate of growth of market as a whole. Apple's share fell to 15.3% from 17.5% in 2013.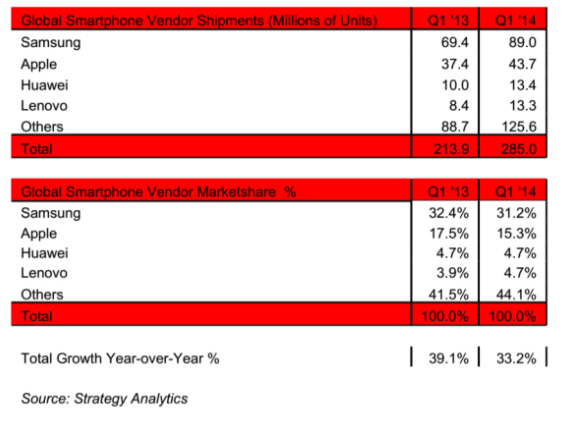 The lost share was swamped by the growth in the market, as it has been for several years, allowing Apple to post some better-than-expected quarterly results with revenues growing 5% year-over-year and net income up 3%. You would think Apple had just cured cancer or brought about world peace from the outpouring of bullish sentiment, in part fueled by a stock split, stock buyback increase and higher dividend, none of which create a dime of additional income.
The market seems to have just ignored the distressing outcome in the tablet market where Apple not only dumped market share but also showed revenue declines despite the market's high rate of growth. CEO Tim Cook's convoluted explanation about sell-in and sell-through does not explain the decline.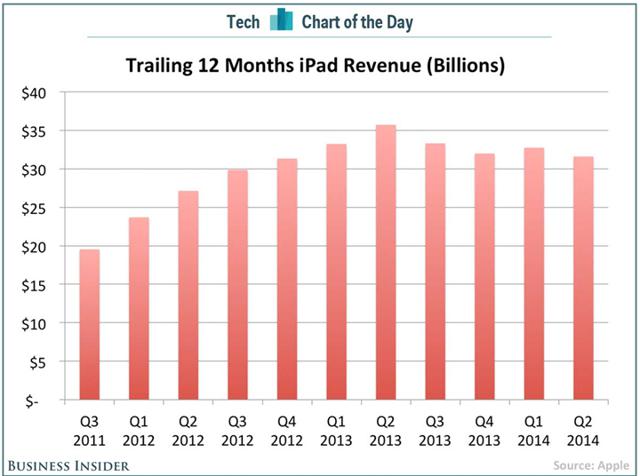 For anyone interested in the grim facts, according to Strategy Analytics, the tablet market grew 19% in the March quarter, but Apple sales fell. Android tablets surged to a 65.8% share, with unit sales jumping to 35.9 million in 2014 from 25.6 million in 2013, a gain of over 40%.
Anyone who thinks competitors are not eating up Apple in the tablet market lives in dreamland. It seems that despite the oft-repeated claims that iOS tablets are easier to use than Android OS tablets, many users have been able to rise to the challenge of the allegedly more complex user interface and have been happy to buy an Android device. Maybe the Android tablet buyers can count, since the price difference between an iPad and a comparable Android tablet is not a gap, but a chasm. And, there are many even more functional Windows tablets to choose from if you can afford the truly high-end devices like the Surface Pro 2.
The tablet market might be the canary in the coal mine for Apple investors. As market growth slowed to 3.9% year-over-year, Apple's continuing loss of market share showed up as a 16.1% decline in unit shipments, while Samsung jumped 32% year-over-year and Lenovo was up 224.3%, but from a very small base. The problem with Apple's "it's okay to lose share as long as volume grows and profits remain high" strategy is that it bites back big time when markets flatten, as was the case with tablets.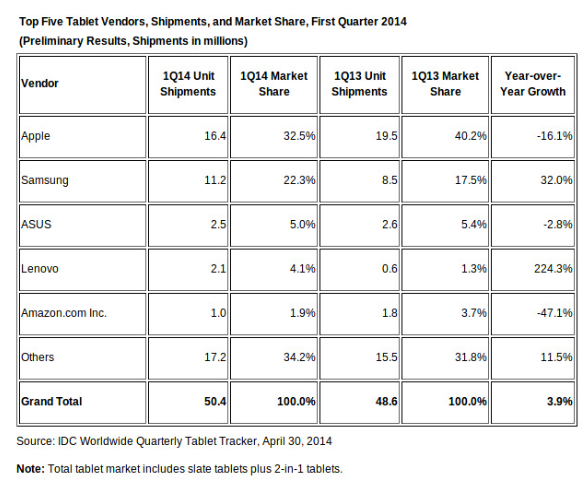 Apple enjoyed another great quarter in iPhones solely because that flattening of the market has yet to happen. But it will. Just wait.
In the meantime, Apple is tripping all over itself to borrow billions to fund its stock buybacks and avoid the odious need to actually pay some of the tax it has accrued (but not paid), taking advantage of every tax loophole it could find internationally. No wonder the U.S. government has major deficits. It's brightest and best are not content to build good products, but feel the need to invest in convoluted structures to avoid what little tax the government levies, spouting off about "fiduciary duties to shareholders" and "profit maximization." Stock options and RSUs are a more compelling explanation.
For the record, profit is just one goal of a well-run business, and contrary to the folklore, fiduciary duties are owed to the corporation, not to its shareholders. The best interests of the corporation may include being a good corporate citizen and participating in the building of the country in a fair and balanced way that respects the intent, rather than just the letter, of the law.
Turning back to Apple, it is making some big bets. Loath to buy back stock when it was $400 a share, management now races to buy it back at $600, hoping that the much-anticipated iPhone 6 will blow the roof off and the equation will make everyone's stock option or RSU worth the candle. It might, since it looks like a great product. But there are a lot of great products out there, and the iPhone 6 might just be another also-ran in a race where competitors are showing their oats and have the potential to, well, upset the applecart.
Competition is increasing its lead over Apple. Samsung's S5 seems to have enjoyed a strong launch, outstripping the iPhone 5S launch for which Apple bulls were prepared to declare a national holiday.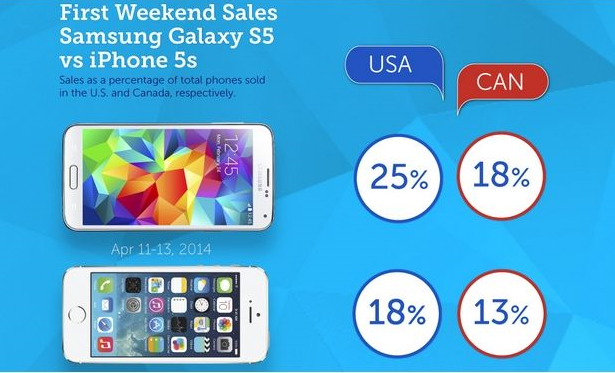 Source: IQ Metrix as reported by Deccan Chronicle
The S5 launch may explain why Apple's guidance for the June quarter was so muted, since it followed a quarter in which Samsung sold a whopping 89 million smartphones, up from 69 million in 2013.
Samsung is not the only competitor. Xiaomi reportedly sold 11 million smartphones in Q1. Motorola's Moto G went from zero to 6% of the U.K. market in a heartbeat. Lenovo smartphone sales jumped 60% to 13.4 million and Huawei rose over 30% to 13.3 million in the March period. Taken as a group, the rest of the smartphone suppliers saw over 40% growth to a staggering 126 million units from 89 million last year. This trend is pervasive and unlikely to be reversed by one or two new iPhone models this fall.
After a period of reflection on Apple's better-than-expected Q2 and its aggressive moves to boost its stock price, I conclude that management simply caved in to activist investors Carl Icahn and David Einhorn and threw in everything but the kitchen sink. It is an act consistent with desperation as the smartphone universe in which Apple lives and plays may soon take an ugly turn from the perspective of its investors. I will keep an eye on the insider selling as time goes by.
I am short the stock and long puts. I also have some short-term out-of-the-money call options which I expect to expire worthless, but give me peace of mind if the evangelical fervor of the Apple investor clan drives the stock price even higher in a binge of senseless buying. That sort of behavior often precedes a crash, in my experience.
To the Apple bulls, I congratulate you for having it right this past year or so and wish you every happiness as you enjoy your moments in the sun. Don't stay too long, and wear some sunblock - there is at least a risk you might get burned.
Disclosure: I am short AAPL. I wrote this article myself, and it expresses my own opinions. I am not receiving compensation for it (other than from Seeking Alpha). I have no business relationship with any company whose stock is mentioned in this article.